Grey's Anatomy Star Ellen Pompeo Reacts To Justin Chambers Leaving As Alex Karev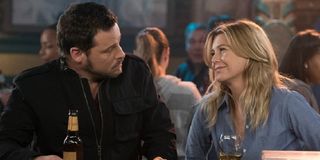 It came as a shock when, after 16 seasons on Grey's Anatomy, Justin Chambers announced he was leaving the series. While his departure wasn't saddled with any behind-the-scenes drama, fans felt blindsided by the news. Now that fans have had time to mull over the surprise exit, Grey's Anatomy star Ellen Pompeo is reacting to Justin Chambers leaving as Alex Karev and it's heartbreaking.
Justin Chambers was one of a handful of original Grey's Anatomy cast members left on the show alongside Ellen Pompeo and she's just as devastated by his abrupt exit as everyone else. Over on Twitter, Pompeo responded to an article headline stating that the long-running series is about to feel one its biggest losses. The actress wholeheartedly agreed that that would be the case. Read her full response below.
Ellen Pompeo's response was brief and exemplified her heartbreak over Justin Chambers' exit. It's not hard to understand why. Pompeo's Meredith Grey and Chambers' Alex Karev have been each other's support system since the beginning of the show. Their friendship has endured a lot, but they've always been there for each other, sharing in both the happiness and devastation that life has had to offer. With Chambers' departure from Grey's Anatomy, Meredith is losing the last friend she's had since Season 1, so the sadness is apparent.
It's unclear, however, if Ellen Pompeo will offer any other updates or thoughts regarding her costar's exit, but the question of how Grey's Anatomy will move forward has been at the forefront of fans' minds. The last anyone saw of Alex Karev was during the series' 350th episode, which aired November 14, and it's been revealed that the episode was Justin Chambers' last. At the time, he didn't appear in Season 16's midseason finale, but no one thought anything of it.
That leaves the fate of his future with Jo Wilson, whom Alex recently married, and his friendship with Meredith up in the air for now. How they'll react and what will happen with all of Alex's future storylines are big question marks. In addition, Alex was already replaced by Richard Flood's Dr. Cormac Hayes, who joined Mercy Sloan as the new head of Pediatric Surgery in the midseason finale.
The last thing Alex did for Meredith was help her in her insurance fraud case. With his support, she was able to get her medical license and her job back. Surely Ellen Pompeo knows how important Alex was to Meredith. Off-screen, the actress also lost her costar of 15 years, and that's just as devastating. And to think fans were concerned that another Grey's Anatomy star would be leaving!
Grey's Anatomy Season 16 will carry on without Justin Chambers' Alex Karev when it returns with new episodes on Thursday, January 23 at 9 p.m. ET. For more on what to watch, be sure to check out our 2020 midseason schedule to find out when every new and returning show is set to premiere.
Your Daily Blend of Entertainment News