Grey's Anatomy Fans Are Livid Over How Justin Chambers' Alex Karev Left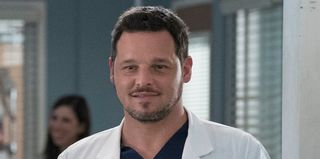 Spoilers ahead for Episode 16 of Grey's Anatomy Season 16, called "Leave a Light On."
Grey's Anatomy finally bid adieu to Justin Chambers' Alex Karev after 16 seasons. Chambers, who officially announced his shocking departure from the medical drama in January, made his last physical appearance on the show in the November episode "My Shot." While the ABC series initially explained Alex's absence was due to visiting his mother in Iowa, this week's episode revealed the real reason behind the surgeon's departure, and Grey's Anatomy fans are livid over how the show handled the whole ordeal.
In a shocking turn of events, Alex Karev left Seattle, his friends, wife Jo, and his job at Grey Sloan to go be with his ex-wife Izzie on a farm in Kansas. Apparently, Izzie had given birth to their twins and had never told Alex about it. Once he found out, he decided that living on the farm with his ex and kids is the life he'd always wanted. To top it all off, Alex told Jo all of this by way of a letter. And just like that, he and Jo were done; Alex claimed he had already signed the divorce papers. Ouch.
Suffice it to say, Alex's send-off didn't exactly give fans any warm or fuzzy feelings. In fact, the reason behind his exit made fans quite angry and emotional. Twitter practically exploded with various reactions, with one fan suggesting it would have been better if Grey's Anatomy had just killed Alex off instead.
Meanwhile, another fan was so angry with the Grey's Anatomy's writing staff that they used a gif showing disgust towards the writers.
Another fan decided to use pictures of Alex Karev, pointing out how far the character has come over the course of 16 seasons on the show. The fan believes that Season 16 Alex would never abandon Jo to go be with Izzie the way he did in the episode "Leave a Light On."
In a rather hilarious Twitter reaction, one fan decided to write out something that might have actually appeared on Alex Karev's headstone had he died. To top it off, they used a gif of Nick Fury which explains how she's going to look at the choice for Alex to end up with Izzie again from now on. Personally, I think that's rather fair, considering how this story played out.
A long-time Grey's Anatomy fan wrote about how they'd dealt with so many ups and downs on the show, including Derek Shepherd's death, but that Alex leaving the way he did may have been the final straw.
As you can clearly see, Grey's Anatomy fans are not pleased about recent developments. Considering Justin Chambers' abrupt departure, there was only so much that could have been done to clear things up with his character. However, this was, admittedly, an incredibly surprising choice for such a beloved character.
Grey's Anatomy airs Thursdays at 9 p.m. ET on ABC. For more on what to watch, be sure to check out our 2020 midseason schedule for updated premiere dates and times.
Your Daily Blend of Entertainment News