Grey's Anatomy: Why Each Of The Major Cast Members Left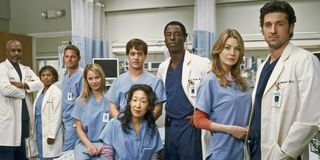 Hospitals aren't designed for long stays. Indeed, while ABC's wildly popular medical drama series Grey's Anatomy is soon set to premiere its sixteenth season of television, a lot of the primary cast members from the show's original roster have left for a variety of a different reasons. Especially when it comes to a series like Grey's Anatomy, nobody is meant to stay forever. And some of the behind-the-scenes turmoil behind the exits or dismissals of certain actors from the hit show is practically as dramatic and compelling as anything that happens on-screen.
When it comes to the primary cast members of Grey's Anatomy, more actors have left the show than stayed on throughout its sixteen-plus season run. Some actors were let go unceremoniously. Some actors had their characters killed off. Some actors got a proper and true, heart-filled goodbye. If you watch the show, you probably know what happened to these characters. But you might not know the reasons why they left the show. Keep in mind that, obviously, since we're talking about actors leaving this very popular show, there will be spoilers.
Why Isaiah Washington (Dr. Preston Burke) Left Grey's Anatomy
During the early first three seasons of Grey's Anatomy, Isaiah Washington played a prominent role as Dr. Preston Burke, a main character. While his character might've worked well in the show, the actor ended up causing a good bit of controversy behind-the-scenes. Isaiah Washington reportedly uttered a homophobic slur on set, which caused problems with cast member T.R. Knight, who came out as gay shortly thereafter. While Washington initially denied the accusations, the actor later released a statement apologizing for what he said.
The apology didn't keep Isaiah Washington from being fired from Grey's Anatomy, however. It was confirmed in 2007 that Washington would not be returning to the drama series, which was a choice that left Isaiah Washington publicly upset. In a statement, Washington admitted that he was "mad as hell" and that he was "not going to take it anymore," quoting the famous line from 1976's Network.
After making appearances in small independent films and other television shows, including a guest spot on Law & Order: LA, Isaiah Washington returned to make a cameo in a season 10 episode as his former character. That remains Isaiah Washington's final appearance on Grey's Anatomy.
Why Kate Walsh (Dr. Addison Montgomery) Left Grey's Anatomy
Kate Walsh's Dr. Addison Montgomery wasn't a key player during the first season of Grey's Anatomy. She only appeared in guest-starring roles during the show's initial run, before she was promoted to one of the main players in Season 2. She remained a main player in Season 3, but her tenure there was short-lived. However, her departure wasn't due to controversy.
Instead, it was announced in 2007 that Dr. Addison Montgomery would be getting her own show, Private Practice, which would relocate the doctor to a brand new location with a lot of new characters. The spin-off series was well-promoted and it was on the air for six seasons, which is certainly nothing minor. Although, I guess it is minor compared to Grey's Anatomy's imposing, ongoing run.
Dr. Montgomery would make special guest starring appearances throughout the fourth-eighth seasons, but when Private Practice came to a close, it was also the end of Dr. Addison Montgomery's television tenure.
Why Brooke Smith (Dr. Erica Hahn) Left Grey's Anatomy
Brooke Smith's departure from Grey's Anatomy was another dismissal that prompted some controversy, though for reasons that were much different than what lead to Isaiah Washington's initial termination from the show. First starring as a recurring character in Season 2, before she became a guest star in Season 3, then finally a main character in Seasons 4 and 5, Brooke Smith's Erica Hahn received a great deal of attention on the show when her character announced that she was a lesbian. There has been some considerable back-and-forth about what happened with Dr. Hahn.
In an interview, Brooke Smith claimed that she was told by network executives that the scene wherein Dr. Erica Hahn realizes she's gay was "one of the best they ever shot on the show." Still, Smith was quite taken aback by her dismissal from the show shortly after the powerful scene, claiming that she was "floored" by the decision and that she was told they "couldn't write" for her character "anymore." Addressing the controversy, creator Shonda Rhimes claims that Brooke Smith was "obviously not fired for playing a lesbian," and she noted that they let Smith go from the hit series because they "did not find the magic and chemistry with Brooke's character would sustain in the long run." Brooke Smith was ultimately let go after the fifth season.
Why T.R. Knight (Dr. George O'Malley) Left Grey's Anatomy
As one of the original main cast members during the early seasons of the show, T.R. Knight's Dr. George O'Malley played a big hand in the original ensemble. That was until he was let go of the show around Season 5, and once again, it appears that the reason for the actor's dismissal came from a bit of controversy. Specifically, it appears that T.R. Knight and show creator Shonda Rhimes had some heated disagreements about the character.
This time around, however, it seems like T.R. Knight made the decision to leave the hit show, rather than being fired or let go. Knight claimed in an interview that his beloved character was fading further and further into the background, to the point where he felt it was making little sense for him to stay on the show when his time as an actor could be invested elsewhere. He would rather just leave and was granted an early exit.
It appears that matters between T.K. Knight and Shonda Rhimes were getting heated even before the actor made the decision to leave Gary Sloan Memorial Hospital for good. According to Knight, Rhimes reportedly suggested that Knight not come out publicly around Isaiah Washington's leave from the show. He claimed she was "concerned" about having the statement come out "so shortly after the event." Nevertheless, T.R. Knight and Shonda Rhimes worked together on the ABC thriller, The Catch.
Why Katherine Heigl (Dr. Izzie Stevens) Left Grey's Anatomy
There's no denying that Katherine Heigl rose to fame through her involvement in ABC's Grey's Anatomy. The drama series played a big part in making the actress a major household name, and her Emmy-winning performance as Dr. Izzzie Stevens was crucial to the success of the earlier seasons. Alas, while she was definitely making a big impression through her work, Heigl was reportedly not earning a lot of friends with the creatives involved in the hit series.
The following year, after winning Best Actress at the Emmys, Katherine Heigl refused to submit her name for Emmy consideration. Heigl did go on to take her name out of consideration, but naturally, this whole thing did not go over well with the folks over at ABC. It was only a couple years later, in 2010, that Katherine Heigl announced she was officially leaving the series before the seventh season.
In her statement, Katherine Heigl said that she "was done," and that they finalized their agreement and everyone involved worked "really hard to find an amicable and gracious way of letting go and moving on. While Heigl noted that it was "sad," she claimed it was what she "wanted." At the time, Heigl was well on her way to become a movie star, though her reputation seemed to follow her. She appeared in the short-lived series, State of Affairs, as well as Doubt, and she recently appeared in the final two seasons of Suits, continuing to find television gigs. She has not wanted to return to Grey's since.
Why Chyler Leigh (Lexie Grey) Left Grey's Anatomy
It came as a big surprise to Grey's Anatomy fans when Lexie Grey, played by Chyler Leigh, was killed off the show at the end of Season 8. It was not something that viewers anticipated, but it was a decision that Leigh reportedly made herself. There's no publicly announced reason as to why she left the series, although she said in a statement that she felt "very lucky" to have worked with "an amazing cast and crew" throughout her tenure in the hospital series, and she claimed that she will "treasure" her experience on the drama series for "the rest of [her] life."
Shonda Rhimes also didn't give an explanation for why Chyler Leigh left the series, but she also noted that she loves both Leigh and her character. She claimed she was an "important member of my Grey's family" and not a simple decision, but one that she and Leigh made together.
Why Eric Dane (Dr. Mark Sloan) Left Grey's Anatomy
Much like some other cast members who held a long residence on the show, Eric Dane, who played Dr. Mark Sloan, i.e. McSteamy, decided it was time to leave Grey's Anatomy. As we noted earlier, nobody can stay on one show forever. Dane was ready to pursue other creative endeavors outside of his hospital scrubs. Shonda Rhimes said that she felt it was "the right time for his storyline to end," though she called Dr. Sloan one of the hit show's "most beloved" characters.
When Eric Dane joined TNT's The Last Ship a few months later, it was apparent that his desire to leave Grey's Anatomy was based, in large part, on his desire to join the new series. He claimed in an interview that he would've "done the final episode," but Eric Dane felt that this opportunity wasn't one that he was willing to pass up, even if it meant leaving Grey's. The expensive TNT series made it through five seasons before it aired its finale last year.
Why Sandra Oh (Dr. Cristina Yang) Left Grey's Anatomy
Unlike a number of actors who left the series, it didn't come as a huge surprise when Sandra Oh finished her final day of work in the Seattle hospital. The film and TV actress was one of the biggest names on the show when it first began in 2005, having earned a great deal of acclaim for her performance in Sideways the year prior. It was surprising, if anything, that she stayed on the show for a whole ten seasons. Alas, it was then that she decided that it was time to go.
At the time, Sandra Oh claimed it was a decision she mulled over for at least a year, according to her account, and Oh claimed that she went to a lot of therapy in order to properly let go of her character emotionally. Shonda Rhimes claimed it was "bittersweet" to see Sandra Oh go, and she added that the show would "once again be forever changed." After leaving the show, Sandra Oh went on to win a Golden Globe and receive an Emmy nomination for her widely acclaimed work in Killing Eve. Even though she no longer clocks in hours at Grey Sloan Memorial Hospital, her impressive work will continue.
Why Patrick Dempsey (Dr. Derek Shepherd) Left Grey's Anatomy
When it comes to character departures, there are few that came were more shocking than the leave of Dr. Derek "McDreamy" Shepherd, played by Patrick Dempsey. The actor was a regular fixture on the hit series, playing a big role in its ongoing success throughout multiple seasons on ABC. But during Season 11, the character was killed off the show, and it was a departure that ultimately left many fans feeling devastated by the decision.
In a conference in 2015, Shonda Rhimes addressed Patrick Dempsey's leave from the show, claiming that "the decision to have the character die the way that he did was not a difficult one in the sense of what were the options?" That's certainly one way to address his dismissal. In an interview, the TV actor revealed he felt it was time to leave as well, believing that 10 years was "a long time to be on a show," and he said it's "very hard" to keep the plot investing with one character after such an extensive period of time. There were rumors there were disputes between Patrick Dempsey and Shonda Rhimes, which lead to the stark way in which his character died. Though that was not officially confirmed in any capacity with this character.
Why Sara Ramirez (Dr. Callie Torres) Left Grey's Anatomy
As we have noted earlier, it takes a lot out of an actor to be on a show for nearly 10 seasons. While Sara Ramirez, who played Dr. Callie Torres, was not part of the show back when it first started, she became a reoccurring player in Season 2, then one of the main stars in Season 3. But when it was time to make Season 13, Ramirez felt like enough was enough.
According to sources behind Grey's Anatomy, there was "no bad blood" regarding the decision, and that the choice to leave was entirely her own. Sara Ramirez wanted "some welcome time off," and she also went out and praised Shonda Rhimes for what she accomplished with the TV series. Ramirez also left the door open to return someday, although she hasn't yet returned to the show. Alas, the decision came as a surprise to many, and that includes Shonda Rhimes, who reportedly only found out about her decision to leave the a few days before the news became public knowledge. In any case, Shonda Rhimes was happy that she let the character leave for New York the season before, which helped to give the character a transition.
Why Jerrika Hinton (Dr. Stephanie Edwards) Left Grey's Anatomy
Jerrika Hinton first made her introduction into Grey's Anatomy around Season 8 as a recurring character, eventually becoming a more prominent member of the hospital staff. In 2017, she made her final appearance, and it was a decision that was not entirely shocking to the fans or creators. As it turns out, there were reports that Hinton had plans to leave for at least two seasons prior to her exit.
Allegedly, years prior Jerrika Hinton and the showrunner had "a very lengthy and gratifying and really splendid conversation about work and creative process." Shonda Rhimes echoed a lot of what Hinton said, claiming that she was "proud" of the actress for the work they accomplished and accepted that she was ready to move on to different projects.
Why Justin Chambers (Dr. Alex Karev) Left Grey's Anatomy
Grey's Anatomy fans got a shock in early 2020 when news broke that Justin Chambers was leaving Grey's Anatomy after 15 years. His departure left only three original series stars on board, and it was abrupt enough that Alex didn't get an on-screen farewell episode. When Justin Chambers announced his departure, fans learned that his final episode had already aired. Grey's Anatomy had to write Alex out after ending the first half of Season 16 with Alex simply off to help his mom.
As for why he left, Justin Chambers explained that he was moving on from Grey's Anatomy to diversify his acting roles and career choices. He turned 50 with his wife and five kids, and decided the time had come to say goodbye. Only time will if Chambers ever reprises his role, but at least he's not dead!
These are not the only actors who have bid adieu to Grey's Anatomy. Gaius Charles, Tessa Ferrer, Martin Henderson, Jason George (who left Grey's Anatomy for another spin-off series, Station 19), Jessica Chapshaw, Sarah Drew, Melissa George, Loretta Devine, Jeffrey Dean Morgan, Jeff Perry and Scott Foley. There are a lot of seasons of Grey's Anatomy and there have been a lot of notable characters, which means that a lot of people had to say goodbye. In any case, which characters were you most devastated to see go?
Your Daily Blend of Entertainment News
Will is an entertainment writer based in Pittsburgh, PA. His writing can also be found in The Playlist, Cut Print Film, We Got This Covered, The Young Folks, Slate and other outlets. He also co-hosts the weekly film/TV podcast Cinemaholics with Jon Negroni and he likes to think he's a professional Garfield enthusiast.