Alex Trebek Helped Dumb Down A Jeopardy Category After Prior Contestants Went 0-5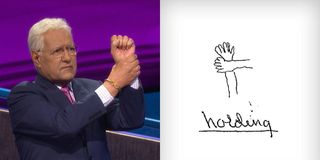 Alex Trebek remembers quite clearly when previous Jeopardy! contestants failed to give a correct response to any of the questions in a category about football. He said as much in a recent episode of the beloved game show. However, when bringing back the football category, the host tried something different and helped the clue creators in dumbing down the category after the last contestants went 0-5.
Basic football rules can be hard to follow if you're not a fan of the game, but it's rare for an entire category to go by without a contestant giving at least one right answer. Alex Trebek gave Jeopardy! contestants another chance at the football category in a recent episode, only this time around, the host offered the players a simpler version of the category and came up with a new way to help them out. Trebek was also very clear, used small words to describe the rules of the category, and gave a longer explanation than usual regarding key terms before kicking things off. Here's what Trebek told the contestants right beforehand.
So he did. Alex Trebek was the very definition of a referee, emulating the signals to the contestants, making them easier to follow. What's more, the players were seeing double because Trebek would do the referee signals immediately after the screen showcased his hand-drawn version of the signs. Watch the full clip of Trebek being a stand-in referee below!
Personally, it was a good thing that Alex Trebek helped out because those drawings weren't always very clear, so having the host as a visual assist proved quite helpful for those who may not be that knowledgeable with all things football. The contestants actually got some of the questions right this time around, so it was a vast improvement from the last attempt.
Recently, both Jeopardy! and Wheel of Fortune have opted to get rid of studio audiences due to concerns over the spread of COVID-19, best known as the coronavirus. Considering that the spread of the virus has yet to be contained, the studio audience seats will remain empty until further notice, and the same goes for a ton of other daytime and late night shows. It's a smart decision for the safety of everyone and particularly Alex Trebek, who has a weakened immune system from his ongoing battle with pancreatic cancer.
Jeopardy! airs in syndication, so check your local listings for updates. In the meantime, be sure to check out our 2020 midseason schedule to see what else is available to watch on cable and streaming platforms.
Your Daily Blend of Entertainment News
Thank you for signing up to CinemaBlend. You will receive a verification email shortly.
There was a problem. Please refresh the page and try again.