Pauley Perrette Explains Why Her New Show Makes More Sense For Her Than NCIS Did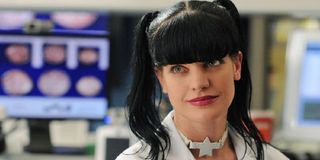 Pauley Perrette may have left her NCIS days behind, but she played Abby Sciuto for 15 whole seasons and left a lasting impression on viewers. Perrette has since moved on to star in CBS' latest sitcom Broke, a series that is wildly different from NCIS, and the actress recently explained why the new show makes a lot more sense for her than NCIS did.
Broke follows the story of Pauley Perrette's Jackie, a single mother whose life is upended when her estranged sister and her sister's wealthy husband suddenly find themselves strapped for cash and in need of a place to stay. Prior to the dramatic life of NCIS, Perrette had guest-starred in comedy series like The Drew Carrey Show and Frasier, and she was a series regular on the short-lived ABC sitcom That's Life. Speaking with USA Today, Perrette recalled those jobs in revealing why she feels Broke is more of a fit for her. Here's what she had to say:
It sounds like Pauley Perrette is really happy being a part of CBS' new series, which also stars Jane the Virgin standout Jaime Camil and stand-up comedian Natasha Leggero as her brother-in-law and sister, respectively. The comedy marks Pauley Perrette's return to television after vacating NCIS, and she claims the sitcom is her "favorite show I've ever done."
Amid all the complications that are happening right now in the outside world, Perrette believes a show like Broke is exactly what viewers need at the moment. Personally, I'm glad that she seems comfortable and excited about her new job, considering how things left off with her last one.
That said, it does sound like Pauley Perrette is not willing to discuss NCIS more than she absolutely has to, as it's all in the "past now." She doesn't even refer to it by name, but rather "that military show about murder." That does make some sense, considering the controversial aftermath of her departure back in 2018. Though Abby wasn't killed off, the character decided to leave the team behind to start a charity to honor Craig, who died saving Abby's life in the field.
That was all onscreen, however. In a series of confusing tweets following her final episode, Pauley Perrette alleged that several physical assaults led to her exit. She later alleged that it was series star Mark Harmon who had attacked her, and that she reportedly wasn't coming back to the show because she is "terrified" of him. On a more positive note, Perrette is still friends with other NCIS co-stars like Bull's Michael Weatherly, whom she says she loves "more than anything on the planet."
Thankfully for Perrette, she's back in the genre she started off in, and hopefully Broke will give her many years of laughs to come.
Broke airs Thursdays at 9:30 p.m. ET on CBS. Stay tuned to CinemaBlend for updates on all the TV delays and shortened seasons.
Your Daily Blend of Entertainment News