The Awesome NCIS Cameo Viewers May Have Missed In The Season 17 Finale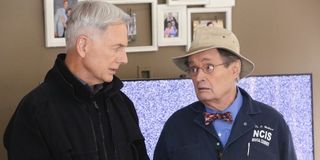 NCIS wrapped up Season 17 with an unusual finale episode. Granted, it wasn't actually the intended season finale for the CBS drama, but the Hollywood shutdowns halted production and capped the season off with 20 out of the 24-episode order. Certain storylines may have to be revisited at some point down the road, but the Season 17 finale, called "The Arizona," was game-changing for Gibbs and included a pretty awesome NCIS cameo that viewers may have actually missed.
NCIS' "The Arizona" followed the story of Christopher Lloyd's Joe Smith, who wanted his ashes to be buried where the USS Arizona bombing happened at Pearl Harbor during World War II. Mark Harmon's Gibbs eventually got Joe to open up and was later comfortable enough to share his own war experience from his time in Kuwait. In the midst of the episode, Gibbs called out to a man named Omar, who was walking by at the time. It was random, and the character had never appeared before on the show. Who was this mystery man? Here's what NCIS showrunner Frank Cardea told TVLine about that intriguing cameo:
Honestly, that's pretty amazing. It's always really fun when NCIS works to include the real-life organization the series is based on. NCIS: Los Angeles also included a few cameos of actual NCIS chiefs over the years, so the tradition extends beyond that of the parent show. However, the story didn't end there. Frank Cardea added that the CBS drama has an even longer history with Omar Lopez, who was appointed in June 2019. In his words:
That's what I call coming full circle. Frank Cardea also revealed that, while the original Season 17 finale wasn't going to end on a cliffhanger, it would have had a "surprise ending." It's a development that Cardea and the NCIS writing team planned to "go forward with" in Season 18, but only time will tell whether those plans will have to be reworked.
Stay tuned to CinemaBlend for updates. In the meantime, be sure to check out our complete guide to all the big TV finales coming up this spring and summer.
Your Daily Blend of Entertainment News
Your Daily Blend of Entertainment News
Thank you for signing up to CinemaBlend. You will receive a verification email shortly.
There was a problem. Please refresh the page and try again.