Aw, Dave Filoni's Sweet Star Wars: The Clone Wars Art Highlights Anakin And Ahsoka's Bond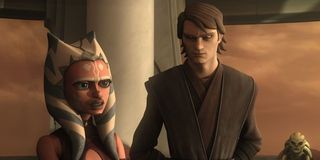 Spoilers for the Star Wars: The Clone Wars episode "Old Friends Remembered" lie ahead.
Star Wars: The Clone Wars is coming to an end, which means fans will receive a sense of closure when it comes to its story and characters. This includes the relationship between former master and apprentice Anakin Skywalker and Ahsoka Tano. This week's episode served as a touchstone for them, as it not only featured their long-awaited reunion but also marked what could have been their last meeting of the series. And to mark the occasion, the show's creator, Dave Filoni, has released a new piece of art that's sure to have you in tears.
Dave Filoni took to Instagram to drop his recent drawing, which shows Anakin and a younger-looking Ahsoka looking off into the sunset together. You can check out the sentimental piece down below:
This new art from Dave Filoni is sure to strike a chord with longtime fans of Star Wars: The Clone Wars, especially after this week's episode. If this simple, yet impactful, image doesn't make you feel anything, I don't know what will.
Dave Filoni has an immense passion for Star Wars, which has been evidenced through his work on Clone Wars, Rebels and The Mandalorian. Filoni also co-created the character of Ahsoka Tano with George Lucas and has overseen her development over the years. As a result, he's become very protective of the character and has carefully plotted out her story.
Ahsoka's training with Anakin Skywalker has become one of the most defining aspects of her journey. When she first debuted in the 2008 film that kicked off Star Wars: The Clone Wars, Ahsoka was considered unnecessary and even annoying by some fans. But over time, they grew to love her, and she's now regarded by many as a key part of Star Wars lore. Ashley Eckstein, the voice behind Ahsoka, even believes the character has come to represent hope.
Ahsoka also served as a crucial point of character development for Anakin Skywalker. Through his desire to train and mentor her, viewers understand how Anakin transformed from the reckless padawan we see in Attack of the Clones to the more reserved and confident Jedi Knight seen in Revenge of the Sith.
Although Ahsoka's path will chronologically lead her into the events of Star Wars Rebels, the four-part "Siege of Mandalore" story arc will serve as somewhat of a conclusion for her. So far, the tale is proving to be one of Ahsoka's most dangerous challenges yet, and it's still hard to predict how the situation will be resolved.
Anyone who's seen Rebels knows that Anakin and Ahsoka have a pretty tragic encounter down the line, which makes their Clone Wars reunion that much more poignant. And Dave Filoni's artwork is a great reminder of the best parts of their relationship.
You can stream the final season of Star: Wars: The Clone Wars, along with past seasons, on Disney+.
Your Daily Blend of Entertainment News
Covering superheroes, sci-fi, comedy, and almost anything else in film and TV. I eat more pizza than the Teenage Mutant Ninja Turtles.
Your Daily Blend of Entertainment News
Thank you for signing up to CinemaBlend. You will receive a verification email shortly.
There was a problem. Please refresh the page and try again.