Why The Masked Singer's Banana Had To Go Into 'Survival Mode' For One Performance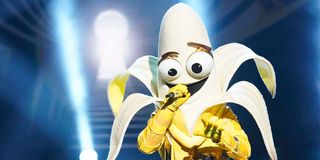 Spoilers ahead for the April 22 episode of The Masked Singer.
The Masked Singer is gearing up for next week's Battle of the Sixes showdown, and that means that another contestant had to go this week. Over the course of the reality show's latest episode, called "The Mother of All Final Face Offs, Part 2," a quartet of the costumed singers give it their all. The Banana split popular opinion with his rendition of Bob Dylan's "Knockin' on Heaven's Door," which ultimately led to his unmasking, but there was one particular performance where The Masked Singer's Banana had to go into pure "survival mode" for.
The Banana was revealed to be Poison frontman and former reality star Bret Michaels, who reflected on one of his recent Masked Singer performances that didn't go so smoothly. Of course, I'm referring to Michaels' "Achy Breaky Heart" performance, for which he wound up messing up the lyrics for a bit before eventually getting back on track. The flub was later revealed to have been caused by underlying health issues, and speaking with TVLine, Michaels reveals that forgetting lyrics like that has happened to him before. Here's what he says was going through his mind during his slip-up:
Bret Michaels' legs did take on a life of their own whenever he sang along with "Achy Breaky Heart," and the performance looks all the more wild now knowing who was inside the costume. At least the crowd-pleasing Michaels seems like he had a great experience in his time on the show, and it's a shame he isn't going to the next round.
Guest judge Sharon Osbourne knew immediately that it was her friend Bret Michaels behind the Banana mask, and she remained positive throughout the episode. Part of it was due to her also knowing the Poison singer for over three decades, and picking up on his dance moves, but it's still rather impressive how right she turned out to be. In general, fans loved having Osbourne on the show, with some wanting her back as a full-time judge. There's no telling if that will become a reality for Season 4, but stay tuned.
New episodes of The Masked Singer Season 3 air every Wednesday at 8:00 p.m. ET on Fox. For more on what to watch in the coming weeks, be sure to check out our guide to all the big TV finales, as well as our 2020 summer premiere schedule.
Your Daily Blend of Entertainment News