Did Batwoman Reveal That The Arrowverse's Joker Is Dead?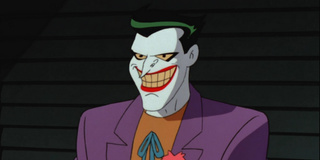 The CW's Batwoman has been name-dropping and referencing famous Gotham City villains since the beginning of Season 1. A pre-Two-Face Harvey Dent was revealed to be the uncle of villain Duela Dent, while Dr. Jonathan Crane (a.k.a. The Scarecrow) got his own nod when August Cartwright confirmed that's who he'd gotten his tank of fear gas from. With Batman having been gone for several years, many have wondered why his arch-nemesis The Joker hasn't taken over the city yet, and Batwoman finally revealed that it might be because he's dead.
The Vampire Diaries' Paul Wesley directed Batwoman's latest episode, "A Narrow Escape," which saw Ruby Rose's Kate Kane struggling in the wake of killing Cartwright. Prior to his murder, she was proud of being Batwoman, but now that she knew she was capable of murder, Kate had less of a desire to be Gotham's hero. She panicked whenever she fought anyone, convinced that she would ultimately kill them. What's more, she felt like she had broken Batman's unspoken moral code by killing someone.
So when Kate finally revealed to Luke Fox what she'd done to Cartwright, Luke assuaged her guilt by heavily implying that Batman had committed the same kind of act by killing off the Joker. Here's exactly what he said to Kate:
Sure, Luke didn't come out and say that Batman 100% killed the Joker himself, or even that Joker is 100% dead. However, considering the context of the conversation, and Kate's guilt over murdering a madman like Cartwright, Luke's implication all but confirmed that Batman had some of Joker's blood on his hands, regardless of how everything played out. I doubt Luke was talking about staring into James Cameron's The Abyss, after all.
Personally speaking, the reveal was a nice addition to the show's mythos, because Kate always saw Bruce as an infallible human being who was incapable of fatally harming others. She put a lot of pressure on herself to be like him. The conversation with Luke proved cathartic for her, and it seemingly proved that heroes aren't perfect, no matter what suit they wear.
The moment was also a clever way for the Batwoman writers to finally reference the Clown Prince of Crime while delivering a believable reason why he'll probably never show up in the Arrowvers as a major threat. It's also possible that The Joker's death was what led Bruce to leave Gotham City behind. Maybe he was too afraid that he would turn into his "Crisis on Infinite Earths" counterpart, a darker Batman who killed Superman and countless others. However, it's hard to tell whether viewers will ever get any confirmation on that front.
New episodes of Batwoman air every Sunday night at 8:00 p.m. ET on The CW. The series will end its freshman season with Episode 19 instead of 22, having shut down production in March. For more on what to watch, be sure to check out our 2020 summer premiere guide, as well as our list of all the big TV finales coming soon.
Your Daily Blend of Entertainment News
Your Daily Blend of Entertainment News
Thank you for signing up to CinemaBlend. You will receive a verification email shortly.
There was a problem. Please refresh the page and try again.