Kevin Conroy 'Would Love' To Play Batman Again In The Arrow-verse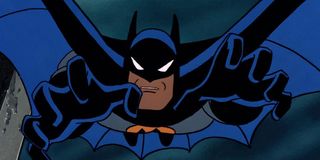 While "Crisis on Infinite Earths" isn't the first time Kevin Conroy will be playing Batman, it does mark the first time he'll portray the Dark Knight in live-action. For many, Conroy is the definitive Batman, having voiced the character for years in Batman: The Animated Series and Batman Beyond, among other projects. While there are no plans for Conroy to return to the Arrow-verse after "Crisis on Infinite Earths," the actor says that he "would love" to play Batman again.
Since "Crisis on Infinite Earths" is set to merge the multiverse, Kevin Conroy, who says playing live-action Bruce Wayne was challenging, was asked whether he'd be willing to return to play the Arrow-verse's Batman. Here's what he had to say about it:
Although it's unclear whether this Batman hails from the future or another earth, Kevin Conroy's Bruce seems to be struggling in his exoskeleton and is no longer Batman in his prime. That's why the actor's vision of inhabiting Old Man Bruce from Batman Beyond isn't a bad one.
Speaking of Batman Beyond, what about Will Friedle's Terry McGinnis? In an interview with ComicBook.com, Kevin Conroy admits that it would be harder to have Will Friedle play Terry McGinnis in live-action because of the age difference, but he wouldn't be opposed to an animated reunion.
The full trailer for the Arrow-verse's five-episode crossover offered fans a more detailed look at Kevin Conroy's live-action Batman. Wearing an exoskeleton suit, he's surprised to see Kate Kane (Ruby Rose) and Kara Danvers (Melissa Benoist) entering his home. They're likely there to recruit him for "Crisis" and the exchange seems a bit tense. For Batwoman, Bruce has been gone for three years, so getting to see her cousin again after so long will likely add another dimension to their relationship.
In addition to Batman, "Crisis on Infinite Earths" is also bringing fans multiple versions of Superman, including Smallville's Tom Welling and Legends of Tomorrow's Brandon Routh and Kingdom Come's Man of Steel. And if Tyler Hoechlin's Superman could get his own spinoff show, aptly titled Superman & Lois, then it's not a stretch to believe that Kevin Conroy could come back to the Arrow-verse in some capacity. The possibilities are endless.
For now, though, Kevin Conroy will only be playing Batman in the crossover and he'll be joining the entirety of the Arrow-verse in their fight against the Anti-Monitor, who's trying to destroy the multiverse. One of the casualties of "Crisis" is already shaping up to be Supergirl's earth, so prepare for a lot of death.
"Crisis on Infinite Earths" kicks off with Supergirl on Sunday, December 8 at 8 p.m. ET, followed by Parts 2 and 3 on Batwoman and The Flash on December 9 and 10, respectively. Arrow and Legends of Tomorrow will conclude the five-part crossover on January 14, 2020. Be sure to check out what else is returning midseason with our handy TV guide.
Your Daily Blend of Entertainment News