Fans Won't Stop Bugging Modern Family's Ariel Winter About Losing Weight From Medication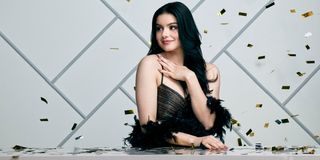 Ariel Winter played Alex Dunphy for eleven years on ABC's Modern Family. That's a long time for any actress to be on a series, and she's amassed a lot of media and fan attention over the years due to the show's popularity. But, growing up in the public eye was "difficult" and "awful" for the young actress. Part of that public scrutiny reared its head when several people began commenting on Winter's unexpected weight loss from medication, which was a topic fans apparently won't stop bugging her about.
When Alex Winter changed up her antidepressant medication, the switch caused the actress to lose thirty pounds. Almost immediately, it seemed fans had an opinion about the way she looked after that and the comments section on Winter's social media accounts were flooded with those who either commended her on the weight loss or judged her because of it. In an interview with Teen Vogue, the Modern Family star explained that she still received comments and even direct messages about the change in her appearance. In her words:
The Modern Family star conceded that the comments about her weight loss and body still bothered her after all these years, but that she's "learned to deal with it more." Still, Ariel Winter said she wished that people could "see the things I do" instead of spending so much time focused on what she looked like.
That said, Ariel Winter believed that it was hard for many to see the real her, primarily because she didn't put herself out there as much. Still, she knew who she was as a person regardless of how much she chose to share on social media.
Ariel Winter recently wrapped up her 11-season run on Modern Family. The long-running comedy culminated in a two-part series finale that was full of heart, humor, and zero flashforwards. Naturally, the show's final season didn't please everyone, but the cast was still pretty upset that the show ended, regardless. Winter didn't take home any mementos from the set because she has her memories, however, she did walk away with a close relationship with Nolan Gould, who played Winter's younger brother on the show.
Now that Modern Family is over, be sure to swing by our 2020 summer premiere schedule for new and returning shows to add to your watchlist.
Your Daily Blend of Entertainment News
Thank you for signing up to CinemaBlend. You will receive a verification email shortly.
There was a problem. Please refresh the page and try again.