Why Modern Family's Series Finale Didn't Include A Flash-Forward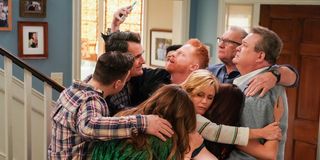 Warning! Spoilers ahead for Modern Family's series finale.
Modern Family finished its 11-season run with a big group hug and several goodbyes for the various members of the extended Pritchett family. The two-part series finale saw Mitch and Cam making the big decision to move away with their newborn after Cam was offered his dream job. Meanwhile, Phil and Claire faced an empty household after everyone decided to move out and/or away. However, the series managed to avoid providing the audience any direct glimpses into the future, which the Modern Family showrunners specifically decided against using.
Modern Family's series finale did feature callbacks to the show's pilot episode, but what was absent was a flash-forward to the future, a la the Dawson's Creek or Six Feet Under finales. For viewers, flash-forwards might've offered a sense of comfort, a confirmation that the Pritchett family members got their happy endings. Showrunners Steve Levitan and Christopher Lloyd decided that it wasn't the way to go. Here's what Levitan told Deadline:
That's a nice way of looking at it. Flash-forwards don't always need to be included to tie up characters' storylines. Most recently, the beloved sitcom Schitt's Creek ended its six-season run with the characters waving goodbye to their parents, as opposed to jettisoning the story into the future. Similar to Modern Family, everyone was moving on, but there was no flash-forward in sight. Christopher Lloyd also said that flash-forwards essentially had no place on a sitcom, and that he and Steve Levitan decided to see the characters off in a different way. In his words:
Modern Family's ensemble cast is incredibly large and so not every pairing got to have their standalone moment s in which to bid everyone adieu. The showrunners had to make decisions regarding who would get a bit more alone time and what ideas had to be discarded, but Christopher Lloyd believes that it all worked out in terms of the story. Here's what he had to say:
And that's a wrap on Modern Family! It's sad that the show is ending, but there's always hope for a spinoff. Not to mention all the shows that the cast members will be moving onto after the dust has settled.
In the meantime, there are several more shows wrapping up soon, so be sure to check our list of all the big TV finales coming this spring and summer.
Your Daily Blend of Entertainment News
Thank you for signing up to CinemaBlend. You will receive a verification email shortly.
There was a problem. Please refresh the page and try again.