Modern Family's Sarah Hyland Just Went Off On All Those Shaming Her For Her Weight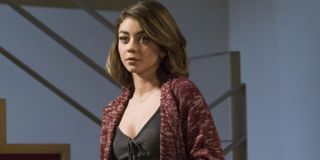 Recently, Sarah Hyland of Modern Family fame has taken heat from critics who allege she has an eating disorder. Still, Hyland took time out of her busy schedule, which recently involved promoting ABC's Dirty Dancing, to set the record straight about her weight. The 26-year-old actress clarified her disappointment toward critics by posting several slides in a lengthy social media rant addressing allegations she might be anorexic. Apparently, anorexia is not to blame for Hyland's slimness; rather, times have been tough for her due to a different set of health problems. Still, the actress explained her desire to be strong by writing,
Sarah Hyland shared the honest message with her 1.51 million followers on Twitter. Hyland explained the past year has been difficult, and although she is not ready to talk about the specifics, she did indicate she has been "on bed rest for the past few months," which has caused her to lose muscle mass. Moreover, Hyland explained her face might appear swollen because she is taking lifesaving medication that causes the effect. The actress declared she has no control over the shape of her body at the moment, so to the critics, Sarah Hyland made her point clear, writing,
The news Sarah Hyland is facing health problems seems to correspond with previous reports she has had issues with her kidneys. Hyland has spoken in the past about the fact she battles kidney dysplasia. In fact, back in 2012, Hyland revealed she underwent a successful kidney transplant. She may be facing similar difficulties again, but people have been quick to judge her based on pictures such as this one, in which she appears noticeably thin:
Regardless, since Sarah Hyland's kidney transplant, the actress has made certain not to let her health struggles hold her back. She has persevered in her role as Haley Dunphy on Modern Family. Plus, she has been super active, dancing her behind off on Dancing with the Stars and Lip Sync Battle. So, many of Hyland's social media followers praised her for posting the rant and applauded her for her resilience in the face of a real health scare as opposed to an invented one she has denied. Hyland indicated it saddens her to look in the mirror and see the strides she made in the gym fade away. Nevertheless, Hyland declared once and for all,
Sarah Hyland's words are inspiring. Hopefully, people can drop the bullying comments, such as the "eat a burger" comment Hyland mentioned in her post. Bullying is never okay.
Your Daily Blend of Entertainment News
Thank you for signing up to CinemaBlend. You will receive a verification email shortly.
There was a problem. Please refresh the page and try again.