DuckTales Reveals Darkwing Duck And More Cool Cameos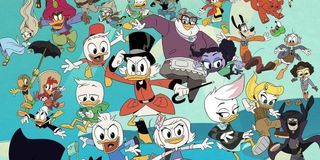 There's no better time to sit down and watch Scrooge McDuck, Donald, and his nephews Huey, Dewey and Louie in the animated series DuckTales. It's been a few months since the show wrapped up its second season and, now, the rebooted series is back in grand fashion, with several planned appearances from the likes of Goofy and more cool cameos in Season 3. Recently, DuckTales' series creator also opened up about the way in which he and his team planned out the series exciting cameos for Season 3.
Season 3 of DuckTales has plenty going for it already. During last year's San Diego Comic-Con, it was announced that several more familiar Disney characters would be making cameos in the animated series. Chief among them being Daisy Duck and Goofy, whose highly-anticipated cameo marks the first time he's ever appeared on the show. While the animation for Goofy took on a more classic visual style, DuckTales' Francisco Angones revealed how he and co-creator Matt Youngberg handled Darkwing Duck and TaleSpin cameos a bit differently. Here's what Angones told ComicBook.com:
Tackling the cameos of Darkwing Duck and TaleSpin characters as though they were also being rebooted is clever and provides a fresh take on the characters who first appeared in their respective animated series from the '80s and '90s. I'm personally excited to see how the creators factor these beloved characters into DuckTales and whether their cameos will be on a smaller scale than Goofy and Daisy Duck, who are more well-known.
During the interview, Francisco Angones also mentioned that, despite the fresh takes on the characters, they'll all remain true to the same at their core. This could prove to be a wise approach, as this will allow the characters to be accessible to both younger and older fanbases.
Having so many classic characters from the "Disney Afternoon" block, should give veteran fans a rush of nostalgia. You also have to wonder what other characters the showrunners are planning to reveal. In addition, with this "mindset" could the team be seeking to revamp the block by eventually spinning off the characters into rebooted Darkwing Duck or TaleSpin shows? Only time will tell.
DuckTales Season 3 airs Saturday mornings at 9:30 a.m. ET on Disney XD and DisneyNOW. For more on what to watch, be sure to check out our midseason schedule and stay updated with CinemaBlend's list of all the TV series that are facing delays and shortened seasons due to production shutdowns.
Your Daily Blend of Entertainment News