The Noughts And Crosses Leads Discuss What They'd Like From Season 2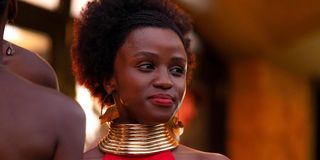 Warning! The following contains spoilers regarding the Season 1 ending of Noughts + Crosses.
This is not your average forbidden love story (opens in new tab). Season 1 of Noughts + Crosses introduces us to Sephy (Masali Baduza) and Callum (Jack Rowan) who, divided by their race and class, must decide what they value most and how far they're willing to go for love when their relationship is seen as a threat, and treated as such, from both sides. Will their relationship hold through Season 2?
Noughts + Crosses is captivating in every aspect. The writing is brilliant, the costumes and set design put you right in Aprica (the show's version of Africa), and the actor's performances truly blew me away. I became so invested in the lives of Sephy and Callum. Even in moments when they hurt each other, I rooted for them every step of the way.
If you binged the whole season in one sitting like I did, check out our Fall 2020 TV premiere guide to find your next show.
No word yet on Season 2, but I'm dying to know what comes next. I had the opportunity to sit down with the stars, Masali Baduza and Jack Rowan, and they shared where they'd like the story to go in the next season. Both are fans of the novels and hope the story sticks close to the material from which it was adapted.
Baduza said,
Here's where we get into spoilers, so if you're still binging Season 1, come back when you're done.
After a rough patch when Callum joins the Nought rebels and follows through with orders to capture Sephy, the bond between the two is strengthened with the reveal of Sephy's pregnancy. They decide to run away together, despite what could happen to Callum if they are found, as the Crosses have police and military efforts out searching for Sephy. Will they get away successfully? Where will they go if they do? What if they don't make it out of Aprica? We need Season 2 to find out!
Rowan echoed Baduza's sentiments about following the books, saying,
Ah, so the first season doesn't cover the full story of the first book. I usually prefer to finish an adapted television series or movie first, and then go back and read the book series. This way, I can be surprised as I watch the story unfold and get more details filled in when I read later, instead of anticipate what's ahead while I watch and occasionally getting upset when it deviates too far. But Jack Rowan has me sold on ordering these books.
We also discussed the game-changing moment for the lead characters. Rowan's choice was a moment that's very subtle, yet holds great significance. Here's what he said:
A band aid is such a small thing… we use them all the time on minor scrapes and think nothing of it. In Noughts + Crosses, the bandages are only manufactured in the Crosses skin tone, which calls more attention to them when used by Noughts.
Masali Baduza chose a more pointed moment, which is just as powerful.
These two characters have been through a lot in a short amount of time. Their view of themselves in the eyes of society, each other, and within have grown leaps and bounds from episode 1 to episode 6.
We're staying hopeful for Season 2 for Jack Rowan and Masali Baduza to continue Sephy and Callum's journey. Keep it here at CinemaBlend for updates, and in the meantime check out these other Peacock Originals.
Your Daily Blend of Entertainment News
Obsessed with Hamilton and most things Disney. Gets too attached to TV show characters. Loves a good thriller, but will only tolerate so much blood.
Your Daily Blend of Entertainment News
Thank you for signing up to CinemaBlend. You will receive a verification email shortly.
There was a problem. Please refresh the page and try again.