Battlestar Galactica's Katee Sackhoff And More Share Support For Co-Star After Tragic Accident Earlier This Year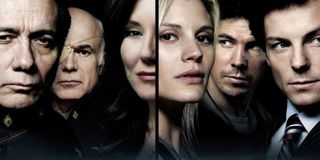 Michael Hogan, a prolific actor known for the likes of Zoo, 12 Monkeys, The Man in the High Castle, Fargo, and probably most notably Battlestar Galactica, has now been revealed to be partially paralyzed following a slip and fall accident back in February left the actor paralyzed. Now his wife of 48 years, Susan Hogan, is asking for help following the tragic accident and Hogan's Battlestar Galactica family, including Katee Sackhoff, have come out to support the actor while his family looks at fundraising.
According to a GoFundMe page set up for Sharon and Michael Hogan's family, on February 17 the actor was in Vancouver for a Battlestar Galactica convention. He went to dinner and afterward accidentally fell and hit his head. Unfortunately, he didn't seek medical attention and a massive brain bleed ensued. Hogan is now dealing with "paralysis on his left side, memory loss, cognitive impairment and an inability to swallow," problems exacerbated by COVID and not being supported by his family-at-large.
His co-stars on Battlestar Galactica have known about the accident for months, but now that the tragic accident has become common knowledge, they are posting in support of their former co-star. In particular, Katee Sackhoff -- often a person who will fight for good causes -- shared a lovely throwback set photo of Starbuck and Saul Tigh before speaking of her own personal relationship with Michael Hogan. She noted:
She wasn't the only BSG castmember to post either, as a lot of people from Sam Witwer to Tricia Helfer also sought to help out Michael Hogan's family. Helfer also shared the COVID-19 challenges everyone has faced since Michael Hogan's tragic accident, revealing everyone really wants to give physical support and just can't right now.
James Callis, who played Dr. Gaius Baltar, and Aaron Douglas, who played Chief, also reached out to lend support to Michael Hogan as he works through the consequences of the tragic accident. They both tied into the BSG fanbase when lending support.
Bear McCreary, prolific composer for both the big and small screen, also shared knowing that Michael Hogan is a "journeyman actor" and in need of our support.
Perhaps, however, Edward James Olmos struck the most Battlestar Galactica-oriented chord with fans when he touched on why now is the time to lend our support, channeling the quiet leadership of William Adama while doing so. He wrote on Twitter:
The GoFundMe post also included a specific message from Michael's wife Sharon, who is still grieving the loss of the marriage and the partner that she knew and facing the day on her own now. She noted:
The needs for Michael Hogan will be ongoing. To donate, head to the GoFundMe page.
Your Daily Blend of Entertainment News
Reality TV fan with a pinch of Disney fairy dust thrown in. Theme park junkie. If you've created a rom-com I've probably watched it.