George R.R. Martin Reveals His Unexpected Least Favorite Game Of Thrones Scene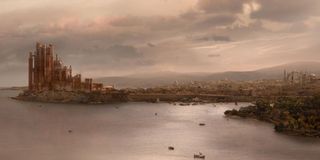 Game of Thrones may be George R.R. Martin's baby, but that doesn't mean he enjoys every single thing about the TV show based on his popular A Song Of Ice And Fire series. In fact, he was recently very open about his least favorite scene in the whole series. The scene in question comes from the first season of HBO's Game of Thrones.
George R.R. Martin is often fairly candid with his fanbase about a lot of topics related to his work projects and work life, so his latest comments shouldn't come as a huge shock. The scene in question he's talking about has to do with King Robert Baratheon going on a boar hunt, mainly because he feels like the small party that went on the hunt was tacky and not true to real life or what he had envisioned.
Speaking with EW, George R.R. Martin shared some other tidbits about the show that has made him even more of a household name. But he also elaborated on exactly how he saw Robert Baratheon's final hunt going, and to be fair, it sounds almost nothing like how it played out on the small screen. He said:
Now, it's probably worth mentioning that while George R.R. Martin depicts the society in Game of Thrones as having facets similar to Medieval England, it's also a fantasy series with dragons and White Walkers. Thus, if the hunting scene isn't specific to the "time period" I'd argue it's kind of irrelevant. However, if an author sees a scene play out one way and then its TV version plays out totally differently, I can see how that would be a sticking point.
This is particularly true given that Game of Thrones had hefty budgets for each of its episodes. Still, even if a creative team has a ton of money to play with per episode, cuts have to be made somewhere. The episode in which Robert is gored by a boar is a notable one from Season 1 before Game of Thrones had reached its height in popularity. That episode – and spoilers -- "A Golden Crown," saw Robert Baratheon (played by Mark Addy) go off on a small hunt in which he was ultimately gored by a boar, dying the following episode.
Robert's death is a pivotal moment within Game of Thrones history and per what George R.R. Martin now says, it should have happened with a bit more fanfare than him traipsing through the woods and talking about "making the eight." Probably the same amount of drinking, however.
Now, personally this moment never bothered me and there are a few more scenes particularly from Season 8 that get more flack from the fanbase. But it's cool George R.R. Martin kept tabs on the show and watched it as much as a fan as a creator. Sometimes artists and writers just wash their hands of any programming that's related to their source material, but not Martin, who even wrote episodes of the series through its run (including some highly-acclaimed episodes like "Blackwater"). It's nice to see a creator deeply involved for once, even if it means we've been waiting a heckuva long time for The Winds of Winter.
Reality TV fan with a pinch of Disney fairy dust thrown in. Theme park junkie. If you've created a rom-com I've probably watched it.
Your Daily Blend of Entertainment News
Thank you for signing up to CinemaBlend. You will receive a verification email shortly.
There was a problem. Please refresh the page and try again.