Andrew Bird: 6 Things To Know About Fargo's Musician-Turned-Actor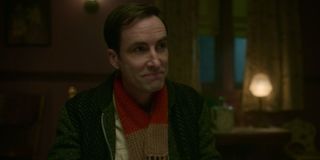 The cast of Fargo Season 4 is a ridiculously stacked collection of famous actors with everyone from Chris Rock to Jason Schwartzman and Jessie Buckley to Ben Whishaw taking up screen time in the latest entry in FX's crime anthology series. In addition to all those great actors taking on roles on either side of the battle between Loy Cannon's (Rock) criminal organization and the Kansas City mafia, there's someone who falls in the middle of everything, someone who may not be all that familiar. That someone is Andrew Bird who portrays the nervous funeral home owner Thurman Smutny.
But who is Andrew Bird and where did he come from? Well, if you were pulling up his filmography, you would see that besides musical appearances on various late night shows and musical programs, this is the Chicago native's first foray into acting. But he's no amateur performer. No, Bird has been playing his unique style(s) of music consisting of some of the most inventive violin work, the ability to whistle like, well, a bird, and passion for expanding his musical horizons. Here are some quick things to know about Andrew Bird, the musician-turned-actor featured in Fargo Season 4.
Andrew Bird Made His Acting Debut On Fargo Season 4
Prior to showing up in the Fargo Season 4 premiere as the nervous and distracted Thurman Smutny, Andrew Bird had little to no acting experience to his name. Sure, he's been performing on stages around the world for more than 25 years now and has appeared in multiple music videos, but to make your acting debut on one of the most anticipated shows of the year — a perennial award contender at that — has to be a lot to take in.
And perhaps the nervousness shown by Thurman Smutny is Andrew Bird's honest reaction to appearing in the show, especially taking into consideration the fact that show creator Noah Hawley, who approached Bird at an Austin concert, completely changed up the actor's dialogue the day he appeared on set, as the musician told Billboard:
If the first two episodes of the season are any indication, viewers will be seeing a lot more of Andrew Bird and his Thurman Smutny character as the story progresses in the weeks to come.
Andrew Bird's Music Has Appeared In Everything From Hotel Commercials To Orange Is The New Black
Andrew Bird is one of the more prolific musicians of the past quarter-century, releasing no fewer than 15 albums, a half-dozen live albums, and more EPs and singles than anyone can count, and so it's safe to say that we've all heard his music at one time or another. With his tracks appearing in commercials for hotel chains like Marriott (opens in new tab), in shows like Orange is the New Black, and into transitional segments on NPR and morning news programs, Bird's signature whistling and violin-plucking musical variations have been been all over the place. His whistling is also heard in Walter's "Whistling Caruso" in The Muppets.
The Multi-Instrumentalist Once Performed On The Children's Program Jack's Big Music Show
Andrew Bird now portrays an economically-depressed funeral home director in Fargo, but back in the early 2000s, he made a one-off appearance on the Nickelodeon-produced children's program Jack's Big Music Show. In a 2007 episode of the show, the multi-instrumentalist appeared as Dr. Stringz, a traveling stringed instrument repairman who had the ability to pull out various instruments from his checked coat. Bouncing between the guitar, mandolin, and the violin, Bird sings a delightfully catchy and upbeat song with the show's puppet characters.
Andrew Bird Previously Attempted To Start A Children's Program Of His Own Called Professor Socks
At one point, Andrew Bird even tried to make his own live-action children's program called Professor Socks. In 2013, Hit Fix (via The Line of Best Fit) revealed that Bird was working on the program in which he would play a confused professor who is transported to other vocational worlds along with a puppet fox whenever he puts on a different pair of socks. In an April 2020 Facebook live stream, Bird discussed how he came up with the idea for the show (which was never produced) after his 2007 appearance as Dr. Stringz before breaking into what would have been his show's theme song.
Andrew Bird Once Created A One-Man Orchestra During A TED Talk Demonstration
In recent years, Andrew Bird's performances have started with a one-man orchestra consisting of the multi-instrumentalist looping everything from a violin to a xylophone to imitate a full band. Bird and his signature performance style in 2010 after showing off his skills during a TED Talk Demonstration in which he continued to add layers of sound on top of one another until they meshed together to create one cohesive song. Titled, "A One-Man Orchestra of the Imagination," the nearly 20-minute demonstration also includes Bird's unmatched whistling ability and stories about the processes behind his music.
The Musician Often Collaborates With Fellow Chicago Native John C. Reilly
Actor John C. Reilly is probably best known for his hilarious performances in various Will Ferrell movies or heartfelt portrayals of flawed characters in a few Paul Thomas Anderson productions, but the Chicago native is also an accomplished musician as seen in Walk Hard: The Dewey Cox Story. But in addition to playing a comedic version of Johnny Cash in the 2007 fictionalized biopic, Reilly has also worked with multiple musicians, including Jack White and none other than Andrew Bird.
In 2016, Andrew Bird started an online performance series called "Live From the Great Room" in which he would welcome musicians into his Los Angeles home and perform a few songs together. One of the biggest names to be featured in the early goings was John C. Reilly, who came on and played a number of traditional folk songs and covers from Bird's various albums. The pair (along with bassist Tom Brosseau) got back together at the Americana Fest in 2019 to perform the Carter Family classic "When the World's on Fire."
Those are just a few things to know about the talented Andrew Bird now that he's reaching a new audience on Fargo. If you want to know more about what to watch, check out our Fall 2020 TV Premiere Schedule here at CinemaBlend.
Your Daily Blend of Entertainment News
Philip grew up in Louisiana (not New Orleans) before moving to St. Louis after graduating from Louisiana State University-Shreveport. When he's not writing about movies or television, Philip can be found being chased by his three kids, telling his dogs to stop yelling at the mailman, or yelling about professional wrestling to his wife. If the stars properly align, he will talk about For Love Of The Game being the best baseball movie of all time.
Your Daily Blend of Entertainment News
Thank you for signing up to CinemaBlend. You will receive a verification email shortly.
There was a problem. Please refresh the page and try again.