10 Awesome Virtual Concerts And Music Live Streams To Watch During Quarantine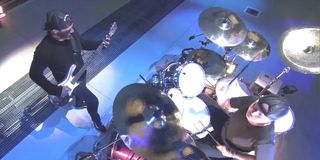 For anyone who loves live music, the Coronavirus pandemic has really thrown a wrench in your plans. With festivals like Coachella and the New Orleans Jazz Fest being postponed and countless tours being cancelled as people go into a state of quarantine, the music industry has stepped up and found a way to get the performances to fans: live streams and virtual concerts.
Browse Facebook, Instagram, Twitter, or YouTube long enough and you'll find hundreds of live streams or announcements for performances from giants of pop, symphonies and orchestras, and even hours-long DJ sets from across the globe. And while we're all shut in for the foreseeable future, this is going to have to be one of the main sources of entertainment for all those live music junkies.
Here are just 10 of the awesome virtual concerts that you'll be able to live stream over the ensuing days, weeks, and months until life goes back to normal.
Ben Gibbard: Live From Home - Daily
Fans of Seattle indie rock band Death Cab For Cutie will take pleasure in knowing that frontman Ben Gibbard has pretty much been playing live performances during his Live From Home concert series, with all donations benefiting different charities. Since starting out, the founding member of The Postal Service has performed intimate versions of songs from his extensive library of heartfelt and emotional pop songs, with each set focusing on a different era of his career.
In addition to pulling from the hundreds of songs he has written since the 1990s, Gibbard has also turned to some of his influences and elsewhere to fill out the live streams, with covers of songs made popular by everyone from Radiohead to Def Leppard. And if there is a certain song fans want to hear, all they have to do is reach out to Gibbard on social media and make a request. Live From Home can be streamed daily on Facebook, YouTube, and Twitch.
Andrew Bird: Live From The Great Room - Daily
Acclaimed multi-instrumentalist Andrew Bird has hosted his Live From The Great Room series off and on for a few years now, but in the wake of the COVID-19 pandemic, the violinist/guitarist/whistler has started hosting his live stream performances from his living room on a daily basis.
Each afternoon, Bird sits alone in front of a camera and plays a random song. With songs from his extensive library of folk and pop songs as well as countless covers that he has reimagined over the past 20 years, Bird provides a short reprieve from the events of the day. Streamed live each afternoon on his Instagram page, Bird's one-man performances are a treat, especially for those who follow the songwriter's every step.
Third Man Records: Third Man Public Access - Daily
With so many musicians missing out on gigs and their primary source of income, record labels like Jack White's Nashville-based Third Man Records is hosting daily concerts to help a few of those career musicians who wouldn't have a place to play or make any money during the quarantine.
Third Man Public Access comes to you live every day at noon Central Time from the label's Nashville headquarters and features a wide roster of musicians who will be sharing some of their favorite songs as well as what's getting them through the pandemic. To check out the Third Man Public Access performances, check out the Third Man Records YouTube channel.
The Metropolitan Opera: Live In HD - Nightly
With the remainder of the 2019-2020 season of the Metropolitan Opera in New York City being all but cancelled after the theaters, concert halls, and other music venues were closed in early March 2020, fans of one of the world's premiere opera houses will have to turn to live-streaming in order to see their favorite works performed on stage. Shortly after the Met closed its doors to audiences, the opera launched a series of free concerts for anyone and everyone to enjoy.
Each week of the "Nightly Opera Streams" series focuses on a different composer, which each daily stream consisting of a single piece from the curated list. Each night at 7:30 p.m. Eastern Time, opera fans can go to the Metropolitan Opera's website for the performances or use the Met Opera on Demand app to access the shows. The streams will then be made available for 24 hours before they are replaced the next night with another performance.
Wiener Staatsoper: Opera And Ballet - Nightly
With the Coronavirus sweeping across Europe, opera houses and music halls were forced to shut their doors and cancel performances as people began to distance themselves from one another. The Wiener Staatsoper (Vienna State Opera) in Vienna, Austria, found a way to keep fans of opera and ballet happy with a series of streamed performances every day until the beginning of April.
Each of this curated performances were hand selected and are available for free to anyone, no matter where they live. To check the schedule of performances or watch one for yourself, make sure to check out the Wiener Staatsoper website.
Metallica: Metallica Mondays - Every Monday
Although they won't be actually playing every Monday evening for the foreseeable future, American rock act Metallica will be showcasing some of the best performances from the band's storied history on Facebook and YouTube during the Coronavirus pandemic. This concert series will take place at 8 p.m. Eastern Time on Mondays and will include a set handpicked by the band for its millions of fans to enjoy.
And while it still isn't known whether or not Metallica will get to take their act on the road for the summer festival circuit or return to late night television, one thing is for sure, the band's fans will surely enjoy the curated performances from the comfort of their couches every Monday night until things settle down.
Diplo: Corona World Tour - Thursdays - Sundays, Tuesdays
World renowned DJ and producer Diplo has set out to give his fans five nights of music each and every week until people stop social distancing and take themselves out of quarantine. The Corona World Tour consists of five shows a week (Thursday-Sunday, Tuesday), with each day having a different theme. With lazy Sunday afternoon sets to Friday and Saturday night sets.
Instead of filling arenas and clubs at different locations around the world, Diplo's fans will be able to take in the DJ's performances from the comfort of their own couch, bed, backyard, or wherever as long as they stay home. And to make things even better, Diplo will be paying royalties to the artists whose music he uses in each performance. Check out Diplos's Corona World Tour on his Instagram, Twitch, and YouTube pages.
Rolling Stone: "In My Room" Series - Mondays, Wednesdays, Fridays
It is not just musicians or record labels that are hosting live concerts while concert halls and arenas are closed to the public; music magazines like Rolling Stone are getting involved as well. With the"In My Room" series, the famed publication is hosting three intimate performances every week (Mondays, Wednesdays, and Fridays) at 3 p.m. Eastern Time.
Since starting the series in mid-March 2020, Rolling Stone has hosted performances from Brian Wilson of the Beach Boys and John Fogerty of Creedence Clearwater Revival, and Grammy-winning artist Angelique Kidjo. More performances from newer artists and established figures in the music industry will continue to be hosted on Rolling Stone's Instagram page as long as this quarantine continues.
Big Freedia: "Friday Night Shakedown" - Every Friday Night
Those looking to shake off the quarantine blues should make note of Big Freedia's "Friday Night Shakedown" stream held at 9 p.m. Eastern Time on the bounce legend's Facebook and Instagram pages until she can start performing in clubs around the world again. If you're not familiar with Big Freedia, or bounce music in general, then do yourself a favor and check out this weekly dance party one Friday night.
In addition to getting her fans moving while in self-isolation, Big Freedia is also using the platform to raise funds for the New Orleans Disaster Relief Fund as well as her touring crew of musicians and dancers. Seriously, Instagram and Facebook are going to be the place to be every Friday night for the next few weeks or even months. And plus, you know you'll need the exercise.
Andrew Lloyd Webber - Self-Isolation Performances - Sporadically
The art of live-streaming performances is reserved only for the stars of pop, rock, and opera, as the famed composer Andrew Lloyd Webber is even getting in on the fun of performing for his social media followers. Since mid-March, the mastermind behind the songs from Broadway hits like Cats, The Phantom And The Opera, and Jesus Christ Superstar has been performing some of his most iconic numbers nearly every weekday on his Twitter account.
In a time when the film adaptation of Cats is getting ripped apart across the board, it takes someone like Webber to remind us of some of the great songs that made up the great moments in the stage production decades ago. In addition to playing songs on piano inside his living room, Webber also provides some key insight into the songs and their compositions. Make sure to keep checking the composer's Twitter page for the next intimate performance.
Those are just 10 of the upcoming and ongoing concerts and performances live music fans can check out while in quarantine. I'm sure more concerts will get added in the coming weeks, so make sure to check back for and updated list of concerts.
Your Daily Blend of Entertainment News
Philip grew up in Louisiana (not New Orleans) before moving to St. Louis after graduating from Louisiana State University-Shreveport. When he's not writing about movies or television, Philip can be found being chased by his three kids, telling his dogs to stop yelling at the mailman, or yelling about professional wrestling to his wife. If the stars properly align, he will talk about For Love Of The Game being the best baseball movie of all time.