10 All-Time Great TV Show Episodes Written By Women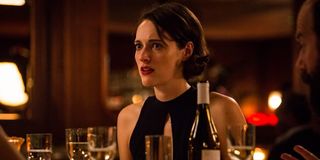 (Image credit: (BBC))
Television can be redundant. Showrunners get into this cycle of what works and say there such as with the tried-and-true family comedy, cop drama or high school soap. But with the turn of the century, TV gave way to a new golden age to the medium. One mix-up that has contributed greatly to the progress of television is having more female showrunners and writers among the male-dominated industry. Even though female characters are much more common today, women's words only account for about 30 percent of what you see on your small screens.
In celebration of these exciting strides for representation, let's look at some all-time great television episodes penned by women:
Ellen DeGeneres - Ellen, "The Puppy Episode"
Ellen DeGeneres has undoubtedly become one of the most well-known names in television with her highly-popular talk show and philanthropy. Before she booked The Ellen Show, the comedian was given the opportunity to front her own sitcom simply called Ellen in the '90s. The only episode she wrote the story for herself is an immensely defining moment in television. 1997's "The Puppy Episode" had Ellen's television alter-ego come out as gay to Laura Dern's Susan and a therapist played by Oprah Winfrey. The episode created a huge stir in the industry, causing threats from advertisers and religious groups, but has since become a cultural moment TV won't forget.
Lena Dunham - Girls, "The Panic In Central Park"
A staple in female-run television in the modern age was HBO's Girls, created by Lena Dunham. The show itself broke a lot of ground as to how women could be perceived and discussed about on television. Girls ran six seasons but Lena Dunham calls Season 5's sixth episode the piece of writing she's "most proud of." After Allison Williams' Marnie was MIA for much of that season, she returned for a beautiful self-contained episode of her own. Newly married to Desi but coming off a fight with him she runs into her ex Charlie (Christopher Abbott) and the pair have an eventful night out that leads her to make an important decision.
Amy Sherman-Palladino - Gilmore Girls, "They Shoot The Gilmores, Don't They?"
What's beautiful about Warner Bros television's Gilmore Girls is there will never be anything quite like it again. Showrunner Amy Sherman-Palladino has rapid-fire quips and smart dialogue that has since found a new home on Emmy-winning Amazon series The Marvelous Mrs. Maisel. But Gilmore Girls – if you lead, we will follow. Looking back, sure there's some flaws to take in about Rory Gilmore specifically, but this Season 3 episode that aired in 2002 is a reminder of the show's high point. Between boy drama with Rory and Lorelai and Stars Hollow town fun in the form of a 24-hour dance marathon it's the perfect episode to look back on.
Jane Espenson - Buffy the Vampire Slayer, "Conversations With Dead People"
Wow did it take a while for women to have a lead role in the action/fantasy genre, but we can thank Buffy the Vampire Slayer for proving there's a massive audience for a genre title starring a badass woman. The iconic series was created by Joss Whedon, but one prominent writer on the show was Jane Espenson, who has gone on to write for ABC's Once Upon a Time and Netflix's Jessica Jones. This Season 7 episode (also from 2002) turned the series into a horror movie for a minute as each main character in the series encounters a member of the dead with great depth.
Shonda Rhimes - Grey's Anatomy, "It's The End of the World/As We Know It"
Shondaland! One cannot even begin to express the importance Shonda Rhimes has on television's shift to the more diverse place it is today. There's a reason Grey's Anatomy has remained popular past 16 seasons, audiences are not ready to let go of these characters. The medical drama has changed immensely over the years as Rhimes pursued more shows including Scandal and Private Practice, but let's look back on 2006's two-part Season 2 finale. "It's The End of the World/As We Know It" is one heck of a thriller centering on a patient who enters the OR with a bomb lodged in his chest.
Tara Herrmann and Jenji Kohan - Orange Is the New Black, "Toast Can't Never Bread Again"
The landscape of television found itself a shake-up when Netflix began developing original programming starting with House of Cards and Orange is the New Black. The Jenji Kohan created series about a women's prison presented storylines about a spectrum of identities in an entertaining and relentless way for its seven seasons on the streaming service. In this 2016 Season 4 finale, Jenji Kohan and co-writer Tara Herrmann delivered an unexpected delight. After the death of fan-favorite Poussey by prison guards in the episode before, "Toast Can't Never Bread Again" combats the anger of the event by taking audiences on a series of flashbacks with Poussey.
Phoebe Waller-Bridge - Fleabag, "Season 2, Episode 1"
Phoebe Waller-Bridge has to be the highest-profile female writer working right now to create a more interesting place for television in Britain specifically. She recently worked on the script for No Time To Die to redefine the Bond Girl and developed Killing Eve for television, but it's Fleabag that shows off all her chops. The Amazon Original took home a stunning six Emmys last year, with eyes fixed on the Season 2 premiere. The episode about an uncomfortable dinner is cringey and hilarious while also somehow being a beautiful illustration of guilt and loneliness in the presence of others.
Shauna McGarry - Bojack Horseman, "The Face of Depression"
Another staple for Netflix's success in television has been the adult-animation existential-crisis comedy Bojack Horseman. The show created by Raphael Bob-Waksberg often examines fame and ego in today's world through has-been Bojack, played by Will Arnett. The series ended this year after six seasons. In 2019's "Face of Depression," Shauna McGarry wrote maybe the most peaceful episode of Bojack Horseman that brings about hope in the characters in a way that the show rarely leaves audiences with as the horse travels cross country to reconnect with loved ones. McGarry has only written two episodes of Bojack and the most important episode of Tuca & Bertie along with a handful for Anger Management and Take My Wife. She's one to watch.
Kerry Ehrin - The Morning Show, "The Interview"
Another recent addition to television written by a female voice is AppleTV+'s debut drama The Morning Show which is sure to rack up awards this season. The show has a lot of female talent on board – its produced by its stars Reese Witherspoon and Jennifer Aniston and written by Kerry Ehrin and Jay Carson. Ehrin has quietly been a massive voice on television with credits on Friday Night Lights, Parenthood and Bates Motel before The Morning Show. The 2019 season one finale of the drama titled "The Interview" that wraps up its season long conversation about sexual harassment and the media in a shocking way.
Moira Walley-Beckett - Breaking Bad, "Ozymandias"
"Ozymandias" is thought of as the best Breaking Bad episode of all time, which is high praise considering the show itself is often thought of as the best show of all time. The Season 6 antepenultimate episode was written by Moira Walley-Beckett and directed by the great Rian Johnson of The Last Jedi and Knives Out. Walley-Beckett has written eight other episodes on the series and created Flesh and Bone and Anne with an E. The title is inspired by the 1818 Percy Bysshe Shelley poem and sets up the final moments on television for Walter White.
Stay tuned here on CinemaBlend for more coverage on the best of television.
Your Daily Blend of Entertainment News
YA genre tribute. Horror May Queen. Word webslinger. All her writing should be read in Sarah Connor's Terminator 2 voice over.