Why The Boys Showrunner Already Regrets A Major Season 2 Death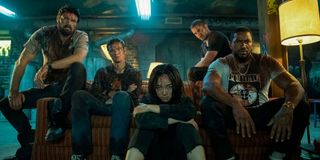 Warning! Spoilers ahead for Episode 7 of The Boys Season 2, called "Butcher, Baker, Candlestick Maker."
Shawn Ashmore's Lamplighter was a wonderful addition to The Boys Season 2, and his appearance added a new dynamic to the show. A former member of the Seven, Lamplighter was a bit more regretful than his fellow Supes, and he even joined the Boys in their quest to take down Vought. However, his arc was short-lived, and Lamplighter ultimately sacrificed himself to save Starlight, who had been captured. Following the episode, The Boys showrunner Erik Kripke revealed why he already regretted Lamplighter's death.
The Boys initially crossed paths with Lamplighter at the psychiatric facility where he worked under the control of Stormfront and Vought. Instead of remaining loyal to Vought, he temporarily joined the Boys at the end of Season 2's sixth episode. During the mission to save Starlight, Lamplighter set himself on fire to trigger the system's holding cells and went up in flames. While Lamplighter's death was a part of his storyline, Erik Kripke would've been okay with keeping Shawn Ashmore around longer. Here's what he told TVLine:
I was surprised that Lamplighter's life ended after only a couple of episodes. He was only just introduced, and there was a lot of potential for his character and his alliance with the Boys. However, the showrunner notes that Lamplighter was suicidal and felt that he'd strayed so far from the man his father expected him to be. Ultimately, Erik Kripke believes that Lamplighter's death was "really symbolic" because he died using the same power he inflicted on others.
Meanwhile, Shawn Ashmore knew that Lamplighter would die when he took the role and thought the character's death was a "bold choice," all things considered. Even though Ashmore would've also loved to stay on The Boys for longer, he believed it was a "perfect ending" for the character. In his words:
While Lamplighter's storyline ended too soon in my opinion, I do agree that he made a tremendous impact on The Boys in the short time he was around. Not many characters (or actors) have the opportunity to do that, and I think Shawn Ashmore's performance really added a lot of layers to Lamplighter's story in a way, which makes it easy to see why Erik Kripke even wanted to keep him for additional episodes.
The Boys Season 2 is fast approaching its conclusion and will air its finale on Friday, October 9 on Amazon Prime Video. For more on what to watch in the meantime, be sure to check out our 2020 fall TV premiere guide.
Your Daily Blend of Entertainment News
Your Daily Blend of Entertainment News
Thank you for signing up to CinemaBlend. You will receive a verification email shortly.
There was a problem. Please refresh the page and try again.