David Letterman Admits To Having 'Misjudged' Kim Kardashian, Shares What Changed His Mind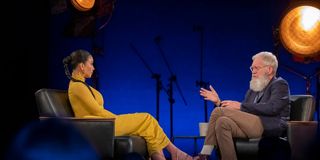 For 23 seasons, The Late Show with David Letterman entertained millions of viewers, with its iconic host taking shots at a number of celebrities, with Kim Kardashian as one of his primary targets from time to time. However, the tables have turned for Letterman now that he's hosting My Next Guest Needs No Introduction on Netflix, where Kardashian has gone from being the butt of his jokes to a notable guest for Season 3. Recently, Letterman admitted to having "misjudged" Kardashian and shared the reason for his change of heart.
David Letterman may no longer be hosting The Late Show, but it doesn't mean he's retired from the talk show circuit. In 2018, My Next Guest Needs No Introduction with David Letterman premiered on Netflix and has seen a plethora of guests like Barack Obama, Tiffany Haddish, and Kanye West among them. When his former Kim Kardashian mockery was brought up in an interview, Letterman said he'd changed his tune about the reality star, saying this to the New York Times:
In 2013, Kim and Kourtney Kardashian appeared on The Late Show and many believed that David Letterman was a bit rude to the sisters, leading to a bit of an awkward interview. That said, I've changed my mind about plenty of people in my lifetime, for better or worse, and it's not surprising that Letterman has done the same with regards to Kim Kardashian.
It seems David Letterman and Kim Kardashian have started fresh in their relationship following The Late Show. As for the reason behind why Letterman officially changed his mind about the reality star, he says it began with a visit to her in her home with Kanye West during an earlier season of My Next Guest Needs No Introduction. Here's how Letterman put it:
Speaking of Kim Kardashian's prison reform program, David Letterman will discuss this very topic with her when she appears on My Next Guest Needs No Introduction in Season 3. The Netflix series itself is more of a one-on-one conversation between the host and his guests, as opposed to a frothy opportunity to plug other projects. Kardashian's appearance will likely be a lot different and more serious than when Letterman spoke with her (and about her) on The Late Show.
My Next Guest Needs No Introduction with David Letterman is set to return to Netflix with new episodes on Wednesday, October 21. For more on what to watch in the meantime, be sure to check out our 2020 fall TV premiere schedule.
Your Daily Blend of Entertainment News
Thank you for signing up to CinemaBlend. You will receive a verification email shortly.
There was a problem. Please refresh the page and try again.