Wilson Cruz: 8 Things To Know About The Star Trek: Discovery Actor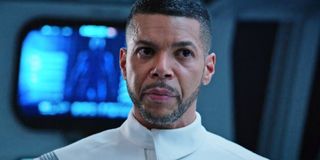 As a highly-accomplished actor on the stage and screen, Wilson Cruz has provided a number of prominent and influential performances throughout this 20-plus year career. Whether you know him best from playing Rickie Vasquez in My So-Called Life, his portrayal of Angel in Rent on Broadway, or, most recently, his performance as Dr. Hugh Culber in Star Trek: Discovery, Cruz still continues to establish himself as a prominent performer and activist, notably as an advocate for LGBTQ+ representation in media and the arts. While many theater lovers and TV fans are familiar with the actor's notable work, they might not be as well-versed with his personal story, and the ways in which his life has influenced his roles over the years.
If you're a fan of Wilson Cruz, here are just a few interesting and worthwhile facts to know about the Star Trek actor.
After He Came Out, Wilson Cruz Lived In His Car For A Few Months When His Father Threw Him Out
Throughout his career, Wilson Cruz has fought hard for representation and social acceptance. He wants his characters to help represent the myriad personalities seen throughout the LGBTQ+ community, which would hopefully allow other gay or non-binary people to feel more culturally accepted.
While there's still work to be done, we have evolved in many different ways. It's a more accepting world today than it was twenty or thirty-years-ago when Cruz was coming into his own as a young man and working actor. While he admitted knew that he was gay early on, it wasn't until he was 19 that he finally came out. Unfortunately, the news wasn't well-received. Cruz claims his father kicked him out of the house, and he lived in his car for a few months during their fraught relationship.
Wilson Cruz Was The First Openly Gay Man To Play An Openly Gay Character On Television
While My So-Called Life had a short television stay, lasting only 19 episodes in its sole season, the show's impact continued to resonate. When it comes to Wilson Cruz's portrayal of Rickie Vasquez, the actor notably made history by being the first openly gay man to play an openly gay character on television. While we've come a long way in terms of representation on television, we still have many more steps to go, and this development early in Cruz's career played a big part in informing his acting future.
Whether on stage, in film, or on television, Wilson Cruz made it his mission to bring better representation and awareness to the LBGTQ+ community. This short-lived role was, nevertheless, a monumental one for television and for Cruz's career.
Wilson Cruz's Role In My So-Called Life Helped His Father Come To Terms With His Homosexuality
Acting can be a powerful form of empathy. Much like the art of cinema can be a window for introspection and reflection, actors can channel emotions, embody various personas, and bring awareness and understanding to various identities and individualities. As noted earlier, Wilson Cruz's portrayal as an openly gay character in My So-Call Life was a big cultural moment, and Cruz's performance brought awareness to gay identity in the 1990s.
The performance was championed for its representation, but it also helped at least one important person in Cruz's life come to terms with his identity. Specifically, the actor's father grew to understand his son's real-life sexuality through his role in this show. Through his performance, Cruz's father came to terms with his son's sexuality. Thus, the power of acting.
His Performance In Rent Later Moved His Dad To Tears, And It Helped Find Self-Acceptance
Outside of his role in My So-Called Life, Wilson Cruz gained notice and acclaim for his portrayal of Angel in Broadway's production of Rent. Performing it live in front of hundreds of theater lovers provided a uniquely moving experience, allowing the actor to see first-hand the ways in which his emotional performance could affect viewers inside the moment. Among the audience members who were most emotionally impacted by his performance was his own father, who was moved to tears by his son's performance in this best-selling musical. That's certainly a powerful moment for any performer, most especially one who has held a tumultuous relationship with his own kin.
Therefore, Wilson Cruz has said that this performance, in particular, was one that helped him find self-acceptance early in life, discovering — and embracing — his sense of self.
Wilson Cruz Would Like To Play Prince In A Biopic
Even though we've gotten several musical biopics over the years, the life story of Prince remains untold on the big screen. The larger-than-life presence is mighty big shoes to fill (metaphorically speaking), so you need someone with clear star power to adopt the role of the late iconic singer-songwriter. While there's no guarantee that Wilson Cruz will fill the role someday in the inevitable biopic, it appears that he's at least given it some thought.
In an interview, when asked who he'd like to play in a biographical film, Wilson Cruz didn't hesitate to name-drop The High Priest of Pop, noting that he's a "fascinating bundle of contradictions" with "interesting and rich possibilities" for an actor to explore. While he notes that he obviously has "reverence" for the late artist, Cruz notes that "there's a human story that hasn't been told."
Being On Star Trek: Discovery Holds A Special Connection To Wilson Cruz's Childhood
Star Trek holds a special place in the hearts of TV lovers everywhere. There's a reason why the franchise continues to resonate with people — across multiple generations — for over 50 years. Even when the special effects are cheesy, the dialogue is hokey, or some of the performances are wonky, it speaks to the promise of a brighter future, filled with positivity, prosperity, and inclusivity. It's an idealistic view of the future, one that comes from our past and continues to speak to the present and (hopefully) the future. Among the many Star Trek fans out there is Wilson Cruz.
During a 2017 interview with StarTrek.com, Wilson Cruz spoke to the personal relevance and importance of being in Star Trek, particularly as one half of the first openly gay couple in the series' long history. His words:
He Considers Himself An "Actorvist" And Loved The Idea Of Being An Openly Gay Actor Of Color To Inspire Aspiring Young Actors
Throughout his career, Wilson Cruz has made a point to expand himself beyond simply being an actor. Particularly after the cultural influence of his role in My So-Called Life, Cruz has used his platform and continued success to bring awareness and public interest to important causes and organizations. As a result, the actor considers himself not solely an actor or activist, but a combination of the two: actorvist, as he likes to call himself.
Additionally, as a prominent Puerto Rican performer, Wilson Cruz loves the fact that he can be an openly gay actor of color and inspire young actors who are looking to find their own careers and hopeful success. It's this sense of optimism and encouragement that continuously fuels Cruz. Here's what the actor told Hispanic Network:
Wilson Cruz Turned Down A Role in Joel Schumacher's Flawless
Throughout his career, Wilson Cruz provided a number of distinguished and celebrated performances, both for the stage and screen. When asked if there was any particularly notable role that he passed on, Cruz recounted the amusing circumstances surrounding his decision to turn down a role in 1999's Flawless, directed by Joel Schumacher. Starring Robert De Niro and the late Philip Seymour Hoffman, this film role would've been a high-profile opportunity, but Cruz said he "didn't want to play another drag queen ever again," so he declined.
But when Joel Schumacher approached him for this role, Wilson Cruz admits that the recently-departed filmmaker might've gotten Cruz confused with Wilson Jermaine Heredia, who was cast in the film. While the director admitted otherwise, Cruz remained skeptical. Here's what the Rent actor told Passport Magazine:
What's your favorite Wilson Cruz performance? Let us know in the comment section!
Will is an entertainment writer based in Pittsburgh, PA. His writing can also be found in The Playlist, Cut Print Film, We Got This Covered, The Young Folks, Slate and other outlets. He also co-hosts the weekly film/TV podcast Cinemaholics with Jon Negroni and he likes to think he's a professional Garfield enthusiast.
Your Daily Blend of Entertainment News
Thank you for signing up to CinemaBlend. You will receive a verification email shortly.
There was a problem. Please refresh the page and try again.