All Of The Star Trek Movies Available On Streaming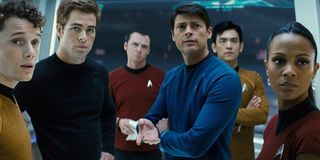 CinemaBlend participates in affiliate programs with various companies. We may earn a commission when you click on or make purchases via links.
Space: the final frontier. These are the voyages of the starship Enterprise, and they're not lightyears away. Yes, all thirteen theatrical Star Trek movies are available to stream — though not all in the same place. If you're looking to view any-or-all the space adventures with your favorite Star Trek characters, including Captain James T. Kirk and Captain Jean-Luc Picard, then you're in luck! We've compiled a list of all the places you can watch the movies, and where you can expect to find them in the weeks ahead. With that, this is where all the Star Trek movies are streaming, including Star Trek Beyond. Stream me up, Scotty!
Star Trek: The Motion Picture (1979)
In the first of over a dozen Star Trek movies, 1979's Star Trek: The Motion Picture doesn't mirror any of the installments that would follow. It's slow, meditative pacing harkens more towards Stanley Kubrick's masterpiece 2001: A Space Odyssey than any of the more action-packed Star Trek sequels we would see in its wake. Suffice to say, you either like it or you don't. Personally, I find it to be a bit of a snooze, but I can see the appeal. There's no denying that the filmmakers behind this first cinematic journey took full advantage of their cinematic potential, filling the frame with long, lingering shots of the Enterprise floating throughout the recesses of space. Be warned, though: it's definitely a slow-burn. And oddly hyper-sexual too.
Stream it on Hulu. (opens in new tab) Available on Amazon Prime until June 30th. Available on IMDb TV on July 1st.
Star Trek II: The Wrath of Khan (1982)
For many Star Trek fans, Star Trek II: The Wrath of Khan is the greatest Star Trek movie ever made. And it's hard to argue otherwise, unless the newest Star Trek blockbuster really knocks our space socks off. Director Nicholas Meyer applied old-fashioned story characteristics to the futuristic franchise, resulting in a Moby Dick-esque tale where Captain James T. Kirk and the rest of the USS Enterprise crew square off against the tyrant Khan (Ricardo Montalban), who escapes exile to exact revenge on Kirk while also trying to acquire a powerful device called Genesis. A smartly-crafted tale filled with character-driven stakes, thoughtful themes, and many thrilling moments, Star Trek has never topped this sequel in its cinematic history.
Stream it on Hulu (opens in new tab). Available on Amazon Prime until June 30th.
Star Trek III: The Search For Spock (1984)
Though it doesn't reach the same heights as The Wrath of Khan, notably in how it downplays the meaningfulness of Spock's ultimate sacrifice in the movie's emotional climax, Star Trek III: The Search For Spock finds the Enterprise hoping to bring dear Spock back to life whenever his spirit is found lodged inside the mind of Dr. Leonard "Bones" McCoy (DeForest Kelley). It's an admittedly forced effort to put the popular Vulcan back into the fold, but who could complain about that? In addition to reprising his role of Spock, Leonard Nimoy also jumps into the director's chair for this third Star Trek motion picture, and he proves to be a commendable captain. It's not the best Star Trek movie, but it's an enjoyable, emotional sequel with a big heart.
Stream it on Hulu. (opens in new tab) Available on Amazon Prime until June 30th.
Star Trek IV: The Voyage Home (1986)
In a curious twist, Star Trek IV: The Voyage Home progresses the popular science-fiction franchise by pushing the series back. Specifically, it finds the USS Enterprise going back in time to (then) modern-day San Fransisco to protect the now-extinct humpback whales. Sure enough, in their time-traveling efforts, they find themselves to be fish-out-of-water in a primitive society they don't understand.
It's an undeniably goofy idea for a Star Trek movie, but it works! The premise is fresh and surprisingly funny, proving director Leonard Nimoy's surprising knack for comedy (something he'd continue to explore whenever he took over the reins for 1987's Three Men and a Baby) and an environmentally-cautious storyline that's unexpectedly rousing and affecting. It's also one of the more accessible Star Trek sequels, resulting in one of the most inspired, entertaining Star Trek blockbusters.
Stream it on IMDb TV, CBS All Access (opens in new tab) and Popcorn Flix.
Star Trek V: The Final Frontier (1989)
While Captain James T. Kirk was a noble commander of the USS Enterprise, the leadership skills of William Shatner, the singular actor who played him, left something to be desired in Star Trek V: The Final Frontier. While perhaps not quite as bad as its reputation suggests (at least in my humble opinion), it's hard to call this heavily-panned sequel a shining moment for the series. Shatner's inexperience as a director is apparent, thus resulting in a clumsy, thematically skewed sequel in which the Enterprise is in search of God at the center of the galaxy, and it lacks the charm, smarts, and winning appeal of the better Star Trek movies that proceeded it. Thankfully, The Final Frontier wasn't the last time we saw the Enterprise.
Stream it on Hulu. (opens in new tab) Available on Amazon Prime until June 30th. Available on IMDb TV on July 1st.
Star Trek VI: The Undiscovered Country (1991)
With director Nicholas Meyer back in the director's chair, the Enterprise was steered back in the right direction with Star Trek VI: The Undiscovered Country, giving the long-running TV/cinematic series a proper send-off for its thoughtful band of space cruisers. The story, which follows Enterprise racing to stop conspirators with a militaristic agenda, is appropriately thematic, though it's best seen as a lovely, melancholy goodbye to the crew we know and love. Particularly since Star Trek creator Gene Roddenberry dying shortly before its premiere, there's an undeniable somberness to this sequel. While Captain Kirk's story continued with Generations, this is the last time we see the original Enterprise crew in action. It's a poignant send-off to one of the most iconic ensembles of the past millenium.
Stream it on Hulu (opens in new tab). Available on Amazon Prime until June 30th. Available on IMDb TV on July 1st.
Star Trek: Generations (1994)
In theory, this cinematic torch passing between the Star Trek Enterprise and Star Trek: The Next Generation's crew should've been monumental. Alas, this crossover film became one of the weaker installments in the prolonged sci-fi series, despite touching performances from William Shatner (in his final portrayal of Kirk) and Patrick Stewart. As we watch these two captains join forces to stop a villain (Malcolm McDowell) from destroying the solar system, we get what could've been a thoughtful, poignant reflection on legacies and what it means to sacrifice everything for the common good of humanity and beyond.
Alas, the material doesn't match the potential, resulting in an underwhelming conclusion to Kirk's story. Perhaps that's what makes it worse. Knowing it's his last adventure, this otherwise forgettable sequel doesn't match his indelible legacy.
Stream it on Crackle, Tubi, CBS All Access (opens in new tab) and Popcorn Flix. Available on IMDb TV on July 1st.
Star Trek: First Contact (1996)
For many Star Trek fans, Star Trek: First Contact is the best TNG movie. It's understandable why many people feel this way. In this thrilling sequel, which sees the crew going back to the 21st century to stop the Borg from conquering Earth, you get elements of both Wrath of Khan and The Voyage Home, resulting in an exciting, appropriately cinematic continuation for The Next Generation. It's easily the most critically and commercially successful of the spin-off series' films, and for some folks, it's considered one of the best Star Trek movies. It also, as it happens, harkens back to Moby Dick.
Stream It on IMDb TV, CBS All Access (opens in new tab) and Popcorn Flix.
Star Trek: Insurrection (1998)
While the reception to Star Trek: Insurrection is mixed among Star Trek fans, it was a quaint return-to-form (in so much as a Star Trek blockbuster can be "quaint") to the more ideological roots of the sci-fi franchise. We follow the Starfleet crew as they discover a conspiracy with the species Son'a to steal a peaceful planet called Ba'ku, known for its rejuvenating properties. Once again, environmentalism factors into the fold, and the plot is admittedly silly. Insurrection is also distinctly restrained, notably compared to First Contact, which was also directed by Jonathan Frakes. But its smaller, more insulated plot is pretty charming. Its focus on character and themes in the midst of action feels like an extension of the show in a way the other, more bombastic TNG movies didn't.
Stream it on Hulu. (opens in new tab) Available on Amazon Prime until June 30th.
Star Trek: Nemesis (2002)
In what would be the final Star Trek movie for The Next Generation crew and the last Star Trek movie until 2009, Star Trek: Nemesis finds Captain Jean-Luc Picard in a personal battle with Shinzon (Tom Hardy), an evil clone of Picard, who threatens to take control of the Roman Star Empire. It's a silly premise, but one that's notably more high-concept than Insurrection. While it lacks the wit and sophistication of TNG's TV run, opting for thunderous action beats instead, Nemesis does have compelling moments between Patrick Stewart and a young Hardy. While he'd get his moments to shine in better projects, Hardy's star power is undeniable in this villainous role. While it was a critical/commercial disappointment, it paved the way for Hardy's future A-list status.
Stream it on Crackle, Tubi, CBS All Access (opens in new tab) and Popcorn Flix. Available on IMDb TV on July 1st.
Star Trek (2009)
Following an underwhelming series of Star Trek movies, J.J. Abrams' vibrant, exuberant 2009 reboot, Star Trek, felt like the kick in the pants that the franchise needed. While other attempts at reinventing/retooling other popular IPs have often fell flat, this energetic, immensely entertaining new origin story of the original USS enterprise crew was benefitted by Abrams' sharp eye for action, an enjoyably fresh perspective on these popular characters, and sharp performances from our young cast, notably Chris Pine as Kirk, Zachary Quinto as Spock, Karl Urban as Bones, Zoe Saldana as Uhura, John Cho as Sulu, Anton Yelchin as Chekov, and Simon Pegg as Scotty.
Many reboots fail to balance between honoring their elders and doing something uniquely fun, but Abrams figured it out fabulously, resulting in a refreshing new take.
Stream it on FuboTV. (opens in new tab)
Star Trek Into Darkness (2013)
While certainly among the most contested Star Trek movies, particularly in how it rips off Wrath of Khan in shameless fashion, there are several thrills to be found in Star Trek Into Darkness, J.J. Abrams' follow-up to his massive 2009 blockbuster. In this sequel, the new USS Enterprise crew battle a former Starfleet-turned-terrorist who goes by the name "John Harrison" (Benedict Cumberbatch) — although (as you've probably heard), that's not his real name.
The pacing is fast and relentless, which helps smooth out some wonkier story beats, though fans who disparaged the whiz-bang-buck style of Star Trek (2009) were understandably more critical of this action-packed sequel. Nevertheless, it's not without its emotional moments, particularly Leonard Nimoy playing Spock for the last time.
Stream it on FX Now.
Star Trek Beyond (2016)
2016's Star Trek Beyond didn't get the same notice as its action-packed predecessors, ultimately underperforming at the box office. But for many Star Trek fans, it was a welcomed return-to-form. Directed by Justin Fix (Fast Five) and co-written by Simon Pegg, Star Trek Beyond follows the crew of the USS Enterprise as they explore the further recesses of space and encountering the villainous Krall (Idris Elba) who puts them to the test. Despite the high stakes, Beyond was notably less over-energized than its predecessor, returning to the more intellectually-stimulating material that made the series what it is today.
Though it didn't capture the same heights as the best installments, it was a worthwhile sequel. It was also an unexpectedly mournful goodbye to Anton Yelchin, who died shortly before its release.
Stream it on IMDb TV.
What's your favorite Star Trek movie? Let us know in the comment section.