What Is HBO's How To With John Wilson: 5 Things To Know Before You Watch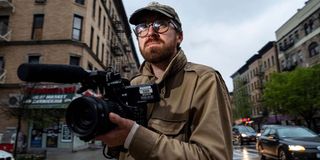 Sometimes, it's best to just jump in blindly to the dark waters of a random show on any given streaming service because you never really know what you're going to get. My wife and I recently experienced one of the oddest yet interesting discoveries when we stumbled across How To With John Wilson on HBO. Having not known anything about the show, its creator, or the fact that the team behind Nathan for You was producing this spectacle, we decided to give it a shot, and I've never been more surprised by anything like this in a long time.
But you may wondering, what is How To with John Wilson? Is it a docuseries? Is it some awkward breakdown of menial topics that we each face on a daily basis (well, most of them anyway)? Is it an examination of the human experience? Yes, yes. and yes. The new HBO docuseries is all of those things and more, even if it's hard to explain or wrap your head around. Let me explain…
How To With John Wilson Is Billed As An Odyssey Of Self-Discovery
On the How To with John Wilson page on HBO's website, the show is described as a "uniquely hilarious odyssey of self-discovery and cultural observation," and while that admittedly sounds like an extremely vague way to describe a docuseries, it couldn't be a more honest description.
Throughout the show (or at least the first episode which was the only one available at time of me writing this), John Wilson is rarely seen in front of the camera, and instead we see the world through his eyes, err, camera lens which has been dubbed with the documentary filmmaker's awkward descriptions of day-to-day life as he explores himself and a few of the people he interviews on the street (or a crowded resort during MTV's spring break, Pauly D and all). Along the way, John and the viewers at home learn a little something about themselves.
How To With John Wilson Is Anything But Pretentious
I know, an "odyssey of self-discovery" comes off as being pretentious, but How To with John Wilson is anything but. In fact, it's one of the most genuinely sincere 30 minutes of television you can watch right now. It's awkward, honest, and doesn't hold back, especially in the Season 1 premiere where Wilson tries to make small talk with a fellow vacationer and ends up having one of the most heartfelt conversations I've heard in a long while.
Throughout the episode, John Wilson captures people from afar experiencing some of the most awkward and infuriating moments of their life. For example, there's a random shot about halfway through the episode that consists of Kyle MacLachlan having trouble getting his MTA card to work on the New York subway before walking away in frustration.
It also seems at times that John Wilson recorded the narration in a single take because of his stuttering and insertion of "uh" too many times to count. This is not a knock on the show. No, it comes off genuine and pure and almost like he was going off on a tear behind a recorder.
Topics Range From Small Talk To Making The Perfect Risotto, But It's More Than That
Each episode of How To with John Wilson sees the filmmaker fumble through a different topic, with everyday things like small talk to splitting the check being touched upon. Other episodes will see Wilson offering advice and dealing with issues related to covering your furniture, improving your memory, putting up scaffolding, and last but not least, how to make the perfect risotto. And while learning how to make risotto that is cooked all the way through, nice and fluffy, and isn't burnt on the bottom may not seem like the ideal way to spend a Friday night at home, it's always much more than that.
Take into consideration the first episode on making small talk. Yeah, it's about finding ways to improve your social skills and become friends with people, but it's also about exploring your own insecurities, social anxiety, or whatever else is getting in the way of you reaching your full potential (not in a cult-like way, though).
How To With John Wilson Is Oddly Poetic And Meditative, In A Way
You wouldn't think that a docuseries about an awkward filmmaker stuttering and over-explaining elements of his personal life while scenes of a police officer wiping up blood from a crime scene, coroners dropping a body off a gurney, or people having conversations while wearing band shirts would be profound or meditative, but How To with John Wilson does just that. There's this quality about the footage and the cadence of Wilson's voice that makes the show one of the most pleasing 30 minutes of television you'll watch these days.
How To Explores The Human Condition
In the first episode of How To with John Wilson, the filmmaker stumbles across a random lonesome traveler at the resort in Mexico (the one with MTV Spring Break). At first, the two have an awkward conversation, and the traveler, named Chris, seems weirded out by Wilson's demeanor and line of questioning. But over the course of the episode, the two run into one another time and time again, and in their final meeting, Chris opens up needing to get away after his best friend's death. It is in this moment where we see the true beauty of the show and what something as meaningless as small talk can lead to if you continue to pursue it. This exploration of the human condition — both good and bad — is what makes this show so great, and I can't wait to see more.
In closing, How To with John Wilson is a docuseries that everyone should watch, even if it's a single episode. I mean, it won't take up all that much of your time, and who knows, maybe you'll learn something. You can catch How To with John Wilson at 10 p.m. every Friday on HBO or stream it on HBO Max.
Your Daily Blend of Entertainment News
Philip grew up in Louisiana (not New Orleans) before moving to St. Louis after graduating from Louisiana State University-Shreveport. When he's not writing about movies or television, Philip can be found being chased by his three kids, telling his dogs to stop yelling at the mailman, or yelling about professional wrestling to his wife. If the stars properly align, he will talk about For Love Of The Game being the best baseball movie of all time.