The 12 Best Feel Good TV Shows To Stream On Netflix To Cheer Yourself Up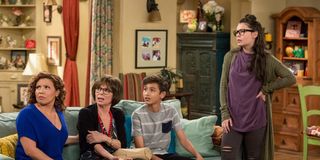 CinemaBlend is partnering with Tidal to bring you fresh content to stay in and stream with each day. We're also offering a free 30 day trial. You can sign up for the package with Tidal here.
I'm an advocate for feel good TV shows. I believe in their power to brighten a day or make worrisome situations less stressful. Feel good TV shows help you lose yourself and travel to these illuminating worlds. Netflix is my supplier when I need a good wholesome TV fix, and when I need something to stream or binge. Netflix has one of the more extensive TV collections on the web so they offer a variety of choices.
To me feel good doesn't mean completely void of complicated or risqué topics. To me, it means shows that are reliable for a major endorphin boost when necessary.
Kim's Convenience
Kim's Convenience focuses on the Kim family, a Korean Canadian family that owns a convenience store. The main four characters are Mr. Sang-il Kim (Paul Sun-Hyung Lee), Mrs. Kim (Jean Yoon), Janet Kim (Andrea Bang), and Jung Kim (Simu Liu).
Kim's Convenience is a family based comedy about a traditional Korean family. The strict parents stick close to their old school ways, which often causes conflict between them and their modern adult children. This entertaining series approaches drama with a growth mindset. The Kim parents may not always be right but they believe that their actions are best for their children, while also being open to improving and learning from their mistakes. It's a modern family TV comedy with a bit of a classic series feel. Stream It HERE (opens in new tab).
The Andy Griffith Show
Andy Griffith plays Sheriff Andy Taylor, a widower running the town of Mayberry, North Carolina. His cousin and Deputy Barney Fife (Don Knotts), son Opie (Ron Howard), and aunt, Bee Taylor (Frances Bavier) join him on his adventures.
The Andy Griffith Show is a wholesome classic TV show with small town sentiments and a pure heart. This is a series about community, kindness, and a bunch of silly criminals. Watching The Andy Griffith Show transports you to a world of yesteryear with cheeriness, funny situations, and a heartwarming nature. The Andy Griffith Show allows a mental break from gritty dark dramas with its Southern charm and simplicity. Stream it HERE (opens in new tab).
Anne With An E
Anne with an E is the latest adaptation of the Anne of Green Gables books. Amybeth McNutty plays Anne Shirley, a young orphan who suffered great abuse in the past. She becomes the adopted daughter of unmarried siblings Marilla (Geraldine James) and Matthew Cuthbert (R.H Thomson). It's about Anne's life and adventures on the Cuthbert's ancestral Green Gables farm.
Anne's spunky, inquisitive, dreamer nature makes her a character that you embrace from the moment she hits the screen. She's a delicate child with high spirits, and despite her past, still sees beauty and adventure all around. It's characters like Anne that remind us not to lose our sense of wonder in a world full of chaos. Stream it HERE (opens in new tab).
Queer Eye
Queer Eye follows a group of gay men who have expertise in different fields: fashion, makeup and beauty, self-care, cooking, and interior design. Each episode, the Queer Eye guys help different individuals improve their lives. They give them a full makeover that includes the elevation of their spirit, body, and home.
I dare you to watch an entire season of Queer Eye without getting teary-eyed at least once. If you can do that, then congratulations, you have no soul. Jokes aside, the stories on Queer Eye connect with viewers because the show tackles issues that everyone faces at some point: lack of confidence, financial distress, losing a loved one, and many more. It's a show that's like chicken soup. It's tasty, warm, and can help the healing process begin. Stream it HERE (opens in new tab) .
One Day At A Time
One Day at a Time follows the Alvarez family as they deal with modern issues like immigration, sexuality, gender identity, PTSD, and a lot of very critical and relevant topics. This family comedy stars screen legend Rita Moreno and Justina Machado. The One Day at a Time cast also includes Todd Grinnell, Isabella Gomez, and Marcel Ruiz.
One Day at a Time is a family comedy that deals with very serious issues but keeps its comedic tone. The Alvarez family has dealt with many hardships, but as long as they have each other, they know they can face anything. Unfortunately, Netflix decided to cancel the series after three seasons, but Pop TV picked it up for a fourth season. The first three seasons are still available to stream on Netflix. Stream it HERE (opens in new tab).
The Good Place
Eleanor (Kristen Bell) dies and goes to the good place. She knows that she doesn't belong there; they picked the wrong Eleanor. Now, along with her good place soulmate Chidi (William Jackson Harper), she must try to fit in and hide the fact that she doesn't really belong there.
The Good Place recently ended on NBC while still being a refreshing, unusual, and captivating TV show. It's a rare series that stays true to itself all the way through, and keeps you rooting for the main characters until the very end. The six main characters of The Good Place face many world-shattering obstacles, but the series keeps a "we'll get through this somehow, someway" enthusiasm, and that sort of optimism is contagious. Stream it HERE (opens in new tab).
New Girl
Jessica Day (Zooey Deschanel) moves in with three male roommates Nick (Jake Johnson), Schmidt (Max Greenfield), and Coach (Damon Wayans Jr.). Coach eventually moves out and Winston (Lamorne Morris) moves into the pad after Jess. Hannah Simone also stars in New Girl as Jess's model best friend Cece.
New Girl can be quite silly at times, but that's part of the charm. Each character on the series has their own quirk and they all get funnier and stranger as the series continues, but that makes them more lovable. The New Girl in many ways is a very wholesome series about friends who are weird, but that makes them all work together. Stream it HERE (opens in new tab).
Schitt's Creek
Schitt's Creek follows the Rose family, a formerly wealthy family who loses their fortune, and then must move to a town called Schitt's Creek, their one remaining asset. The residents of the town are very different from the Rose clan. Dan Levy and Eugene Levy are creators and stars of the series. The main Schitt's Creek cast also includes Catherine O'Hara, Annie Murphy, Emily Hampshire, Jenn Robertson, Chris Elliot, Dustin Milligan, Noah Reid, and Sarah Levy.
Schitt's Creek's biggest strength is its likable cast, both main and supporting. In a lesser series, the Rose family could be treated with contempt for being part of the rich elite, but instead they're all sympathetic characters who may be snobby at times, but good natured at their core. Stream it HERE (opens in new tab).
Nailed It!
Nailed It is a reality competition show about regular people trying to recreate professional level cakes. Their failed attempts make for comedy gold. Nicole Byer hosts, and acts as a judge along with pastry chef Jacques Torres.
Nailed It is a simple concept: regular people (and sometimes celebrities) try to overcome the obstacle of learning professional grade cakes in a few hours. They fail and we enjoy their failed creations. The whole premise sounds not that that interesting, possibly even cruel, but it is far from it. Nicole Byer and crew encourage people to embrace the messiness of their cakes. If anything, Nailed It inspires people to go out of their comfort zone, even if it turns into a tasteless sloppy mess. It's less about the final result and more about the really funny journey. Stream it HERE (opens in new tab).
The Great British Baking Show
The Great British Baking Show follows contestants as they compete in weekly competitions involving baking. Each week, a contestant is eliminated until someone is crowned the greatest British baker of that season. Netflix currently has seven collections of The Great British Baking Show available and various spin-off versions.
The Great British Baking Show is enticing because you become invested in these contestants. Their success is your success; their failure is your failure. You want them to be able to ace that three layer cake or those biscuits. Unlike many American television series, The Great British Baking Show doesn't focus on manufactured drama. Instead, the drama comes from whether the dough rises or if the piping bag busts. Sometimes it just feels good to watch people bake and yell "yes!" when they succeed. Stream it HERE (opens in new tab).
Parks And Recreation
Amy Poehler leads an ensemble cast in Parks and Recreation. The NBC hit-series followed the Parks and Rec department of Pawnee, Indiana. Leslie Knope (Amy Poehler) is an optimistic person with a deep devotion to Pawnee and an endless desire to improve it.
Accompanied by her cast of colorful crew Leslie Knope fights for a town that often under-appreciates her. Parks and Recreation uses the mockumentary style to tell its story, but unlike many mockumentary series, the series doesn't poke fun of the lead. Knope's passion is respectable and contagious. Yes Leslie Knope can be too passionate, but that's part of her charisma. It's enjoyable to see a show with a competent boss who is also energetic. Stream it HERE (opens in new tab).
Crazy Ex-Girlfriend
Rachel Bloom stars in Crazy Ex-Girlfriend, a series about a woman who moves to West Covina, California after running into an ex-boyfriend.
Crazy Ex-Girlfriend is full of catchy songs, many of which are spoofs of popular tunes. The series is very fun, but also satirical in its commentary on the romantic comedy genre. However, Crazy Ex-Girlfriend criticizes that genre but also clearly loves and respects it. The series also doesn't shy away from addressing serious topics like mental health, but Crazy Ex-Girlfriend does so without losing its jovial spirit. Stream It HERE (opens in new tab).
Get your much-needed feel good pick me up with these shows and the many others available on Netflix.
Spent most of my life in various parts of Illinois, including attending college in Evanston. I have been a life long lover of pop culture, especially television, turned that passion into writing about all things entertainment related. When I'm not writing about pop culture, I can be found channeling Gordon Ramsay by kicking people out the kitchen.
Your Daily Blend of Entertainment News
Thank you for signing up to CinemaBlend. You will receive a verification email shortly.
There was a problem. Please refresh the page and try again.