Why Breaking Bad's Betsy Brandt Calls One Key Scene One Of The Best She's Ever Shot In Her Life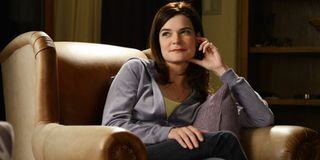 Breaking Bad may have ended over seven years ago and debuted over a decade ago, but most fans can still perfectly recall the show's biggest moments. From Walt's confrontation with Krazy-8 to Jesse's "problem dog" speech in his Twelve-step program group, many of the scenes are still easy to visualize. Many of the show's scenes may elicit visceral responses from viewers, but you have to imagine what it must've been like for the cast to act them out. Betsy Brandt, who played Marie Schrader for the show's entire run, recently opened up about a key Season 1 scene that was particularly impactful for her:
For those who might need a refresher, the scene Betsy Brandt discussed with Collider is from the Season 1 episode "Gray Matter." In that particular scene, Walt is surprised to find that Skyler has arranged an intervention to convince him to undergo treatment for his cancer. It's an emotional and somewhat tense sequence that not only serves as a turning point for the series but also helps to further define the characters as Brandt alludes to.
Brandt went onto say that she took something else from that filming experience. It turns out it was actually the first time in her career that she'd asked for another take on a scene. While she was initially hesitant, it sounds like she got some encouragement from her TV husband:
Sometimes it can be difficult for actors to speak up on set, especially when they're still in the early days of their careers. Thankfully, Brandt did so, and it ended up enhancing her performance.
Like any fan, Betsy Brandt has her fair share of favorite Breaking Bad moments, though there are scenes that are difficult for her to watch. She previously admitted that she hasn't been able to watch Hank's tragic death in the critically acclaimed "Ozymandias" It's one of the best episodes of television ever produced, but I can completely understand why the emotionally draining installment wouldn't be easy to sit through.
The Breaking Bad cast is sure to have plenty of fond memories from their time working together. Although it is bittersweet that they no longer share the screen, stories like Betsy Brandt only add to fans' love of the show.
Breaking Bad is currently available to stream on Netflix.
Covering superheroes, sci-fi, comedy, and almost anything else in film and TV. I eat more pizza than the Teenage Mutant Ninja Turtles.
Your Daily Blend of Entertainment News
Thank you for signing up to CinemaBlend. You will receive a verification email shortly.
There was a problem. Please refresh the page and try again.