15 Best Breaking Bad Callbacks In Better Call Saul So Far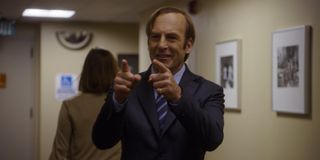 Better Call Saul is remarkable television. Though it is both a spin-off and a prequel to the legendary Breaking Bad, it also happens to be a show that does an amazing job standing independently – creating riveting and entertaining characters and arcs that have nothing to do with the Bryan Cranston/Aaron Paul series. It's downright impressive how incredible it is when it's operating autonomously.
But at the same time, it's non-stop fun for Breaking Bad fans who are given the opportunity to regularly catch callbacks and references that feel rewarding for those paying attention.
These details range from minor Easter eggs, to answered questions, to full blown set-ups, and we recently went back through all five seasons of Better Call Saul to hunt for them all. Compiling them in a list, we then selected the 15 we consider the cream of the crop and highlighted them for your enjoyment below:
A Cinnabon Manager In Nebraska (Season 1, "Uno")
Better Call Saul gave fans a chance to smile a knowing grin within the first few seconds of its airing, as the very first moment of the pilot constitutes a callback to its predecessor. In Breaking Bad's penultimate episode, Saul (Bob Odenkirk) tells Walter White (Bryan Cranston) that the best case scenario for him is that he winds up working as a manager at a Cinnabon during his new life in Omaha, Nebraska, and the flash-forward that kicks off the series premiere features him employed in that very job.
Pretending To Be Kevin Costner (Season 1, "Marco")
Throughout Breaking Bad, Saul Goodman regularly proved himself as a consummate liar, and thus it wasn't always easy to tell when he was telling the truth. One such moment is featured in Season 3's "Abiquiu" when Saul tells Walter that he once convinced a woman that he was Kevin Costner. In Better Call Saul's Season 1 finale, it's shown that this was no fib, as a montage of con artistry ends with Jimmy McGill waking to a woman in his face yelling at him for not being the star of Bull Durham. (Bonus callback: Jimmy also tries to sell Rhea Seehorn's Kim on his physical similarity to Costner while imagining a grift in Season 3's "Expenses," though she doesn't buy it at all.)
The Return Of Ken Wins (Season 2, "Switch")
Karma has a way of catching up with Ken Wins, the asshole stockbroker played by Kyle Bornheimer in the Breaking Bad universe, and it uses protagonists of both the sister AMC shows as agents. He first appears in Breaking Bad Season 1's "Cancer Man," where Walt successfully blows up his car with a windshield squeegee at a gas station, but Jimmy and Kim Wexler go the extra mile screwing him over in the Better Call Saul Season 2 premiere by conning him and leaving him with an exorbitant bar bill. What's extra awesome is that the grifter duo drives up the tab by ordering an entire bottle of the ultra-expensive Zafiro Añejo Tequila, which is the same brand that Gus Fring (Giancarlo Esposito) uses to poison Don Eladio (Steven Bauer) and his crew in Breaking Bad Season 4's "Salud."
Mike Buys A Familiar Toy For His Granddaughter (Season 2, "Amarillo")
Some of the best Breaking Bad callbacks in Better Call Saul are those that answer questions that no fan ever asked. For example, did you ever wonder how Mike's granddaughter Kaylee wound up with that wriggly pig toy that Mike (Jonathan Banks) uses as a distraction while dealing with a would-be hitman in Breaking Bad Season 5's "Madrigal"? Of course not. But it's still hilarious that we get to see it activated for the first time in Better Call Saul Season 2's "Amarillo."
Why Tuco Was In Prison (Season 2, "Gloves Off")
In Breaking Bad, Raymond Cruz's Tuco Salamanca is introduced to the story because his former cellmate, Skinny Pete (Charles Baker), is a friend of Jesse (Aaron Paul), but what was never established in the series was the reason why Tuco was in prison prior to his dealings with Heisenberg. In Season 2, this is addressed via a significant plotline, as it's revealed in "Gloves Off" that Tuco spends time in jail because of an assault against a certain senior citizen/retired cop named Michael Ehrmantraut – the result of a setup orchestrated by Mike and Ignacio "Nacho" Varga (Michael Mando).
The Origin Of Saul's "Gimmie A Dollar" Trick (Season 3, "Witness")
One of the very first shady things we ever see Saul Goodman do in Breaking Bad is have Walt and Jesse both give him a dollar – an act that allows him to operate with them on a criminal level while maintaining legally binding attorney-client privilege. What we don't know until Better Call Saul Season 3, however, is that the trick is one that Jimmy picks up from Kim. In "Witness" there is a scene where Kim has her boyfriend/future husband make the same deal so that they can have confidentiality… and as a bonus Easter egg, Jimmy is left in a similar position as Jesse in the moment because he doesn't have any singles, only big bills.
Huell Doesn't Do Tight Spaces, But His Fingers Are Magic (Season 3, "Chicanery")
When Huell Babineaux (Lavell Crawford) first arrives on the scene in Breaking Bad, his presence is meant as pure intimidation, working as a bodyguard for Saul – but later in the series it's revealed that he has a particular skill: he is an expert pickpocket. He memorably lifts Jesse's ricin cigarette in Season 4's "End Times" and then some marijuana in Season 5's "Confessions." It's a key piece of the franchise's history – and in Better Call Saul Season 3 it's revealed that Jimmy first hooked up with Huell because of his magic fingers. Dr. Caldera (Joe DeRosa) connects the two men so that Huell can plant a cell phone battery on Chuck McGill (Michael McKean), forcing him to have a meltdown during a hearing.
Gus Dreams Of A Super Lab (Season 3, "Off Brand")
The majority of Better Call Saul Season 4 features Gus Fring executing a construction job that will eventually become Walter White's super lab, and while that's a callback that is a bit too broad to include by itself on this list, we will highlight the Season 3 scene where Gus visits the industrial laundry, Lavanderia Brillante, for the first time and then confirms to a waiting Lydia Rodarte-Quayle (Laura Fraser) that the location is to his liking for his big project.
Jimmy Makes Friends With A Familiar Burglar (Season 4, "Something Beautiful")
Jimmy McGill has a skill when it comes to making friends in low places, and while we still haven't had the pleasure of meeting Danny, the "amenable" owner of the local laser tag arena who Saul frequently touts in Breaking Bad, we have learned through Better Call Saul how the titular lawyer winds up meeting Ira (Franc Ross) – the owner of the extermination company Vamonos Pest. Long before tenting houses for covert meth labs, Ira met Jimmy as part of a deal to steal a valuable Hummel figurine, as depicted in Season 4's "Something Beautiful."
Gale Boetticher Sings A Song (Season 4, "Something Beautiful")
The tale of Gale Boetticher (David Costabile) is one of the sadder ones in Breaking Bad lore, ending when Jesse kills him at the end of Season 3 so that Gus can't kill Walter, but the silver lining is that his story is also one filled with many highlights. For example, he is a wonderful singer, as seen via his renditions of Peter Schilling's "Major Tom (Coming Home)" and "Crapa Pelada" by Quartetto Cetra, and Better Call Saul brings that back in Season 4's "Something Beautiful" (the only episode with two entries on this list). The comical song "The Elements" by Tom Lehrer seems just as complicated as the Italian "Crapa Pelada," but Gale's version is once again flawless and amazing.
Gus Halts Hector's Treatment (Season 4, "Something Stupid")
When Hector Salamanca (Mark Margolis) shows up for the first time in Better Call Saul (Season 2's "Rebecca") he appears in relative good health, and isn't the wheelchair-bound man with a bell that is depicted in the majority of his Breaking Bad appearances. This instantly let audiences know that the show was going to depict his decline – but did anybody predict how influential Gus would be? Following Hector's stroke in the Season 3 finale, the Season 4 premiere finds Gus hiring a Johns Hopkins specialist (Poorna Jagannathan) to heal him, and then "Something Stupid" drops the guillotine when he cuts off Hector's treatment just shortly after he begins demonstrating noticeable improvement.
Lalo Finally Arrives (Season 4, "Coushatta")
We've covered a couple of answers to questions we didn't ask in this feature, but now it's time to discuss a case where Better Call Saul answers a question that fans were asking often and repeatedly during the show's first few years. In Breaking Bad Season 2's "Better Call Saul" (the episode where the character debuts), Walt and Jesse put Saul at gunpoint while he kneels over a ditch, and one of the things he says while panicked is, "Lalo didn't send you?" The original series never actually addressed the existence of Lalo after that, but Better Call Saul finally did in Season 4's "Coushatta." It turns out that "Lalo" is Eduardo "Lalo" Salamanca (Tony Dalton) and he's caused nothing but chaos since his arrival.
Krazy-8 Gets His Nickname (Season 5, "50% Off")
When Domingo Gallardo Molina a.k.a. Krazy-8 (Max Arciniega) is introduced in the Breaking Bad pilot, he seems like a super scary dude – but that's made his evolution throughout Better Call Saul that much more interesting. He first appears in the Season 2 episode "Gloves Off," and he's portrayed as an underling wearing an employee polo from his father's furniture store. By Season 5 he starts rising in the ranks, and in the second episode, "50% Off," he even gets his nickname courtesy of Lalo Salamanca during a poker game.
Krazy-8, Meet Hank And Gomie (Season 5, "The Guy For This")
Sticking with Krazy-8 for a moment, Better Call Saul also notably addresses what could be called a dangling plot thread with the character from Breaking Bad: the fact that he worked as an informant for DEA Agents Hank Schrader (Dean Norris) and Steven Gomez (Steven Michael Quezada). Better Call Saul finally addresses the situation in Season 5, and adds a twist in with the reveal that Gus Fring actively knows about everything Krazy-8 is doing.
Dedicado A Max (Season 5, "Dedicado A Max")
One of the most shocking Breaking Bad deaths is featured during the extended flashback sequence in Season 4's "Hermanos" specifically when Hector Salamanca shoots Gus Fring's business partner Max Arciniega (James Martinez) in the head. It's repeatedly made evident how traumatizing this was for Gus, perhaps most notably via his work to keep Hector in a crippled state after his stroke, but there's also an excellent moment in Better Call Saul Season 5 when it's revealed that Gus has funded an entire Mexican village and dedicated the town square fountain to his deceased friend – which is certainly a much sweeter expression of memory.
This list is 15 of our favorite Breaking Bad callbacks in Better Call Saul, but the reality is that it represents only about a quarter of all the ones we found rewatching the entire show. Is your #1 not featured here? Tell us about it in the comments section, and stay tuned here on CinemaBlend for all our future coverage of the Breaking Bad universe – including updates on Better Call Saul Season 6.
Your Daily Blend of Entertainment News
Assistant Managing Editor
NJ native who calls LA home and lives in a Dreamatorium. A decade-plus CinemaBlend veteran who is endlessly enthusiastic about the career he's dreamt of since seventh grade.
Your Daily Blend of Entertainment News
Thank you for signing up to CinemaBlend. You will receive a verification email shortly.
There was a problem. Please refresh the page and try again.