What The Breaking Bad Cast Is Doing Now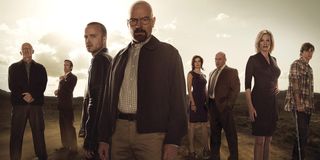 Few shows have found the same success as Breaking Bad. Creator Vince Gilligan's masterful, addictively compelling exploration of a seemingly mild-mannered man transformed into a coldly calculating drug kingpin was an early favorite during the rise of Peak Television, resulting in what's widely considered one of the best shows ever. While the praise is high, it's also warranted. Commanded by Bryan Cranston's excellent, multi-Emmy-winning lead performance, AMC's acclaimed drama series proved to be an excellent showcase for its long-working lead actor, while also bolstering the careers of all its outstanding supporting talents, including Aaron Paul, Anna Gunn, Dean Norris, Jonathan Banks, Giancarlo Esposito, and Jesse Plemons.
After the show's incredible success, which continues with the prequel series Better Call Saul and last year's El Camino: A Breaking Bad Movie, what has the award-winning Breaking Bad ensemble been up to now? Let's take a look and see.
Bryan Cranston (Walter White)
At the forefront of Breaking Bad, Bryan Cranston's transformative performance provided the actor with his most celebrated performance in an already exceptional career. Previously best known for his roles in Malcolm in the Middle, The X-Files, and Seinfeld, this intense drama series turned Cranston into one of the most revered, well-sought actors working today. The show's success saw him playing roles in Drive, Contagion, The Lincoln Lawyer, Argo, Total Recall, John Carter, Madagascar 3: Europe's Most Wanted, and more. Following Breaking Bad's run, Cranston starred in The Upside, Godzilla, Wakefield, Why Him?, The Infiltrator, Power Rangers, Last Flag Flying, Isle of Dogs, Kung Fu Panda 3, and Trumbo, for which he was Oscar-nominated.
Most notably, Bryan Cranston took to Broadway to star in All The Way, where he won a Tony award. He also played Lyndon B. Johnson in HBO's 2016 film adaptation.
Most recently, Bryan Cranston starred in The One and Only Ivan. He also co-created Amazon Prime's Sneaky Pete (which he also acted in) and The Dangerous Book For Boys. Additionally, in 2016, Cranston published his memoir, A Life in Parts. Next, Cranston stars in Showtime's new drama series, Your Honor. He also reprised his role as Walter White in El Camino.
Aaron Paul (Jesse Pinkman)
Introduced in the pilot for Breaking Bad, Aaron Paul's Jesse Pinkman was once meant to be killed off by Season 1's end. However, Vince Gilligan and the show's other creatives had the good sense to keep the character on, and it's a very good thing they did. It's hard to imagine what Breaking Bad would be without Jesse Pinkman, Walter White's former student and drug-making accomplice, and it's harder to imagine what the character would be without Paul's astounding, Emmy-winning performance.
Previously in Big Love, Van Wilder, Mission: Impossible III, and Veronica Mars, Breaking Bad was Aaron Paul's star-making role, resulting in lead roles in Smashed, Exodus: Gods and Kings, Eye in the Sky, Triple 9, Need for Speed, A Long Way Down, and Fathers and Daughters. Following Breaking Bad, Paul led Hulu's The Path. He also provided his voice to BoJack Horseman.
Last year, Aaron Paul's Jesse Pinkman became the focal point of El Camino: A Breaking Bad Movie, a two-hour epilogue for his long-troubled character. Recently, he starred in Truth Be Told and Westworld Season 3. He was also seen in the long-delayed Adam earlier this year. Next, he'll star in Dual.
Anna Gunn (Skyler White)
As the vigilant and concerned Skyler White, Anna Gunn gave a phenomenal performance in Breaking Bad, for which she won two consecutive Emmys. While her performance was widely critically acclaimed, she was also the subject of intense online bullying and harassment, quite unfortunately, as she detailed in an op-ed for The New York Times. Previously seen in Down to Shore, Seinfeld, NYPD Blue, The Practice, Junior, Enemy of the State, and Deadwood, Breaking Bad remains her most well-known and most prestigious role.
During her time on the program, Anna Gunn also starred in Red State, Sassy Pants, and Law & Order. Following the show's finale, Gunn took a lead role in Fox's limited series, Gracepoint. She also starred in Shades of Blue, Sully, Being Frank, Equity, and Portlandia. Most recently, Gunn appeared in Deadwood: The Movie. Next, she'll star in Land of Dreams.
Dean Norris (Hank Schrader)
In the role of Hank Schrader, a DEA agent and Walter White's brother-in-law leading an investigation for the city's new drug kingpin without realizing how close his target truly is, Dean Norris became one of Breaking Bad's most complex and dynamic characters. Previously seen in movies like Total Recall, Hard to Kill, Lethal Weapon 2, Terminator 2: Judgment Day, Starship Troopers, and The Firm, as well as shows like NYPD Blue, The X-Files, Walker Texas Ranger, and 24, Norris was typically typecast as certain law enforcement personalities prior to his work in this acclaimed series, which paved the way for more unique parts in his future.
Near Breaking Bad's conclusion, Dean Norris starred in Under the Dome and Claws. He was also seen in Girlboss, The Big Bang Theory, Scandal, The Book of Henry, The Hustle, and Scary Stories to Tell in the Dark. Recently, he reprised his role as Hank in Better Call Saul. He'll next be seen in Nova Vita, El Tonto, and Scary Stories To Tell in the Dark 2. Norris also recently launched his own version of Schraderbräu.
Jonathan Banks (Mike Ehrmantraut)
Previously meant to be a brief substitute for Bob Odenkirk's Saul Goodman whenever he was unable to commit to the Season 2 finale, Jonathan Banks' steely-eyed Mike Ehrmantraut became a pivotal personality in the Breaking Bad universe, proving himself to be one of the most long-standing characters in this expanding narrative. As an established film and TV actor best known for his breakthrough role in CBS' Wiseguy and his work in Airplane!, 48 Hours, and Beverly Hills Cop, Breaking Bad still proved to be a monumental Emmy-nominated role for the hard-working TV actor.
Following his time in Breaking Bad, Jonathan Banks was seen in Community, Identity Thief, Horrible Bosses 2, Mudbound, and The Commuter. He also lent his voice to Incredibles 2. Now, Banks reprises his role as Mike in Better Call Saul. Most recently, he starred in Showtime's The Comey Rule.
RJ Mitte (Walter White Jr.)
As Walter White Jr., sometimes known simply as "Flynn," RJ Mitte played Walter White's teenage son, who has cerebral palsy. With the exception of an episode of Hannah Montana, Breaking Bad was the actor's first screen credit, and it was his breakthrough role. During his time on the show, Mitte was also seen on Switched at Birth. Following Breaking Bad, Mitte continued to bounce between film and television, notably with appearances in Robot Chicken, Chance, and Now Apocalypse. He's also been seen in Dixieland, The Recall, Rivers Run Red, Standing Up For Sunny, All the Little Things We Kill, Carol of the Bells, and Time Share (which is quite underrated, in my view).
Most recently, RJ Mitte starred in The Oak Room, which premiered at the Fantasia Film Festival. He'll next be seen in Triumph, Isaac, and Escape from Paradise — all of which he'll produce.
Betsy Brandt (Marie Schrader)
In the role of Marie Schrader, Skyler's sister, Hank's wife, and Walt's sister-in-law, Betsy Brandt didn't get as much time to shine compared to her co-stars, but she always made the most of her appearances on this acclaimed series. As a performer on the stage and screen, Brandt was seen in Without a Trace, Judging Amy, ER, Boston Legal, The Practice, and NCIS prior to this AMC series. During the show's success, the actress played parts in Magic Mike, Private Practice, and Parenthood.
When Breaking Bad came to a close, Betsy Brandt starred in NBC's short-lived The Michael J. Fox Show, then CBS' Life in Pieces. She also appeared in Masters of Sex, Flint, Pearson, The Unicorn, Claire in Motion, Run Sweetheart Run, and Straight Up. Brandt recently acted in A Million Little Things. Next, she'll star in Killing Eleanor.
Bob Odenkirk (Saul Goodman)
Previously meant to be a comedic side character in the midst of this intense drama, Bob Odenkirk's Saul Goodman became a key player in the expanding Breaking Bad universe. Now, he's the focal point of the acclaimed spin-off series, Better Call Saul. As a well-established actor, writer, and director in the comedy world, Odenkirk is best known for co-creating and starring in HBO's Mr. Show with Bob and David. He also wrote for Saturday Night Live, The Dana Carvey Show, The Ben Stiller Show, Late Night with Conan O'Brien, and more.
Following Breaking Bad's success, Bob Odenkirk continued expanding himself as an actor. He was seen in Nebraska, The Spectacular Now, The Post, Long Shot, and Little Women, as well as heard in Incredibles 2 and Hell & Back. He also wrote, produced, and starred in Girlfriend's Day.
In 2015, Bob Odenkirk and David Cross briefly revived their cult-favorite HBO sketch comedy series with Netflix's W/ Bob and David. He was also the director for the short-lived sketch comedy series, The Birthday Boys. Next, Odenkirk produces and stars in the upcoming thriller, Nobody.
Giancarlo Esposito (Gus Fring)
As the politely-spoken chain restaurant owner operating a vast underground drug operation, Giancarlo Esposito played a stealthy cruel, ruthless Machiavellian character who became one of Walter White's greatest foes in Breaking Bad's incredible fourth season. Prior to this Emmy-nominated role, Esposito was known for Do the Right Thing, School Daze, Mo' Better Blues, Malcolm X, The Usual Suspects, Sesame Street, Homicide: Life on the Street, Rabbit Hole, The Electric Company, and Law & Order.
Following this award-recognized performance, Giancarlo Esposito played a lead role in NBC's short-lived Revolution, and he appeared in The Get Down, Allegiance, Once Upon A Time, Maze Runner: The Scorch Trials, Okja, The Jungle Book, and Money Monster. He was also seen in Unpregnant and Stargirl earlier this year, while he also played main roles in Jett and Godfather of Harlem last year.
Currently, Giancarlo Esposito can be seen in The Mandalorian and The Boys, while he's also part of the main cast for Dear White People and Better Call Saul, in which he reprises his role as Gus Fring. Additionally, in 2017, Esposito produced, directed, and starred in The Show. He has upcoming roles in Beauty and The Long Home. He's also appearing in Far Cry 6.
Laura Fraser (Lydia Rodarte-Quayle)
In the role of Lydia Rodarte-Quayle, the woman who supplied methylamine to Gus Fring before working with Walter White, Laura Fraser played an intriguing late-in-the-game addition to Breaking Bad. Previously, the Scottish actress was seen in Neverwhere, Lip Service, Vanilla Sky, and A Knight's Tale. Following Breaking Bad's run, Fraser starred in Retribution, The Missing, The Loch, Traces, Black Box, I Am Not A Serial Killer, In The Cloud, and Beats. She also reprises her role as Lydia in Better Call Saul. Most recently, Fraser starred in an episode of Doctor Who earlier this year.
Jesse Plemons (Todd Alquist)
As the quietly menacing Todd Alquist, Jesse Plemons was a late addition to Breaking Bad, but he made quite an impression. After finding his breakthrough role with NBC's Friday Night Lights, in addition to his strong turn in 2012's The Master, Plemons only continues to establish himself as an excellent rising actor following Breaking Bad's finale. Notably, Plemons starred in the second season of FX's Fargo, and he was seen in Bridges of Spies, Black Mass, The Post, Game Night, Other People, The Irishman, Vice, Hostiles, Black Mirror, and American Made.
Most recently, Jesse Plemons starred in Netflix's I'm Thinking Of Ending Things. He also reprised his role as Todd in El Camino last year. Next, he'll be seen in Antlers, Judas and the Black Messiah, Jungle Cruise, and The Power of the Dog — all expected in 2021.
Do you love Breaking Bad? Who is your favorite character? Be sure to let us know in the comment section!
Your Daily Blend of Entertainment News
Will is an entertainment writer based in Pittsburgh, PA. His writing can also be found in The Playlist, Cut Print Film, We Got This Covered, The Young Folks, Slate and other outlets. He also co-hosts the weekly film/TV podcast Cinemaholics with Jon Negroni and he likes to think he's a professional Garfield enthusiast.
Your Daily Blend of Entertainment News
Thank you for signing up to CinemaBlend. You will receive a verification email shortly.
There was a problem. Please refresh the page and try again.