Ice Cube Had Quite A Response For SNL Over Kenan Thompson Impression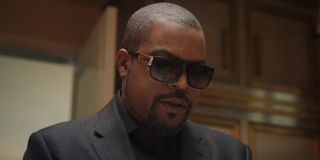 Saturday Night Live returned this past weekend with its Halloween-themed episode, which also just happened to be the last episode before the U.S. Presidential Election. With this, the show provided a cold open that was led by Jim Carrey's Joe Biden. The sketch lampooned a number of other public figures including Hillary Clinton and Mitch McConnell. Rapper, actor and entertainment mogul Ice Cube was also among those parodied, and he has since seen the sketch for himself. Now, he's taken to social media to provide a response to Kenan Thompson's impression of him.
The SNL cold open features Carrey's Joe Biden reading a "spooky" book inspired by Edgar Allan Poe's "The Raven" and, In the process, he summons others to the room. At one point, Ice Cube and Lil' Wayne, respectively played by Kenan Thompson and Chris Redd, appear and our portrayed as showing support for President Trump.
After seeing the clip, Ice Cube posted quite a response on Twitter. You can see what he had to say down below:
Ice Cube, whose real name is O'Shea Jackson, recently made headlines after revealing that he worked with President Trump's administration on its plan for Black America. This led to backlash from both fans and celebrities across the internet.
The entertainment mogul has since clarified that he did not reach out to either the Trump or Biden campaigns. During an interview with CNN, Ice Cube explained that both campaigns reached out to him and that the Trump campaign wanted to speak to him immediately, while the Biden campaign wanted to discuss things after the election. As a result, he ultimately spoke with the former. Despite this, Ice Cube says that his decision to speak with the president does not signify an endorsement.
Saturday Night Live has never been shy about parodying people, and this season has definitely been no different. From Jim Carrey's energetic (and much-debated) performance as former VP Joe Biden to Alec Baldwin's fan-favorite portrayal of President Trump, the show hasn't pulled many punches, which is especially the case during an election year.
Aside from the election, SNL has highlighted a number of other happenings over the past year. This includes the ongoing global health crisis, which led to an appearance from a Dr. Anthony Fauci that was played by Brad Pitt. In that situation, Fauci was actually hoping Pitt would portray him and, after watching his performance, he referred to the actor's performance as "classy."
It goes without saying that some celebrities may indeed speak out when they're featured on Saturday Night Live, and their responses are sure to vary. I think most would agree that SNL is free to parody who it would like, while stars also have the freedom to react with honest thoughts.
Keep it here at CinemaBlend for more news from the world of TV and movies.
Covering superheroes, sci-fi, comedy, and almost anything else in film and TV. I eat more pizza than the Teenage Mutant Ninja Turtles.
Your Daily Blend of Entertainment News
Thank you for signing up to CinemaBlend. You will receive a verification email shortly.
There was a problem. Please refresh the page and try again.