How Grey's Anatomy Managed To Keep That Huge Character's Return A Secret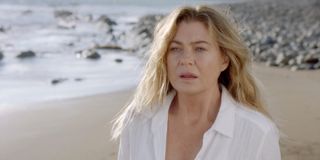 Warning! Spoilers ahead for Grey's Anatomy Season 17's two-hour premiere.
At the end of the two-part Season 17 premiere, Grey's Anatomy had a twist so big that it took everyone by surprise. That's because showrunner Krista Vernoff and the cast and crew of the ABC show managed to keep a tight lid on Patrick Dempsey's return as Derek Shepherd. Yes, McDreamy was back on Grey's Anatomy and the "dreamy" part of his nickname has never been more relevant. Vernoff recently explained how Dempsey's return remained a secret before and during filming.
The Grey's Anatomy Season 17 premiere saw Meredith Grey's mind escape to the calmness of the beach. It was in stark contrast to the chaos of dealing with the influx of COVID-19 patients and the lack of PPE for the medical staff. In a dream sequence, Derek appeared to Meredith right before she collapsed at the end of the premiere's second hour. While Meredith's condition is worrisome, seeing Derek again was a special moment. How did Patrick Dempsey's big comeback stay unspoiled? Here's what Krista Vernoff told Deadline:
I'm impressed. Managing to keep Patrick Dempsey's return from the writers and the studio really was an epic feat. I bow down to Krista Vernoff, and Ellen Pompeo — who revealed in the interview that she pitched the idea of Derek's appearance to Dempsey while on a hike together — for pulling off such a massive surprise like that.
For what it's worth, Patrick Dempsey says he was very excited to return to Grey's Anatomy. If you recall, Derek died shortly after getting into a fatal car accident at the end of Season 11. Considering his death, the idea to bring him back to the show is an inspired one (in my humble opinion). In addition to keeping the secret from most of the cast, crew, and writers, Vernoff revealed how she had to change the script as an extra precaution. In her words:
Luckily, Patrick Demspey's return isn't a one-and-done deal. He's expected to make at least one more appearance in next week's Grey's Anatomy episode. The trailer implies that Meredith's fall in the parking lot wasn't simply due to exhaustion; she might have a health issue to potentially contend with. We all know that it's never a good sign when a character sees a dead person in a dream. Despite the dire circumstances, Meredith's beach scene with Derek was a great way to end the two-part premiere.
New episodes of Grey's Anatomy Season 17 air Thursdays at 9:00 p.m. ET on ABC. For more on what to watch, be sure to check out our fall TV guide and our 2021 midseason premiere schedule.
Your Daily Blend of Entertainment News