Which Doctor Will Be Most Equipped To Deal With The Pandemic When Grey's Anatomy Returns For Season 17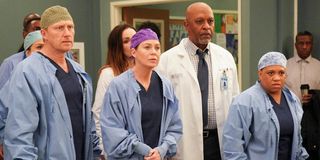 The doctors of Grey Sloan Memorial have seen their fair share of medical crises over the years. Considering COVID-19's impact on healthcare workers, it seemed like only a matter of time before Grey's Anatomy worked in the pandemic as a storyline. Showrunner Krista Vernoff has confirmed that the long-running series will address the health crisis, and she also revealed which doctor will be most equipped to deal with the pandemic when Grey's Anatomy returns for Season 17.
Krista Vernoff explained that the Grey's Anatomy writing staff has been speaking with real-life health professionals regarding their experiences working during the pandemic. Speaking at the Television Academy-hosted panel, "Quaranstreaming: Comfort TV That Keeps Us Going," Vernoff discussed the stories doctors shared with her and which Grey's Anatomy doctor she felt could handle the pandemic better than others. Here's what she said (via EW):
That makes sense. Before Grey Sloan, Owen Hunt was a trauma surgeon with the U.S. Army who served in Iraq. He likely has a lot more experience dealing with limited supplies and is "actually trained" to handle a pandemic better than his colleagues. It sure sounds like he'll be the one the other doctors will look to when Grey's Anatomy delves into the pandemic arc.
Tackling the pandemic on a long-running TV show while still in the midst of said pandemic might come with another set of challenges. COVID-19 was the reason Grey's Anatomy's Season 16 was cut short and, while some productions will resume filming soon, safety measures are being put in place for whenever cast and crew have to return to work. However, Krista Vernoff addressed why she felt Grey's Anatomy has to include the pandemic in Season 17 despite everything. In her words:
It won't be the first time Grey's Anatomy has handled an outbreak. In Season 10, the show did an episode about the flu. In it, Meredith Grey painted a pretty grim picture about how quickly germs could spread because of how often we touch our faces and surfaces daily. Suffice it to say that the doctors of Grey Sloan had to treat several flu patients, but the illness eventually caught up to them, too. Of course, COVID-19 has been much worse than the flu, so it'll be interesting to see how its severity will be handled on the show.
Grey's Anatomy will be back for Season 17 on ABC, though filming on the season has not yet begun. Stay tuned to CinemaBlend for updates. In the meantime, be sure to check out our 2020 fall TV premiere guide.
Your Daily Blend of Entertainment News