Grey's Anatomy Star Promises There's 'One Thing' He Absolutely Hasn't Had To Do While Filming During Covid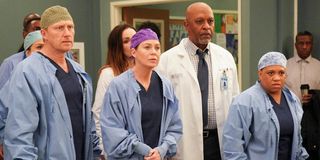 Like every TV show and film that was in production back in March, Grey's Anatomy had to shut everything down due to the global pandemic. In the months thereafter, however, unions and studios have negotiated ways for casts and crews to resume filming with a host of proper safety measures and protocols in place. After its longer-than-usual hiatus, Grey's Anatomy resumed production in September and star Chris Carmack recently revealed the something he definitely did not have to do while filming Season 17 during COVID.
In these unprecedented times, TV shows have had to improvise due to social distancing measures and other new COVID procedures. The Bold and Beautiful, for example, worked around filming intimate scenes by replacing actors with latex mannequins. In some cases, an actor's significant other served as a stand-in for kissing and sex scenes in order to maintain safety protocol. Chris Carmack has apparently had no such experiences with inanimate objects while filming Grey's Anatomy's upcoming episodes. Here's what he told ET:
I guess that could mean that Chris Carmack's Link and Catelina Scorsone's Amelia haven't kissed yet in the episodes they've filmed, which may not bode well for the couple, who now have a child together. Their relationship did end on a good note in Season 16, but considering it's Grey's Anatomy, I think that things could take some dramatic turns very quickly in Season 17, with or without the help of mannequins.
While Chris Carmack's comment was meant as a joke reflecting on the current state of the industry, it is possible that he'll never have to kiss a mannequin on the set of Grey's Anatomy at all. In a video, Riverdale's KJ Apa revealed that he and co-star Camila Mendes have had to wash out their mouths before filming each take of their scripted make-out scenes, so it's possible Grey's could go that same route with its stars.
It's worth noting that Riverdale films in Canada while Grey's Anatomy films in Los Angeles, and it's not immediately clear how much their safety guidelines may differ. Either way, Chris Carmack confirms that the cast is being tested for COVID at regular intervals, so there's that. I think it's safe to say that even if Grey's Anatomy does end up using mannequins for intimate scenes, it probably won't be extremely obvious, given those "creative angles" that Carmack mentioned.
Speaking of COVID-19, Grey's Anatomy will be tackling a pandemic storyline in Season 17. Showrunner Krista Vernoff says that doctors, nurses, and other healthcare workers have shared their stories with her while trying not to keep things from getting too emotional. It sounds like Vernoff and the rest of the Grey's writers will work to include these experiences on the show to make it as realistic as possible.
Grey's Anatomy Season 17 is currently scheduled to premiere on Thursday, November 12 at 9:00 p.m. ET on ABC. To stay up-to-date on all the new and returning shows this fall, be sure to check out our 2020 TV premiere guide for all times and dates.
Your Daily Blend of Entertainment News