NCIS: New Orleans Star Promises A 'Pretty Hairy' Situation Following Season 7 Premiere Cliffhanger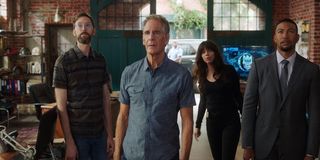 Spoilers ahead for the Season 7 premiere of NCIS: New Orleans, called "Something in the Air, Part 1."
NCIS: New Orleans finally returned to CBS following an extra-long hiatus. The series didn't waste any time, opening its seventh season with the team working through the early days of the COVID-19 pandemic. The Season 7 premiere also ended on a major cliffhanger that saw two of Dwayne Pride's agents caught in the middle of an explosion. With that in mind, NCIS: New Orleans star Scott Bakula teased a "pretty hair" situation for the characters moving forward.
During the Season 7 premiere of NCIS: New Orleans, Special Agents Tammy Gregorio and Quentin Carter found themselves on a medical ship in the middle of the sea to investigate a murder. However, things quickly took a more devastating turn after an explosion went off, potentially injuring both agents. Considering that Dwayne would do anything for his team, will he attempt to take a boat out to sea to save them? Here's what Scott Bakula told TVLine:
Well, I'll admit that Dwayne foregoing a heroic boat save is a bit disappointing. However, the situation with Gregorio and Carter is a pretty realistic one because the pandemic (and the fear of spreading the virus) did leave a variety of ships stranded at sea for a while. That makes the agents' explosive situation all the more harrowing because of it.
That said, Scott Bakula revealing that things are about to get pretty bad out there for Gregorio and Carter makes me worried for their health and safety. Here's hoping that things will turn out okay for them, especially since it's unlikely that they'll be getting any outside help anytime soon.
As for NCIS: New Orleans' handling of the COVID-19 storyline, Scott Bakula believes there was no other way to kick off Season 7 than at the start of the pandemic. He says that it "just felt right" because it means that the series can explore the impact it will have on the characters' development moving forward. Ignoring the early days of the pandemic, according to Bakula, would have felt disingenuous because the city of New Orleans is itself a character on the show.
NCIS: New Orleans' "Something in the Air, Part 2" will air on Sunday, November 15 at 9:00 p.m. ET on CBS. For more on what to watch in the coming months, be sure to check out our 2020 fall TV premiere guide, as well as our 2021 winter and spring schedule.
Your Daily Blend of Entertainment News
Thank you for signing up to CinemaBlend. You will receive a verification email shortly.
There was a problem. Please refresh the page and try again.