The Blacklist: Could Red's Illness Be The Reason He First Entered Liz's Life?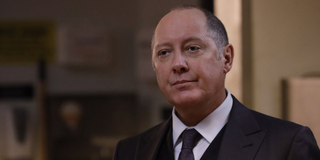 (Image credit: Will Hart / NBC)
When it comes to The Blacklist, mystery is the name of the game. If you are tuning into Season 8, you know that there is more than one mystery confounding characters, and most of them have to do with Red. Who is he, and why did he enter Liz's life at the start of the series? Could the answer to those questions and Red's illness be connected? The following quotes make me think so.
A lot of Red's identity hinges on figuring out why he entered Liz's life and why he cares so much about her. Now that viewers know Dom's Ilya Koslov story was a farce, fans are back to square one regarding Red's emotional investment in his adopted-daughter-of-sorts. In the Season 8 premiere, Red lamented losing Liz to his best true friend, Dembe. So, why has he let it happen? The Blacklist's creator, John Bokenkamp, told The Wrap:
If Red cares for Liz why enter her life, only to keep secrets, and how does his illness fit into all of this? The Blacklist loves spinning a good mystery for a long while, so fans will have to see if this one gets solved in Season 8. For Red to knowingly risk losing Liz to keep his myriad of secrets, you would think they have to be so explosive that they could hurt her.
He has hinted as much to her. Historically speaking, Red has tended to act out of what he considers to be Liz's "best interests" or rather her safety. He is her father-figure, and Liz has acknowledged that in the past. Is there more to Red keeping all of his secrets from Liz? Could his illness be connected to everything? He is sick, and here's what The Blacklist executive producer John Eisendrath told Hollywood Life:
Has Red's mystery illness been behind his dedication to keeping secrets from Liz? It is an ongoing plotline dating back to Season 6 that has ensconced Red's unwillingness to be forthright with Liz despite her begging for answers. Is the fact that he is apparently dying from the illness something that is playing larger into The Blacklist's storyline than it first seemed? Could his entrance into her life have been an act of dying wish-fulfillment?
Viewers are supposed to get answers about Red's illness in Season 8. One episode in, and there has been no huge insight. My guess? Red may have been sick ever since the show started, and it has only gotten this bad recently, if you count "recent" being two seasons ago. Last season, Red got a whole lot worse, and it makes me wonder if his mystery ailment is at the core of everything.
Has the answer to Red entering Liz's life been hiding in plain sight for a while on The Blacklist? Perhaps Red's entire faux existence as N-13 was predicated on protecting Liz from Katarina. The Season 8 premiere suggested he could be the enigmatic Russian spy. If he is, maybe he was working to protect Liz from the shadows, and realizing that he was dying, he made the decision to protect her in closer proximity.
What if meeting Liz was the act of a dying man, who lived longer than he expected? Him thinking that his death was near would explain why he turned himself in all those years ago. That The Blacklist's producer indicates that his illness has impacted his decision-making piques my interest in the possibility. Of course, there is also the potential that John Eisendrath is referring to his ailment impacting his ability to reason correctly.
After all, this secret sickness is of a neurological nature, and it could feasibly affect his reasoning. Weigh in our poll below with your thoughts, and keep watching to learn if there is a connection between Red's illness and his secrets when new episodes of The Blacklist air Fridays at 8 p.m. ET on NBC, and they will hopefully continue into 2021's winter/spring schedule. While you wait for more answers, you can catch up on previous ones during past seasons of The Blacklist via Netflix's releases.
This poll is no longer available.
Like a contented Hallmark movie character, Britt happily lives in the same city she grew up in. Along with movies and television, she is passionate about competitive figure skating. She has been writing about entertainment for 5 years, and as you may suspect, still finds it as entertaining to do as when she began.
Your Daily Blend of Entertainment News
Thank you for signing up to CinemaBlend. You will receive a verification email shortly.
There was a problem. Please refresh the page and try again.