7 Chappelle's Show Sketches That Are Criminally Underrated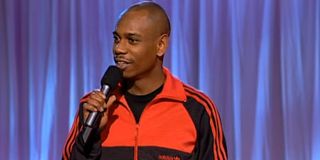 Dave Chappelle had a massive comeback thanks to Netflix, so it's only fitting that Chappelle's Show was a big hit on there until it was taken down. The series' limited availability on streaming and on Comedy Central has given subscribers a chance to work through the series all over again or for the first time. Obviously, there are some clear favorite Chappelle's Show sketches we all know and love, but also others that have been all but forgotten over the years.
The truth is, Chappelle's Show was so great that some truly underrated gems were lost in the mix over the years. Here are a few of the ones to pay attention to on a re-watch, as well as where to find them.
The Matrix Sketch - (Season 1, Episode 7)
Chappelle's Show is often remembered and noted for its social commentary, to the point that it may be difficult to remember it did sketches that were entirely unrelated to that. One such example is when the series did a shot for shot recreation of the office scene in The Matrix, in which Neo takes instruction from Morpheus to escape some agents. In this version, it's just one of the guy's coworkers screwing around and making him do stupid stuff because he forgot to get him a report he needed.
What makes this sketch so underrated is the amount of work that went into making this scene look like the scene from The Matrix. There's certainly more care taken into this bit than in the usual Chappelle's Show sketch, which ultimately sends a sketch with a "meh" punchline over the top. It also helps this is one of Dave Chappelle and the team's other takes on movies in the episode, all of which get progressively more ridiculous in the episode.
Tyrone Biggums Fear Factor - (Season 2, Episode 12)
Of the many characters Dave Chappelle created for Chappelle's Show, few have persevered to the extent that Tyrone Biggums has. The "former" drug addict still appears on memes in 2020, as a symbol of people often desperate for something they can't get ahold of. Fun fact, that picture actually comes from this episode, in which Tyrone goes on Fear Factor and competes for the grand prize.
The bit, of course, is that Tyrone has done things far more frightening than anything Fear Factor can throw at him. While other contestants are terrified of tasks like the tank full of worms, Tyrone opts to take a nap after taking some time to read the paper. Another bonus of this sketch is that it features UFC commentator and popular podcaster Joe Rogan, who hosted Fear Factor in its original run. Overall a good sketch, and still culturally relevant for the meme it created!
Jedi Council Allegations - (Season 1, Episode 7)
Star Wars is a story that largely focuses on good vs. evil, and often overlooks the fact that a majority of the real-world falls somewhere in between. That's not the case in this Chappelle's Show sketch, in which Yoda and other Jedi are forced to field some very hard questions from the press after information leaked out of all sorts of misconduct that happened with the Jedi Council over the past few decades.
The sketch is meant to draw a comparison to the similar scandals that have plagued the Catholic Church over the years, and while that's some pretty heavy-handed stuff to wrestle with, seeing Yoda fumble with his responses to the press and the ridiculousness that ensues will elicit a chuckle or two. Another underrated moment is when Dave Chappelle portrays Samuel L. Jackson as Mace Windu, and busts out the actor's iconic line from A Time To Kill. Chappelle would use the line again in a sketch down the line "Samuel L. Jackson" beer.
What Makes White People Dance - (Season 2, Episode 3)
In addition to not being able to jump, a popular stereotype one may hear is that white people can't dance. Dave Chappelle sought out to dismiss this fact with a theory that, if you provide the right music, it can be done. Chappelle's Show enlisted the help of John Mayer and Questlove to bring the dancing out of even the most likely situations, across all people regardless of race.
This is probably a skit most Chappelle's Show fans know well, but one that gets lost in the mix when discussing some of the greatest sketches. It's also great to see the subversion of expectations at the end of this sketch that defies the stereotypes presented, which is not often something that happened in Dave Chappelle's skits. Plus, who doesn't want to hear John Mayer singing Poison's "Every Rose Has Its Thorn,"?
The World Series Of Dice - (Season 2, Episode 7)
The game of dice isn't too complicated, but there is certainly a high level of risk and reward. Four men from different parts of the world square off in the basement with spectators and commentators talking about their every move. As far as guest stars are concerned, viewers will certainly recognize a young Bill Burr, who really kills it in his limited role.
"The World Series Of Dice" is one of my personal favorites on Chappelle's Show, as it showcases one of the greatest performances of castmember Donnell Rawlings. Rawlings has done many supporting roles in sketches throughout the show, but Ashy Larry is by far one of the funniest ones he did. Just the subtle comedy of the dust exploding into the air when he blows on the dice is enough for a gut-busting laugh, and one of the things that sends this sketch from funny to hilarious.
Getting Oprah Pregnant - (Season 2, Episode 9)
In what could be one of the boldest sketches The Chappelle's Show did during its run, Dave Chappelle envisioned a fictional scenario in which he found out a one-night stand with Oprah Winfrey resulted in him becoming the father of her unborn child. Dave thinks he has it on easy street and quits the show in order to live a life of luxury with Oprah as his sugar mama. The whole plan falls apart when the baby is born, which looks just like another famous talk show host, Dr. Phil.
There aren't many shows that mock Oprah, especially in a way that touches on anything other than her generosity. Dave Chappelle showed and has continued to show he's not afraid to take shots at anything and anybody, which could be the key to his continued relevance even in 2020. As a fun aside, Oprah was the first person to do a television interview with Dave Chappelle after he stepped back into the public eye after his high-profile exit from the show.
Frontline: Racist Hollywood Animals - (Season 1, Episode 8)
Chappelle's Show's first major sketch that featured Frontline put the show on the map, but it's not often the sequel sketch gets nearly as much love with fans. The second "Frontline" episode puts a spotlight on the racism exhibited by animals that were Hollywood stars, including Mr. Ed, Rin Tin Tin, and Flipper. The stories are told in a documentary style, with pictures suggesting these aforementioned animals were present during racist incidents in American history.
Of course, all the incidents in question are completely fictional. Still, it's the over-the-top stories told by characters portrayed by Dave Chappelle and others that make the skit increasingly funny as it goes on, and makes the mind wonder just a bit. Animals can't be racist obviously, or can they?
Chappelle's Show (opens in new tab) is available to watch on CBS All Access. Continue to stick with CinemaBlend for more on Dave Chappelle, and for more news happening in television and movies.
Mick likes good television, but also reality television. He grew up on Star Wars, DC, Marvel, and pro wrestling and loves to discuss and dissect most of it. He's been writing online for over a decade and never dreamed he'd be in the position he is today.
Your Daily Blend of Entertainment News
Thank you for signing up to CinemaBlend. You will receive a verification email shortly.
There was a problem. Please refresh the page and try again.