Jim Carrey Reveals He's Out As SNL Introduces Its New Joe Biden To Close Out This Long, Long Year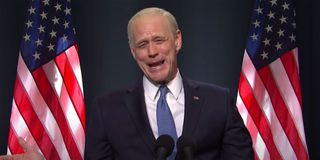 It's been a long year for a lot of us, but TV productions in general have had to go through so much more rigmarole and safety precautions in order to keep producing new work in 2020. Saturday Night Live is no exception, as that show has been uniquely suited to keep moving forward and trying new things, even during the shutdown and this long, long year. Speaking of new things, as has been a tradition so far, Jim Carrey is out as Joe Biden and it looks like an SNL cast member will be taking on the role in the near future, as Alex Moffat stepped into the role this weekend.
During Saturday Night Live's final episode of the season, Alex Moffat was introduced to the public as the new Joe Biden. Maya Rudolph was back to contribute her own Kamala Harris impression, and Beck Bennett reprised his version of Mike Pence. The "Cold Open" itself focused on the vaccine as well as Kamala poking a little fun at Joe and noting her "Christmas Present to America" is "never letting Joe specify what he means by diverse." To which this newer, more confused Biden made a "Kwanza" comment. You can see Alex Moffatt's new take below.
Saturday Night Live has played Joe Biden a lot of different ways over the years and via a lot of different people taking on the role of the politician. We've seen Jason Sudeikis, Woody Harrelson and Jim Carrey all play the role in the past, and they all brought different bents to the table. Moffat stumbled over a line once in the clip above, but mostly it was an entertaining outing for the new character, so I can't wait to see if he continues in the role in the coming weeks.
Also seriously, kudos to the person on Twitter who called this out as a good fit back in October. I award you all the points.
Though Kristen Wiig was a huge get as a returning host this weekend ahead of Wonder Woman 1984, the Biden moment really was the bit that stood out. Taking to Twitter to announce the change himself, Jim Carrey also wrote about his tenure as Joe Biden wrapping. He noted that the role was always intended to be for a short while and that six weeks just about did it for him.
I don't think anyone thought Jim Carrey would be playing Joe Biden for another four years on SNL. At the time of his casting, Lorne Michaels just seemed pumped the casting worked out, so it's not a huge surprise the tenure for Carrey was on the shorter side. It's also worth noting that compared to other comedians who had taken on the role Jim Carrey's Biden was a little higher energy, a little zanier, and as a result of these other two things, a little more polarizing with audiences. Though he seemed to grow on some people as Season 46 progressed.
Four years would be a much longer commitment than a few months during the election and Jim Carrey hadn't played Joe Biden since November. Now that the U.S. will be turning over a new administration at the start of 2021, it makes sense that we were introduced to a new take on the character. We'll just have to wait and see Alex Moffett's version sticks. Moffat has been a main cast member on the series since 2018.
A lot of network TV programming is headed into hiatus over the winter break, but if you want to see what's heading to the schedule after the holidays, we have you covered. And keep tabs on who will host SNL next with our full guide.
Amazing Race & Top Chef superfan with a pinch of Disney fairy dust thrown in. If you've created a rom-com I've probably watched it.
Your Daily Blend of Entertainment News
Thank you for signing up to CinemaBlend. You will receive a verification email shortly.
There was a problem. Please refresh the page and try again.