Why Kristen Wiig Was Shocked When She Landed Her Big Wonder Woman 1984 Role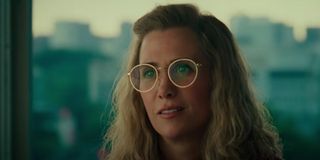 Since leaving Saturday Night Live, Kristen Wiig has largely been viewed as a comedy actress, starring in a wide range of humorous movies over the years, like Bridesmaids and Ghostbusters. So when she landed her role in Wonder Woman 1984 as Barbara Minerva, a.k.a. The Cheetah, she was shocked.
While speaking with InStyle, Kristen Wiig opened up about what she's been up to and what it felt like to be cast in Wonder Woman 1984. Despite being a self-proclaimed superhero nerd, she never expected to end up in a superhero movie. Here's why:
To a degree, it makes sense why Kristen Wiig might be surprised to be cast, but on the other hand, she's proved herself time and again as being quite talented. And from the looks of the Wonder Woman 1984 trailer, she's might very well knock this role out of the park.
While Kristen Wiig is mostly known for her work in comedy, she's slowly made appearances in more serious dramas. She had a supporting role in Ridley Scott's The Martian, appeared as "Herald" in Daren Aronofsky's Mother! and played Audrey in Richard Linklater's Where'd You Go, Bernadette. So over time, Kristen Wiig has shown a range outside of the comedy arena.
Even though Kristen Wiig was surprised to be cast, it sounds like Wonder Woman 1984 director Patty Jenkins had full confidence in her decision. Late last year, she explained her motivation behind the casting, saying she's always been impressed by Kristen Wiig's acting and needed someone that could start out being funny and sweet, but slowly transition into becoming Diana Prince's enemy, the infamous Cheetah.
But when are we going to get to see Kristen Wiig in action in Wonder Woman 1984? As you may very well know, the movie has consistently been delayed due to current events. Right now, you can expect it to release on October 2, but things could always change. Stay tuned to CinemaBlend for the latest news on the sequel and more DC movies.
Your Daily Blend of Entertainment News
Thank you for signing up to CinemaBlend. You will receive a verification email shortly.
There was a problem. Please refresh the page and try again.