Three Weeks In, Saturday Night Live Viewers Aren't Happy With Jim Carrey's Impression Of Joe Biden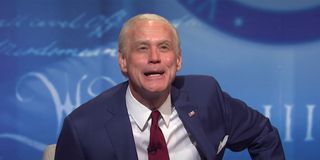 Well, that didn't take long. Just three weeks into Saturday Night Live Season 46, a slew of people on the Internet have turned on Jim Carrey's take on Joe Biden. People are awash with cries to bring back Woody Harrelson or Jason Sudeikis. Some of the comments are even pretty blunt about what Carrey has brought to the table so far on SNL.
The news comes after Saturday night's "Cold Open" spotlighted the "dueling town halls" that Donald Trump and Joe Biden committed to earlier this week. In it, Alec Baldwin and Jim Carrey are able to both reprise their roles thanks to a clever joke by SNL about how most people watch these town halls by "flipping back and forth between the channels." You can see the full thing below.
In the sketch, Jim Carrey is full of his usual manic energy, gaining a chuckle from the audience as he gets into antics including "a dance for the kids on TikTok" with sunglasses on. He also joked he's giving every audience member "a glass of milk and a warm blanket" as they settle in for a long fall's debate. As I noted a few weeks ago, this impression is certainly a different type of take on Joe Biden than we saw with Jason Sudeikis or Woody Harrelson. It's less soft on Biden and it's definitely more energetic than some of the other takes.
Some people hate it-- specifically people on Twitter. The social media haven has long been a place to take grievances and people were not kind to Jim Carrey's take last night. A lot of people simply want the series to bring back one of the original actors who played the character again, like Woody Harrelson.
A lot of people just seem to have general Jim Carrey fatigue. That perception is really interesting to me, given Carrey has mostly been on a now-cancelled TV series, Kidding, that hasn't put him front and center in most of our lives in recent years. His only big movie foray in 2020 was Sonic The Hedgehog and I personally thought his brand of comedy worked well there. But maybe people just don't get Jim Carrey.
Others simply seem to think Jim Carrey's take is too "scary" and "uncomfortable," which actually makes sense in the context of complaints. Harrelson's performance was pretty straightforward and Jim Carrey isn't giving people that. Still, not everyone seems to want straightforward who doesn't love Carrey's take. One Twitter user went a step further from the rally cry of bringing back Jason Sudeikis or Woody Harrelson and came up with an outside-the-box choice to play Joe Biden next.
Some people have defended Jim Carrey, however, noting the comedian may be bringing the energy, but he's also not the person creating the jokes in the writer's room. If you hated the TikTok dance that's one thing, but the "warm milk and a blanket" joke was likely prewritten, for example.
Look, Lorne Michael previously said that Jim Carrey was going to do his own thing as Joe Biden. He noted prior to the premiere of Season 45 that Carrey was bringing "energy and strength" to the part, adding he hoped it would be "funny." So, we knew well ahead of the actor stepping on stage that he'd be doing something new.
The good news is that the Joe Biden impression has been rather singular in that a lot of different actors have taken it on. Woody Harrelson only did Biden for a short time. There's a very good chance Jim Carrey will also be busy during Season 47, should a Joe Biden be needed on SNL. Rather than asking whether or not Harrelson or Jason Sudeikis could come back, I'm more interested in hearing who else could possibly take on the role down the line.
Saturday Night Live is back as part of the Fall TV premiere schedule. Catch it on Saturday nights, only on NBC.
Your Daily Blend of Entertainment News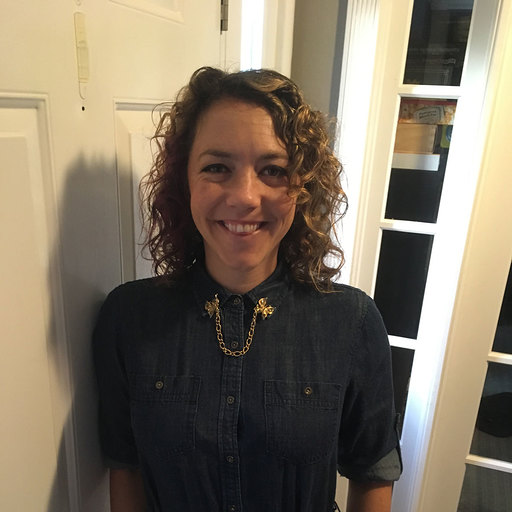 Reality TV fan with a pinch of Disney fairy dust thrown in. Theme park junkie. If you've created a rom-com I've probably watched it.