The Witcher Spoilers: Season 2 Apparently Gets Off To Quite A Bloody Start In Premiere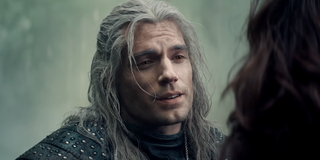 Fans of the Netflix fantasy hit The Witcher have been eagerly awaiting the first look at footage from Season 2 for many months now. While the new set of episodes probably would have been ready to debut soon, roughly a year after Season 1 hit the streamer, the drama has seen this year's delays take even more of a toll on its production schedule than several broadcast series, with some at least able to begin airing in November. While we've gotten some hints about what's coming in the new season, we've now been offered a glimpse at Season 2, which tells us that The Witcher will get off to a very bloody start with the premiere.
We have been gifted, relatively recently, with looks at Geralt's new armor for Season 2, and seen some shots of Yenn and Ciri from the upcoming season, as well, but the most information we've been privy to are casting rumors, which have yet to be confirmed. Now that The Witcher has run its #Witchmas campaign of surprises for fans on Twitter, the series has given us a look at the script page for the first scene in Season 2. Take a look at the bloodbath to come (being sure to actually open the full tweet, as there is more to the page than what can be seen below), and we can discuss it after!
Wowwwwww. OK, so not a lot of Henry Cavill's Geralt to start us off in Season 2 of The Witcher, and literally none of him will be on screen, with just his voice being heard. But, man, it sounds like the Coppercloths are going to have one true suckfest of a night right when we first meet them, doesn't it? Hint for all of you adventurous travelers out there: if you come to a clearly abandoned village in the dark of night, do not stop, keep on truckin'!
So, the first thing we know is that Colin Coppercloth, his wife Meena, and daughter Kira, are totally new characters created for The Witcher series, as none of them have appeared in either the books or the video games. This makes a lot of sense, because if the family is basically going to be decimated by some beastie, there's no real reason to use characters who are already canon. Secondly, and this is just some supposition from what we've seen of the first part of Season 2, but it's possible that Meena simply lost a lot of blood but survived...right?
At any rate, it seems as though at least Colin is going to get ate right up not long after stopping in the village with his family in the hope of getting a room for the night. Kira is going to be on her own in trying to find safety, but as we know, just because there's a light on in that mansion she's going to try to run to, it doesn't mean that she'll make it there or that whomever might be inside will be any help to her at all. Folks of the Continent can be total dicks, you guys.
My guess is that Geralt will be narrating this opening because he's on the hunt for whatever Big Bad (or, sure, possibly misunderstood monster) has killed up this village and taken out the Coppercloths. There were several terrifying creatures in Season 1, and while Geralt will now be tasked with protecting / training Ciri in between all of his grunting and bathing, destroying monsters is still his main gig, so there's no doubt that he'll be doing a lot of it as Season 2 unfolds.
The big question, though, is why this thing would leave him alive as it murders everyone in his path. I guess we'll just have to wait for Season 2 of The Witcher to find out!
The Witcher will be back on Netflix at some point for Season 2, hopefully in 2021, but there's no set premiere just yet so be sure to stick with CinemaBlend for the latest.
Your Daily Blend of Entertainment News
Yennefer's apprentice, Gilmore Girl; will Vulcan nerve pinch pretty much anyone if prompted with cheese...Yes, even Jamie Fraser.
Your Daily Blend of Entertainment News
Thank you for signing up to CinemaBlend. You will receive a verification email shortly.
There was a problem. Please refresh the page and try again.