The Witcher Season 2 Dealing With More Filming Delays, And This Time A Henry Cavill Injury Is To Blame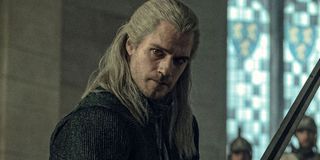 Another week, another announcement that The Witcher Season 2 is dealing with some problems on set. The show has had to shut down multiple times since it began filming last spring; however, in both of those instances, Covid-19 was to blame. This time around, the Netflix show is dealing with delays due to an injury Henry Cavill himself sustained on the set.
Obviously, while there are other main characters in The Witcher, many of the show's scenes revolve around its titular character, played by Henry Cavill. The actor has spoken often and fondly about doing basically all of his own stunt and swordplay work on the Netflix show, and it was during a stunt that he was reportedly injured. According to reports, Henry Cavill was 20ft in the air when he sustained an injury to his leg.
Per reports coming from the set, The Sun notes that Cavill was filming a scene that required a harness at Arborfield Studios when he allegedly made a move to indicate he was in pain. The unnamed source from set says that people on hand could not tell if he'd been hit by something while up in the air or if the harness had caused some sort of strain or other injury to his person. An ambulance was not called.
However, this has obviously thrown chaos into the show's filming schedule, though the source notes the injury Henry Cavill sustained was not severe. Instead, the problem seems to be Geralt of Rivia's overall look on the series, with the person noting he has to "wear heavy armor" and that "he just wouldn't be able to do it with his leg injury." The whole thing sounds a little scary and reminds me of that time Chris Pratt shared a story about getting knocked unconscious after sustaining a harness injury on the set of a Marvel film.
Setbacks have been rife in the era of Covid-19, so when I saw the show was suspended again, it's easy to clearly make an assumption it might be safety protocol-related. In this case, it's unfortunate the show's lead has been taken out of commission, at least for a little while. Although it's worth noting at least Henry Cavill does not seem to have been seriously injured while doing his own stunt work. Though it's unclear right now when the actor could get back to work in full force.
As noted prior, this isn't the first time The Witcher has dealt with issues during the production of Season 2. Despite sharing lengthy safety protocols, The Witcher was one of the Netflix projects that shut down last spring after actor Kristofer Hivju developed Covid-19 symptoms. Over the summer, the show resumed filming but shut down again in November after members on set developed symptoms related to the pandemic. At that time, none of the lead actors were affected and the show was able to resume filming rather quickly.
Here's hoping that Henry Cavill's injury is a similar case. There's always the possibility a stunt person could step in and do some additional lifting for the actor, but given he's taken to practicing swordplay and keeping fit while at home, I'm not certain that would be what he hoped for with the Geralt performance. We'll keep you updated regardless of what happens and send our best wishes to Cavill as he recovers.
Reality TV fan with a pinch of Disney fairy dust thrown in. Theme park junkie. If you've created a rom-com I've probably watched it.
Your Daily Blend of Entertainment News
Thank you for signing up to CinemaBlend. You will receive a verification email shortly.
There was a problem. Please refresh the page and try again.