Cobra Kai: 6 Big Questions We Have For Season 4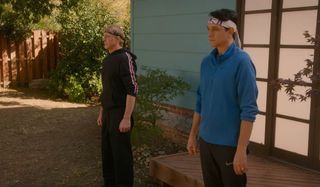 Warning! The following contains spoilers for all of Cobra Kai Season 3! Read at your own risk!
Cobra Kai Season 3 is out on Netflix, and after a long wait, fans are finally getting to see the fallout of that crazy Season 2 finale. The Karate Kid successor series went the extra mile to answer fans burning questions from Season 2 and even delivered a few extra things some may not have expected. For all the questions Season 3 answers about Season 2, audiences are given many new questions to ponder ahead of Cobra Kai Season 4.
For those that have seen Cobra Kai and are wondering what's next, we're in the same boat. The following are some of the major questions we're asking, and ones I'm hoping will be addressed in Cobra Kai Season 4.
How Will Johnny And Daniel Co-Train A Dojo?
The season's end brings Johnny Lawrence and Daniel LaRusso together to co-train the teens of their respective dojos under one name. Miyagi-Do and Eagle Fang (which is really badass despite not making sense) will train under both instructors, which in theory, sounds amazing. That is until you remember that Johnny and Daniel can never seem to see eye to eye and could very well teach these children nothing while fighting against each other.
There are some stylistic differences in the two's karate technique, but with Daniel's newfound discovery of Miyagi-Do's offensive tactics, it may gel better with Johnny's technique. Speaking of which, Johnny's abandonment of the Cobra Kai mantra may mean he's more flexible to the Miyagi-Do teaching, though I don't expect Cobra Kai Season 4 to portray him as a full-blown disciple of it. Perhaps their mutual hatred of John Kreese will keep them together, but I have some real doubts about Johnny and Daniel successfully running a dojo together.
Is Terry Silver Joining Cobra Kai?
Cobra Kai's viewers got to see John Kreese's origin in Season 3 and learned why the character embraced the "Strike first, no mercy" mentality that Cobra Kai preaches. The season's final episode features a flashback in which Kreese is thanked by his friend Twig for saving his life and said that he is forever indebted to him. The scene switched to the present, in which Kreese is seen looking at an old photo of Twig before dialing the phone and speaking to whoever answered.
The assumption is Cobra Kai Season 4 will reveal Kreese talked to Twig but is Twig someone we already know? Twig is called "Silver" by Kreese's captain in Episode 6, which implies this character indebted to Kreese is none other than notable Karate Kid villain Terry Silver. The Karate Kid III revealed the two were army buddies, so it tracks that Twig may be corrupt businessman Terry Silver. If that's the case, then actor Thomas Ian Griffin may be coming to Cobra Kai Season 4. If Daniel and Johnny are teaming up, I guess it's only fair Kreese would bring in someone to even the odds.
What Other Things Did Mr. Miyagi Hide From Daniel?
Mr. Miyagi and Daniel LaRusso had a relationship similar to family, but Daniel learned that even Miyagi had his secrets when he returned to Okinawa in Season 3. Chozen gifted Daniel a technique of Miyagi's home dojo designed to incapacitate an opponent via pressure points. The knowledge surprised Daniel, who had only been told by Mr. Miyagi that Miyagi-Do's style only used karate in defense, not offense.
Now, with Cobra Kai Season 4 on the way, I'm curious as to what other things Mr. Miyagi may have neglected to tell Daniel over the years. Obviously, I'm not expecting anything too scandalous given the co-creators reverence for the source material. Still, it was certainly cool to learn a new bit of information about Pat Morita's character. The actor is a big part of why The Karate Kid was such a success, so it's great to see his character continue to be fleshed out even in his death.
Will Johnny Finally Get Serious With Carmen?
Ali Mills finally made her Cobra Kai debut, but even that wasn't enough to tear Johnny away from the undeniable chemistry he has with Miguel's mother, Carmen. In fact, I gotta give Ali credit for her role in Season 3, as she helped her former flame realize that his feelings for Carmen ran much deeper than he may have cared to admit. Johnny went to tell Carmen he loved her, but the moment was interrupted by the sight of a wounded Miguel.
Cobra Kai Season 4 may feature Carmen and Johnny getting serious, but with the "Ross and Rachel" dynamic the show likes to do, the writers could be faking us out yet again. I'm optimistic things will work out for the two of them eventually, but it seems like these two have an awful time finding the right timing to be together.
Will Miguel's Injury Continue To Impact Him?
Miguel Diaz had a miraculous recovery from his devastating injury in Season 2 and was able to not only regain use of his legs but practice karate again. Miguel wasn't 100% the badass karate prodigy he once was before his accident, but there were certainly flashes throughout Season 3 that showed he could be once again in Cobra Kai Season 4.
Whether or not Miguel will regain his former athleticism or his injury will occasionally hamper his abilities is something I have to know. I mean, I know Cobra Kai isn't always the best representation of reality. Still, even they have to acknowledge Miguel won't have a few struggles as he continues to work out his legs after his brief paralysis. If it is a factor, I'm expecting it to surface in a way similar to how it did in the Christmas fight, which could be really bad if Robbie is fighting him again.
Is Aisha Gone For Good?
One of the surprising reveals ahead of Season 3 of Cobra Kai was that Aisha was written off the show and was completely absent from the story. It was explained in the Netflix series that Aisha's parents decided to move and stuck Aisha in a private school following the school fight to protect her. Given the repercussions some of the other characters faced from the fight, it was probably a smart move.
There's no tease that Cobra Kai Season 4 will bring back Aisha, at least in the show. Cobra Kai's co-creator Jon Hurwitz told TVLine that while the show did write off the character, this is a chance the character played by actress Nichole Brown will return someday. That isn't a promise that she will be back, of course, though given all the magic the show has worked in bringing in other actors to the franchise, I can imagine they'll certainly find a way for her to return if they want.
Got any other burning Cobra Kai questions ahead of Season 4? Throw them into the comments, and be sure to stick with CinemaBlend for more on the show and other things happening in television and movies.
Your Daily Blend of Entertainment News
Mick likes good television, but also reality television. He grew up on Star Wars, DC, Marvel, and pro wrestling and loves to discuss and dissect most of it. He's been writing online for over a decade and never dreamed he'd be in the position he is today.