The Mandalorian's Gina Carano Shares Thoughts About Her Polarizing Social Media Presence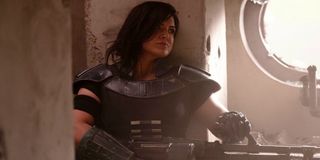 Since its debut in the fall of 2019, Disney+'s The Mandalorian has become one of the most popular things since sliced bread. The show makes for a worthy addition to the Star Wars canon, and it has also served a series that allows for its actors to shine. Gina Carano, who plays former rebel shock trooper Cara Dune, has emerged as one of the show's breakout stars and, as a result, her social media following has grown since the series premiered. Her virtual presence has, however, proven to be somewhat polarizing at times and, now, Carano has shared her thoughts on the matter.
Gina Carano discusses a wide range of topics on social media, with many of her posts relating to The Mandalorian. However, in recent months, some of her more societal-based posts have received backlash. When discussing her social media presence, Carano had this to say:
Although Gina Carano didn't specifically mention it during her interview with Drunk 3PO, one of the most incidents occurred when she shared posts that expressed anti-mask sentiments in relation to the ongoing COVID-19 pandemic. During the 2020 U.S. election, she also posted voter fraud theories that were found to be inaccurate.
The posts would lead to #FireGinaCarano to trend on Twiter, while #StandWithGinaCarano also began to trend. Since the actress shared the posts, co-stars Pedro Pascal and Ming-Na Wen have shown support for her. Neither Disney nor Lucasfilm publicly weighed in on the incidents.
Gina Carano's Cara Dune first appeared on The Mandalorian during the Season 1 episode, "Chapter 4: Sanctuary." It's in that episode that Mando meets Dune on the planet Sorgan, and the two team up with a community of farmers to take on a band of raiders who have hijacked an AT-ST. Dune later returned in the show's final two episodes and helped make a stand against Moff Gideon on Navarro. She inevitably returned once again in Season 2, during which she became a marshal of the New Republic. She's even present for that major cameo in the season finale.
Social media is a very complex and powerful tool, and one can garner a number of responses depending on what's being posted. It would appear that Gina Carano is fully aware of the reactions her posts draw, though she seems to be focusing her attention on the positivity she receives.
The first two seasons of The Mandalorian are currently available to stream on Disney+.
Covering superheroes, sci-fi, comedy, and almost anything else in film and TV. I eat more pizza than the Teenage Mutant Ninja Turtles.