Chrissy Teigen's New Years Resolution Will Change How She Does Social Media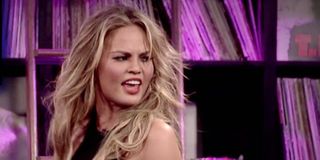 Chrissy Teigen is used to being the center of attention. Although previously famous for being a model and the wife of musician John Legend, she has become even more famous for the controversial way she shares her thoughts and experiences. She even brands herself on her Twitter as a "De-motivational speaker." Teigen has a large following, consisting of a pretty even split of fans who adore her and people who love to hate her. Now, Teigen appears to have reached her limits, and has a new year's resolution which will change how she does social media.
Being the social media guru that she is, Chrissy Teigen sent out her New Year's resolution a little early this year via Twitter:
Basically, Chrissy Teigen isn't going to cater to people anymore. Maybe it has come with the wisdom of age, or maybe the stress of 2020 has led her to pull back a bit, but Teigen claims that going into the new year, she'll no longer be explaining herself to anyone on social media.
Teigen has received backlash on seemingly everything she has had to say. She has been a champion for a lot of women and mothers, sharing stories of her own children and family. Most recently, Teigen has come to the aid of formula feeding moms, saying that mothers should not feel shame if they can't naturally feed their baby, and stating that she has felt this shame when unable to nurse her children. In the same breath, she still acknowledges the amazing benefits of breastmilk. When it comes to parenting, there are, of course, a lot of differing opinions. It would seem though, in Teigen's case at least, you're damned if you do and damned if you don't.
Earlier this year Chrissy Teigen also received some backlash over how open and revealing she is with her children. When Teigen announced she was going back to her natural self and getting rid of her breast implants, she posted a picture on Instagram of a letter her daughter wrote to her that said "have fun pulling your boobs out." Fans with a more traditional mindset were less than thrilled with Teigen.
Whether you love or hate her, you can't really blame her for wanting to have some peace from the negativity cast her way. Chrissy Teigen has had a rough second half of the year. Having her whole life online for the world to see can be a huge disadvantage during the low points, as the influencer discovered when her grief was on full display after she suffered a recent miscarriage.
Although Chrissy Teigen was met with overwhelming support over the devastating loss, it's easy to see why she just doesn't care about the haters anymore. Only time will tell if the new year will bring an end to some of her haters' fire. Either way, Teigen will be just fine.
Constantly thinking about books, coffee, and the existential dread I feel from Bo Burnham's Inside. While writing I'm also raising a chaotic toddler, who may or may not have picked up personality traits from watching one too many episodes of Trailer Park Boys.
Your Daily Blend of Entertainment News
Thank you for signing up to CinemaBlend. You will receive a verification email shortly.
There was a problem. Please refresh the page and try again.