Nickelodeon's First NFL Broadcast Featured A Big F-Bomb In The Middle of The Game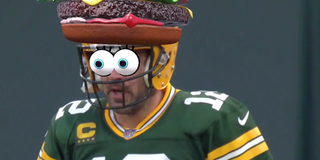 In what seemed like the first truly wholesome thing that has happened in 2021 so far, Nickelodeon was one of several networks that aired the Chicago Bears and New Orleans Saints NFL Wild Card game, which had never happened before. From its commentators to its visual effects, the NFL game was geared toward the whole family, with kids getting in on the fun with classic Nickelodeon show references throughout the game. Overall, the Wild Card Weekend broadcast was a huge hit for Nickelodeon, but 2021 is still making sure we don't have anything totally pure, and there was a brief moment when a not-so-kid-friendly F-bomb slipped out amongst the family fun.
Chicago Bears wide receiver Cordarrelle Patterson is the player who let an F-Bomb slip after the refs ruled against him for an unsportsmanlike conduct penalty for "running out of bounds on his own." After the ref attributed the penalty to "number 85," even though Patterson actually wears 84 for the Bears. the player's "What the fuck?" moment seemed like it could be in response to either that mistake, or to the call itself. You don't have to take our play-by-play as gridiron gospel, though; we have the receipts:
The commentators – which included NFL vet Nate Burleson, Clippers radio announcer Noah Eagle and All That's Gabrielle Green – glided right past the F-bomb, albeit pretty awkwardly. We've got to remember that this is the first time the NFL has specifically geared a telecast toward children, and has a history of delivering some serious TV slip-ups from time to time. (Remember Janet Jackson?) It's also worth noting that the explicit language doesn't seem to be either a malicious or intentional slip up; it just appears that Cordarrelle Patterson's close proximity to the ref made it possible for his words to be picked up quite clearly by the mic.
All profanity aside, Nickelodeon's first NFL broadcast appeared to be a hit, and viewers seemed to be looking past the misstep right along with the announcers in order to focus on Nickelodeon's thoughtful use of the sport's platform. On Twitter, football fans were thankful they were able to more easily bring their children into a sport that they love, making it easier for long time fans can make new ones out of their family members. Even Kurt Warner, a former NFL quarterback who won Super Bowl XXXIV, tweeted that his son tuned in for Nickelodeon's broadcast, and explained how rare a moment that was.
Nickelodeon was able to add effects to the game digitally to bring the cartoon world to the world of football. Touchdowns triggered slime cannons, silly cartoon features were added over players' faces, and characters from Nickelodeon shows were helping explain the game to kids in real time.
It's expected that some foul language would get dropped, as it does in pretty much all sporting events, though it's obviously not great that viewers could hear it so clearly. It's to be somewhat expected, though, without the usual crowd noise that makes playoff games so deafening. Still, it might have been a shame for some parents that it had to happen during an otherwise very successful attempt at making the sport entertaining for children. All in all, 10/10 Nickelodeon, would watch again.
Constantly thinking about books, coffee, and the existential dread I feel from Bo Burnham's Inside. While writing I'm also raising a chaotic toddler, who may or may not have picked up personality traits from watching one too many episodes of Trailer Park Boys.
Your Daily Blend of Entertainment News
Thank you for signing up to CinemaBlend. You will receive a verification email shortly.
There was a problem. Please refresh the page and try again.