Nic Cage And Nick Offerman Is The TV Team-Up I Didn't Know I Needed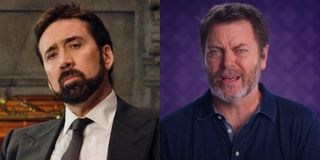 Most of us know Nicolas Cage for his various performances on the big screen but, lately, the fan-favorite actor has been shifting to the small screen for a few upcoming shows. This includes Netflix's History of Swear Words, an unscripted docuseries that will see Cage explore the origins and culture impact of famous curse words. Throughout the series, the actor will also be recruiting a number of other stars to help him out, and one of the most recent clips from the show includes none other than Parks and Recreation alum Nick Offerman. And if I'm being completely honest, it may just be the most unexpected TV team-up that me and other fans needed.
The History of Swear Words teaser shows Nicolas Cage trying to explain the historical use of the f-word, which actually seems to have a pretty colorful past. During his explanation, he brings in Nick Offerman and comedian Jim Jeffries. Offerman doesn't chime in until the very end, but his response is perfect. Check it out below:
I don't know about any of you, but I'd like to see more of Nic Cage and Nick Offerman together. The two are some of the most unique personalities in Hollywood, and putting them together would make for a nice, Odd Couple-esque pairing.
Nicolas Cage is more of a wild card, who can be relaxed when he wants to be, but he definitely has no problem doing something outrageous, as evidenced by some of the film roles he's taken on. Nick Offerman is also funny but, unlike Cage, the actor usually tends to play the straight man, which is certainly the case with his most famous character - Ron Swanson. Seeing these two personalities come together on screen would be a real treat for viewers.
Honestly, a Cage/Offerman team-up could work in any medium and within any genre. Whether it be a TV sitcom or a big-budget action film, the two actors could make some true magic on the screen.
Such a project isn't an impossibility, but the two do currently have other obligations that they're committed to. In addition to History of Swear Words, Nic Cage is also set to star as Joe Exoctic in a scripted Tiger King series. Meanwhile, Nick Offerman (who recently reunited with his Parks and Rec co-stars) is working on Fox's The Great North.
It's not crazy to think that someone has considered pairing Nic Cage and Nick Offerman up for a project of their own. Clearly someone had the good sense to connect them through History of Swear Words. It remains to be seen if another collaboration will happen, but you can bet that fans of the two won't give up hope. It's like they say, two Nicks are better than one.
History of Swear Words hits Netflix on January 5th.
Your Daily Blend of Entertainment News
Covering superheroes, sci-fi, comedy, and almost anything else in film and TV. I eat more pizza than the Teenage Mutant Ninja Turtles.
Your Daily Blend of Entertainment News
Thank you for signing up to CinemaBlend. You will receive a verification email shortly.
There was a problem. Please refresh the page and try again.