What Game Of Thrones' Sean Bean Was Thinking While Filming Ned Stark's Death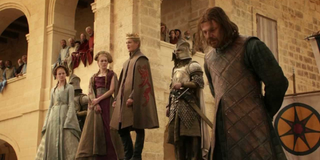 HBO's Game of Thrones is one of the most influential television shows of all time. The sweeping epic fantasy is based on George R.R. Martin's A Song of Ice and Fire. Both the show and novels are known for their penchant of killing off major characters without the skip of a beat. Fans of the show (and books) may remember that one of the more shocking deaths came at the end of Season 1. Those of us who were floored by the death of Ned Stark aren't alone, however. Sean Bean, who played the Stark patriarch in the show, recently shared exactly what was going through his head, before his character was due to lose his own.
The shocking moment was no doubt difficult for Sean Bean, as his character Ned was considered the main protagonist of Season 1. Fans and Bean were attached to the character who was sentenced to execution at the last moment by Joffery Baratheon (Jack Gleeson). Bean recently shared just how difficult it was to film Ned Stark's final moments:
Horror and disbelief were not surprising considering the last-minute death sentence. In his interview with EW, Sean Bean went on to describe the multi-faceted heartbreak that his character was going through in his final moments. Bean has become accustomed to having his characters killed on screen, but is now turning down roles where his character is killed off. He went on to describe how some of the other actors involved reacted to the scene:
While book readers knew of Ned's fate long before the show aired, those who went into Season 1 unspoiled were surely shocked that a big budget show would wantonly kill off a major character so early. Although many of us had no idea how big Game of Thrones would end up being for HBO, Ned's death was arguably the first, and not last, moment that elevated the show to new heights.
Even with Ned's early exit from Game of Thrones, the show went on for a total of eight seasons. The final seasons were notably marred by critics, fans and even those involved with the show. Showrunners David Benioff and D. B. Weiss caught a lot of flak online for their involvement with the project and how the final seasons were handled.
The pair have since moved on from HBO and are now working on their next project, The Three-Body Problem, with Netflix. Described as nonlinear, the show will span multiple characters and decades as humans await an invasion by alien lifeforms.
While The Three-Body Problem has yet to secure a release date, HBO recently announced when to expect its Game of Thrones prequel, House of the Dragon. The show is still in production, but knowing George R. R. Martin's pace of writing, fans are probably expecting its arrival before the release of Winds of Winter and A Dream of Spring, the final entries into the Song of Ice and Fire novels.
Your Daily Blend of Entertainment News
Into tracksuits by Paulie Walnuts, the Criterion Channel and Robert Eggers.