Jeopardy's Katie Couric Is The Latest Guest Host Facing Criticism For Comments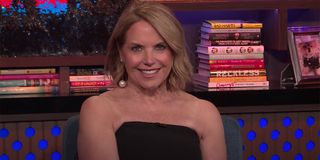 There's a lot more scrutiny on Jeopardy right now than there has been through much of its run as Alex Trebek made the show a household name and later settled into a comfortable career with longevity. Now, however, Trebek's final series of episodes have run their course and a slew of other names are taking on the Jeopardy hosting gig, however briefly. So far that's meant a lot of drama on the interwebs.
After some old tweets of Ken Jennings' were dredged up ahead of his Jeopardy hosting stint, Katie Couric is now allegedly dealing with some drama related to the show and some comments she made on another TV appearance. In her case, it was political comments that have reportedly caused some red flags, as a source told Page Six, particularly given Jeopardy's audience is often older and more conservative.
The news comes after Katie Couric chose to speak with Bill Maher about the GOP, giving her personal opinions on how she feels certain Congressmen and women are doing. She said during the Real Time With Bill Maher episode that the question is "how are we going to really almost deprogram these people who have signed up for the cult of Trump." You can see her full remarks below.
At the time earlier this week, the comments about the GOP made headlines, but nothing was said about Jeopardy at the time. That is until someone, who is an unnamed source, noted that Katie Couric's comments "have producers worried." It's true that Jeopardy! has always strived to be a clean game with no specific political ties, but the source also goes so far as to state they believe Couric's comments have "ruled her out" of the permanent hosting gig. Currently, Jeopardy! has not yet aired any episodes with Katie Couric.
As noted prior, Ken Jennings faced similar scrutiny for jokes he had made previously on Twitter that did more than fall flat: they went a step further and offended people. The tweets had been in the past, but Jennings chose to come out and re-apologize for the stuff he'd said online, calling his moves "unartful" and "insensitive." He explained that in his head he felt some of the things he was trying to put out into the universe were jokes, but they didn't come across in the ways he had intended at all, also noting people should have been "(rightfully) offended."
By the time Ken Jennings became the first host to pick up Alex Trebek's mantle, people were more interested in talking about the tribute he paid to the late host on air and also the general way he led the game. The new source mentions there may be pressure on Katie Couric to apologize as well, but that "producers are expecting her to be a diva about it."
To quickly note: there has at least been some minor backlash against other guest hosts who will be appearing on Jeopardy in the past as well. The Big Bang Theory's Mayim Bialik once apologized for an op ed she wrote during the era of the Harvey Weinstein scandal and Me Too. NFL star Aaron Rodgers made headlines after he allegedly upset his parents publicly when he spoke out once about struggles with religion. Public personalities often have moments in the limelight that don't spotlight them in their best moments, but that doesn't necessarily make them unsuitable for keeping the game moving in an affable manner on Jeopardy.
We'll have to wait and see who ultimately ends up hosting the show longterm, but Jeopardy still has a doozy of a lineup in the short term. As noted prior, Ken Jennings kicked off the new Jeopardy!. Coming up, Katie Couric, Mayim Bialik, Aaron Rodgers and 60 Minutes' Bill Whittaker round out the current list.
Amazing Race & Top Chef superfan with a pinch of Disney fairy dust thrown in. Theme park junkie. If you've created a rom-com I've probably watched it.
Your Daily Blend of Entertainment News
Thank you for signing up to CinemaBlend. You will receive a verification email shortly.
There was a problem. Please refresh the page and try again.