Will NCIS' Bishop And Torres Finally Take A Step Forward In Dangerous New Episode?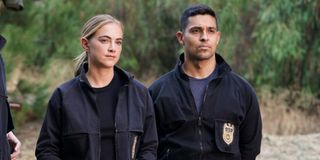 (Image credit: CBS)
NCIS spent the first portion of Season 18 telling a story that was actually set during Season 17, but the resolution of the drug case with Tobias Fornell means that the show can finally move forward. The first episode following the end of that arc will deliver what sounds like a pretty major plot for none other than Bishop and Torres, and the circumstances seem ideal for finally pushing them to take a big step forward in their relationship.
Their relationship has been burning so slowly recently that some may have begun to suspect that NCIS isn't planning on going anywhere with it, but I wouldn't count a deeper and not-quite-platonic connection between Bishop and Torres out just yet. In the January 26 episode, called "1mm," Bishop and Torres will follow a tip concerning some smuggled weapons, but it will go sideways when they wind up in a shootout in a former sheriff's residence that has become a historical site. As if that's not enough, they find themselves locked in abandoned jail cells there.
Well, if they're locked in abandoned cells and coming off of an intense case that resulted in a near-death experience for Bishop and a serious scare for Torres, that sounds to me like an occasion for sharing some feelings! Honestly, even if these two seize the occasion to reaffirm their friendship, I'll take it. NCIS could use a character-focused episode for Bishop and Torres right about now after the Gibbs/Fornell drug plot.
Still, Torres was pretty upset when Bishop was taken and then seemingly killed in the previous episode, and Bishop made a beeline straight for him when she emerged injured but alive. Plus, an image from "1mm" reveals that Bishop is still sporting the bruises from her fight to escape her captors, which indicates that there's not going to be a huge time jump between the end of the drug case in the previous episode and where this seemingly Bishop/Torres-centric episode picks up. Take a look:
Wilmer Valderrama did suggest ahead of Season 18 that NCIS was going to be trying something different with Bishop and Torres, which presumably means that fans can expect something other than Tiva 2.0. Executive producer Frank Cardea also indicated that NCIS would continue playing with the relationship in Season 18. That said, NCIS has a lot to deal with in the not-too-distant future without giving Bishop and Torres a step forward in their relationship.
Gibbs shooting McGee isn't a plot point that is going to be abandoned just because NCIS wrapped up the arc that brought Gibbs to the point that he would repeatedly fire on his trusted friend, and fans also have to consider that Jack's time on NCIS is running out. Maria Bello isn't slated to appear in the full Season 18, but rather in half of NCIS' shortened season. With NCIS heading into its sixth episode, the show is going to have to say goodbye sooner rather than later. Only time will tell if that goodbye is permanent, however!
For now, you can look forward to the "1mm" episode of NCIS on Tuesday, January 26 at 8 p.m. ET on CBS, followed by a potentially game-changing episode of FBI in its return to its 9 p.m. ET time slot and then FBI: Most Wanted at 10 p.m. ET in the winter TV lineup.
Resident of One Chicago, Bachelor Nation, and Cleveland. Has opinions about crossovers, Star Wars, and superheroes. Will not time travel.