Police Are Looking For An Unsub Dropping Off Creepy CDs With Criminal Minds Audio At Sorority Houses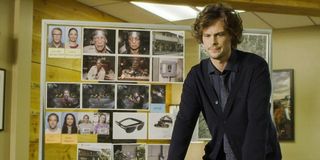 Criminal Minds may not be producing new episodes these days, but it's far from forgotten, even by some criminals themselves. In fact, police recently revealed they are looking for an UNSUB who has started leaving CDs on sorority steps filled with Criminal Minds dialogue, a move that seems like it could be a plot point from the beginning of an episode. You know the part where something creepy happens before we get to the traumatic serial killer reveal? What's happening here could easily work as a first 90 seconds.
News broke this week that Police in the Boulder area are looking into five seemingly related incidents in which an an unnamed subject left CDs on the doorsteps of sorority and fraternity houses in the University of Colorado Boulder area. Around 1:30 a.m. on Monday of this week, the UNSUB left white envelopes taped to the doors of some of these organizations. Inside the envelopes were CDs containing audio, including dialogue from CBS' long-running procedural Criminal Minds.
Cameras caught the UNSUB taping up the envelopes at one of the locations at least, though the person was masked at the time. According to KDVR, if you have any information about the incidents in question, you can contact the Boulder Police Department at 303-441-3333 reference case 21-1367.
For now, the UNSUB has yet to be identified, though police do not believe the incidents will lead to further harm or escalation. The report also mentions that the Boulder Police Department does not think there are any impending threats on the individuals and institutions targeted by the white envelopes this week.
This isn't exactly the level of case the BAU would be called in for, which is definitely good news for the sororities and fraternities involved, though I'd be interested to know the psychology behind someone who would put together nefarious CDs and tape them to doorways. Follow-up question: I wonder if the fraternities and sororities in question even had CD players to be able to figure out what was on the CDs? Where's Doctor Spencer Reid when I need him to tell me what kind of UNSUB does these things?
We'll be sure to keep you updated if the mysterious UNSUB is identified. Meanwhile, if you don't need real life to play out like a Criminal Minds case but haven't caught an episode in a while, it's currently streaming in a variety of places including Netflix, which has the first 12 seasons available. Additional episodes can be caught via CBS All Access (all seasons) or Hulu (later seasons). You'll certainly see plenty of episodes with far more grisly and terrifying crimes, but I'm not sure you'll find many that are as double-take odd as these white envelopes with the audio files.
Reality TV fan with a pinch of Disney fairy dust thrown in. Theme park junkie. If you've created a rom-com I've probably watched it.
Your Daily Blend of Entertainment News
Thank you for signing up to CinemaBlend. You will receive a verification email shortly.
There was a problem. Please refresh the page and try again.